Interviews
2016 Sundance Trading Card Series: #6. DeWanda Wise (How to Tell You're a Douchebag)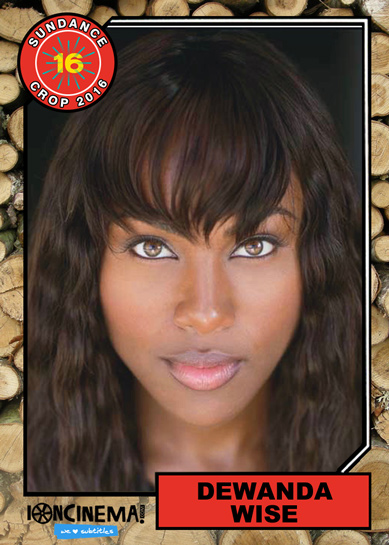 Eric Lavallee: Name me three of your favorite "2015 discoveries".
DeWanda Wise: #1. Justin Bieber (C'mon guys, Purpose is soooo good.). #2. Phuket, Thailand. Authentic coconut sticky rice doesn't require sugar if the mango is sweet enough. #3. Chuck Palahniuk. New to me, but a fantastic writer with biting wit & dark humor gets me every time.
Lavallee: In How to Tell You're a Douchebag, you play Rochelle Marseilles – the Achilles heal sorta speak to the swollen head character of Ray. Was wondering what attracted you to the role and what was the working process like with a first time director in Tahir Jetter?
Wise: I love that Rochelle has a complicated relationship with herself. She's at odds with her inflated public persona, and the daily dirge of her private life, and I think that juxtaposition is exceptionally timely. I think Ray falls in like with the idea of her. As far as the process, Tahir and I worked on a short together a couple of years back, so we have a great straight-forward shorthand. He's an any-means-necessary kind of filmmaker, and pretty hilarious too. Especially on Twitter. You should definitely follow him on Twitter. I've never had so much fun working on a project.
Lavallee: Under the guise of the rom com, it appears that the film addresses touchy, perhaps thorny issues. How to you think future auds will reflect on gender rapport via this film?
Wise: I can't wait for people to see this film! When folks ask what it's about, I simply say "modern dating," and it seems to set off an impassioned dialog every. single. time. There are so many options, and ways to research (aka vet) potential partners now that it truly further complicates how we're able, or unable, to connect.