Interviews
2016 Sundance Trading Card Series: #7. Tahir Jetter (How To Tell You're A Douchebag)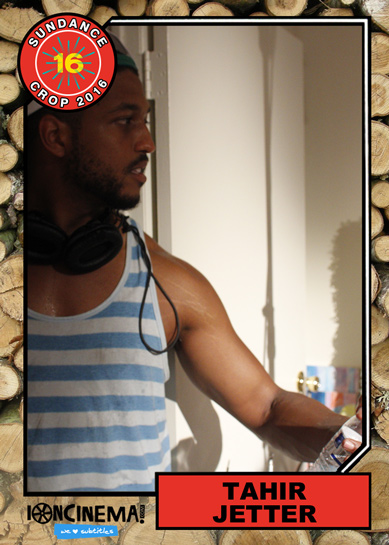 Eric Lavallee: Name me three of your favorite "2015 discoveries".
Tahir Jetter: The Internet (band). Dough Doughnuts (a work of art). Ernie Barnes (Painter).
Lavallee: By appearances, it looks like you've created a sort of parallel universe… with a full blueprint of your character and his creative writing output (faux Occasionally Dating Black Women blog). Could you discuss your writing process and how you perhaps re-tooled the rom com by delving deeper into your protag's psyche.
Jetter: I started writing Ray's blog entries several months before we began shooting. From a narrative perspective, I thought that it would be helpful for both my actor and I to have a way to further understand where Ray is coming from—to provide a kind of douchebag's CliffNotes, if you will.
I catalogued about 20-30 ideas for blog topics based on other vaguely offensive dating articles that I had read from across the web (and topics discussed on Black Twitter over the years) and decided to release them weekly. At the time, I was feeling fairly cynical about relationships (as I think Ray is at the top of the story) so in considering what to write, I just delved into some of the worst, most dismal thoughts I've had about what it's like to date and live in New York, combined those with ideas from less self-aware blogs that I'd read from other chauvinists and directed those to the Occasionally Dating Black Women blog.
Lavallee: What were some of your reference points in conceptualizing the character of Ray Livingston and the opposite gender dynamics? Did you reference current social norms, outdated film history models, or a mismatch of other ideas? And finally how did this decide the tone of your film?
Jetter: In addition to just filtering my own intermittent, silly thoughts after this failed situationship I'd had, I honestly based all of the film's gender dynamics (and the corresponding acrimony portrayed) off of exchanges that I'd seen back and forth between people on Twitter, since 2009. Twitter is a unique platform in the sense that (at its most entertaining) it prompts people to engage in virtual debates on an ongoing basis. I've seen a plethora of really intelligent people embroil themselves in arguments about modern dating protocol, sexual mores, the lives of celebrities, etc., and so it was from there that I feel like I got a glimpse of what a lot of women hate about men and vice versa.
There are certainly other classic, romantic comedies that our movie pays homage to, but I think that the scope of our story (and the scale of the characters' feelings for each other) feel more rooted in a Millennial milieu than some of those films.
The tone for this movie came from the fact that I've come to feel like dating in New York (and in a lot of big cities) tends to feel like this sad, absurdist comedy. Thinking back on a lot of the relationships I'd engaged in, these past 9 years—the way I'd treated people, and the way that I'd felt jilted when things hadn't gone my way, I felt like I (and many of my peers) are often trapped in this aimless ballet in which hardly anyone gets together. It feels almost farcical.