Interviews
2016 Sundance Trading Card Series: #11. Steven Caple Jr. (The Land)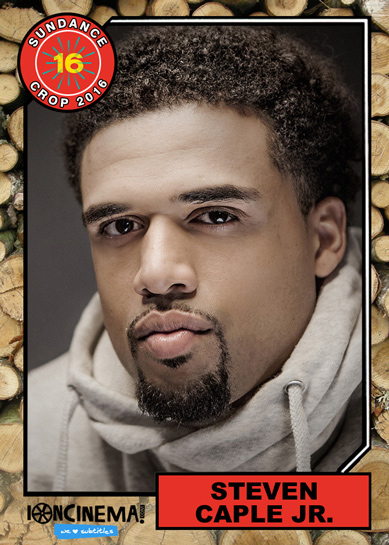 Eric Lavallee: Name me three of your favorite "2015 discoveries".
Steven Caple Jr.: The story of Wendell Scott. 2) J.Cole's HBO documentary "Homecoming." 3) Eric Mingus: poet, vocalist, bass player.
Lavallee: They say shoot what you know…. here it might be a case of shoot where you know. Could you discuss Cleveland as a backdrop. Cleveland as a character. Cleveland as a welcoming front door rug / antagonistic force.
Caple Jr.: Cleveland – aka- The land is home. The cities backdrop is defined by the unique locations and the mixed people/culture. We tap into the skateboard scene and the summer experience in Cleveland . We explore both gritty areas and nice areas of the city. We received love from the city and open arms of many businesses and people, but we definitely experienced the struggles that make Cleveland. We had the constant weather changes – one minute it's scorching hot and the next it's cold, cloudy, and rainy. Construction on every corner. And we were filming in tough locations so we had to deal with upset locals and bad neighborhood conditions. We had situations where I would have to bring family members and friends on set to help manage security because they were respected by the locals. In other words, protect the set. We had to cut production short on a couple of occasions because of consistent gun shots near set and a few blocks away. It was the price to to pay when shooting in an active city, but we made it out okay and everyone got to experience a side of Cleveland they haven't seen before. Once the tough neighborhoods figured out what we were doing and as we got more involved with the communities the locals embraced our crew. And crew members got the chance to interact with people they probably would never interact with. We were all getting to know and appreciate one another. It was an unforgettable experience.
Lavallee: We imagine that your lead character (played by Jorge Lendeborg Jr.) is an amalgamation of crucial social/cultural topic points you might be looking to address – how did you flesh out the character with this first time actor and what facets during the casting phase did you find match your idea of what the character of Cisco is?
Caple Jr.: Yeah, Cisco is a rough guy from the streets who looks out for himself, but deep down he has good intentions. I mentor many kids and have many family members who are just like Cisco. I see kids go down the wrong path everyday. They don't have a strong support system and they can't rely on others so they take matters into their own hands, and most of the time they end up taking the riskier/easier way out…..crime. Then there are people who standby and judge as these kids take these dark routes.
With this film I wanted to shine a light on the issue. I want people to see how kids can easily fall into the traps of becoming drug dealers. And how these people we label as criminals are just young kids and be anybody we know. During casting I was looking for an actor who fit these traits and lived this lifestyle, but surprisingly we found Jorge. A very smart kid who grew up in a middle class neighborhood. He was very fresh and had pure instincts that worked for Cisco. He had a great vulnerability and was very untrained which helps when trying to capture honest moments. Though Cisco can be a hated character at times, Jorge brought a layer of sympathy.
With Jorge not knowing much of "the hood" I only had a few weeks to show him the ropes of Cleveland and introduce him to people that were involved in my life. He met my family, friends, my father who is a recovering drug addict, and street skaters who live this lifestyle. I showed Jorge the rough neighborhoods where Ezzy (who plays Boobie) and I grew up. The film is also based off a few kids I met in LA so I showed Jorge interviews that I filmed of the kids sharing their experience. This was the process with all four boys and as soon as they all were on the same page with what role they had in the group — they would all chip in to help each other during scenes. It was beautiful to see the boys become brothers and learn as a group. It was their first time in that environment and it was my first film so we were discovering things together. But there were times where I was hard on Jorge and when the boys were having too much fun I would have to isolate Jorge from the group to make sure he kept the selfishness needed for Cisco's journey.