Reviews
Sand Storm | 2016 Sundance Film Festival Review
The Member of the Wedding: Zexer's Debut Churns Empathy from Obscene Custom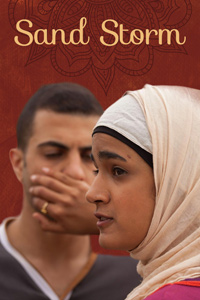 We've seen an increasing tide of feminist perspective narratives detailing the despicable social sleights faced by women in various (usually Middle Eastern) cultures, many of these focusing on a particularly awkward situation where tradition allows men to take a second wife while his first is still alive and well. Such is the starting point for Sand Storm, the impressive debut from Israeli filmmaker Elite Zexer. But audiences thinking they're already familiar with how these pained scenarios tend to unfold will be pleasantly surprised when they realize Zexer has something a bit more complex and unpredictable in store. What begins as a tale concerning a powerless woman begrudgingly accepting her fate becomes a moving portrait of a mother commending better possibilities for the future of her daughter, creating a glimmer of hope in an endless denial of agency.
Jalila (Ruba Blal) finds herself in an unpleasant scenario, forced to host the wedding festivities of her husband Suliman's (Hitham Omari) marriage to a second, much younger wife. Barely unable to mask her contempt as Suliman prepares to build a second home, where he will live with the other woman after returning from a lavish honeymoon, Jalila discovers her eldest daughter Layla (Lamis Ammar) engaged in an inappropriate romance with a boy from her university. Layla's education has managed to make her more progressive than the limited traditions of her Bedouin parents, but her association with the boy could cause her family great shame. Taking out her frustrations on Layla by denying her access to him, the situation is worsened when the insistent young man attempts to pay Suliman a visit to ask for Layla's hand in marriage. In vengeful response, Suliman arranges a marriage for Layla with a dissatisfactory suitor in the village, prompting Jalila to make unheard of demands from her husband.
Actress Ruba Blal is the definite stand out in Zexer's film. Already having appeared in films by Eytan Fox and Julian Schnabel, Blal was the notable lead in Palestinian filmmaker Annemarie Jacir's sophomore feature When I Saw You in 2012. We meet her in a cold stride here, bitter and demeaned as she plays an appropriate host to her husband's new wife and made to tend with children who pay her no heed. Several other filmmakers have documented a similar scenario across various cultures, including Brillante Mendoza with Thy Womb and Umut Dag with Kuma, both 2012 features. But Zexer strays from the luridness of this scenario and turns Sand Storm into a social drama cum plan of action as we focus on the impending arranged marriage of Layla to an unworthy suitor. Notes of Fill the Void, Dukhtar and this year's Mustang become more notable points of comparison as Jalila comes to a squeamish understanding that her daughter has been fated to share a similar misery.
Sand Storm becomes more problematic in its final frames, indicating the precarious role of sacrifice in a continuation of gender sublimation. The final, abrupt frames aren't so much cynical as unfortunately realistic. The dusty expanses of the rural Bedouin village are modestly photographed by Shai Peleg, making the narrative seem perilously contained within a radius promising only greater isolation outside their community.
★★★/☆☆☆☆☆
Reviewed on January 25th at the 2016 Sundance Film Festival – World Dramatic Competition Programme. 87 Min.