Please note, the absence of titles like Spring Breakers, Paradise: Faith, Frances Ha, No, and The Place Beyond the Pines is due to the fact that I saw these in 2012 and considered them as some of the best 'unreleased' films of that year. The following ten selections are the best films I saw this year that also made it to theatrical release also this year. Without further ado, here are my Top Ten Films for 2013 commencing with my number 10 pick…:

10. Fruitvale Station – Ryan Coogler
The only directorial debut on my list, Ryan Coogler, took home the top audience and critic's prize at Sundance, for his emotional, well played reenactment of the last days in the life of a young man whose life is cut short. Featuring stellar performances from Michael B. Jordan, Octavia Spencer, and Melonie Diaz, Coogler's debut is an engaging and important cinematic achievement, and marks the beginning of a promising new voice in American filmmaking. [July 12th NYC & L.A Release – Fox Searchlight]
9. Her – Spike Jonze
Beyond being one of the most touching and astute films to depict the perilous human need for warmth, affection and connection with others in a realistic near future where people are technologically over connected but more emotionally isolated than ever, Spike Jonze's exhilarating new film has another equally interesting facet; it's lead actress, Scarlet Johansson in a voice only role that's being hailed as one of the best female performances of the year. Whatever your thoughts are on that, it's an interesting commentary on the female voice in cinema, what that might be saying about genuine female agency, not to mention who the voice belongs to (Johansson stars in the title that tops my unreleased pics of the year, another role that excitingly explores the role of female as 'other' and 'alien' in a world where the choice of consuming her is her deadly weapon). It's great to see Phoenix back in action, this being the lighter version of a man obsessed with his relationship to woman (as compared to his other 2013 role, the unreleased James Gray film, The Immigrant). Amy Adams is delightful in a supporting role, and Jonze, as always, knows how to strike all the right notes of a harmonious, longing melancholy. [December 18th NYC & L.A Release – Warner Bros.]
8. Gravity – Alfonso Cuaron
The return of the fantastic Mr. Cuaron has given 2013 one of its most talked about films with Gravity, featuring a fantastic performance from (the unfortunately distracting looking) Sandra Bullock. Sure, depending on your level of finicky attention to detail, you might be distracted by some elements that are purely poetic license, but it's got a fantastic, debatable finale, and happens to be one of the most spectacular looking visual films of recent memory. [October 4th Wide – Warner Bros.]
7. 12 Years a Slave – Steve McQueen
What more is there to say? Love it or hate it, Steve McQueen's slavery film is one of the hardest to watch yet beautifully composed films you'll ever see. I've had more conversations about this, his third feature, than any other films this year. 'Race relations' still being what they are in the US at large, we're still dealing with the historical ramifications of slavery, and, much like gay cinema, reactions to these recreations of period pieces dealing with volatile social issues (for lack of better terminology) is an intriguing litmus test to where many stand in their discomfort. Hailed by a large majority, denounced as slavery porn by some, all I can say is this: A movie correctly dealing with slavery should make you feel uncomfortable, distraught, and angry. You should not walk away from a film depicting slavery and immediately dismiss thinking about it as you resume your daily routine. McQueen's powerful film, featuring fantastic performances from Chiwetel Ejiofor and Lupita N'yongo, is must see cinema, and it's certainly the type of film whose power doesn't dissipate once the credits roll. [November 8th Wide – Fox Searchlight]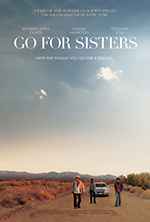 6. Go For Sisters – John Sayles
One of my favorite surprises this year happened to be the new film from John Sayles, the SXSW entry Go For Sisters. I say surprised because, though I consider Sayles an amazing filmmaker, I quite disliked his last film, 2009's Amigo. So what a treat to see this immigration/road-trip drama feature two stellar performances from Yolonda Ross and LisaGay Hamilton supported by an entertaining turn from Edward James Olmos. And, fantastically, despite a somewhat muted reception, Ross received an Indie Spirit nod for Best Supporting Actress. [November 8th NYC & L.A Release – Variance Films]
Nicholas Bell's Top Ten Films of 2013 continued: Picks 5 to 1.