The Dish On Di: Hirschbiegel's Dissection of Princess' Last Two Years a Trifling Affair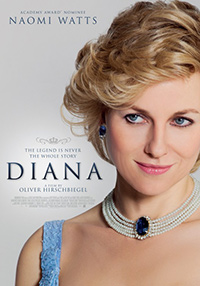 Whether ambivalent or not about Oliver Hirschbiegel's Princess Di biopic, Diana, which focuses on the last two years of her life leading up to her tragic death, the film's legacy amounts to little more than a missed opportunity, a judgment that seems to be agreed upon in even the kindest of critical circles. Hirschbiegel, a German director whose best two titles are now at least a decade old, forges onward in a procession of underwhelming English language vehicles and his latest is unlikely to win him any new fans, though it's evident that a great deal of effort went into making this a respectful and overly sympathetic portrait of the famous princess. Perhaps if the project had debuted before something like Stephen Frears' 2006 film The Queen, which unfurls from a much more complicated, infinitely more complex scenario than the melodramatic love story that propels the film here.
Based on Kate Snell's book, Diana – Her Last Love, Diana's complicated last two years are boiled down to a most uncomplicated story. In the midst of a divorce scandal and the icy judgment of the Royal family, Diana as portrayed by Naomi Watts, is just another highly intelligent, highly privileged woman who wears her heart on her sleeve, gracious in her ability to give love, but unlucky enough to receive the kind of love she desires, as we're bluntly told by her conversation with acupuncturist Oonagh Toffolo (Geraldine James). An unexpected hospital visit introduces her to Haznat Khan (Naveen Andrews), a Pakistani heart surgeon who soon finds himself enamored with the princess. However, a fiercely private professional, the paparazzi that hound the world's most famous woman like a pack of wolves poses a problem for him, and as the two fall in love, his contempt for the lack of privacy and his own family's traditionally repressive stance on marriage to a Christian woman constantly threatens to tear them apart. And so, Hirschbiegel attempts to examine how and why Diana became involved with Dodi Fayed (Cas Anvar).
In essence, the process of relating the last two years of Diana's life has appeared to have undergone a similar metamorphosis as Billie Holiday's life in Lady Sings the Blues, where characters and events were condensed into a composite of simplicity, which has room for only one man—one pure, unfettered love, complicated by various circumstances beyond the control of the central couple. To give us a melancholic, sympathetic Diana who, even in her naiveté, never does wrong and whose more questionable decisions aren't really questioned, is certainly the easy route, and the one which Hirschbiegel, star Watts, and screenwriter Stephen Jeffrey seem wholly committed to.
As far as Watts' performance, the talented actress certainly seems to have nailed Di's mannerisms, and from a distance, sometimes really does resemble the woman she's playing. But it's much like Michelle William's more universally acclaimed role in My Week With Marilyn (a woman Watts is also rumored to be playing soon in a film by Andrew Dominik), where no matter what they're doing, we're constantly reminded and distracted by the actresses playing them, hence granting a sort of affected feel to the film.
Hirschbiegel opens with a rather unsettling sequence, whereby spasms of off-screen news footage herald the ominous date of August 31, 1997. We follow Diana from behind as she attempts to make a phone call, striding through palatial rooms in menacing silence. She meets bodyguards in the hall, and they all turn at the same moment while a deep zoom alerts us that something sinister may be going on, as if they all realize that we, like the paparazzi, are insidious voyeurs, breathing down their very necks. Immediately switching back to two years prior, that intriguing opening would have been all the more powerful if Hirschbiegel didn't return to it, but there we are at the very end, getting a convenient bookend where you'll likely predict what is they're all turning to see. It's just one of several clichés that really undermines the potency of the material, and one can't help but think while watching Diana, maybe if we'd had a PG-13 film version of her banal romance with the heart surgeon while it was transpiring, the masses would have let them have their privacy since there's nothing to see. On second thought, maybe they wouldn't have, judging by the furor and fascination surrounding everything concerning William and Kate.