Sleepy Time Love: Nettlebeck Underwhelms with Latest Character Study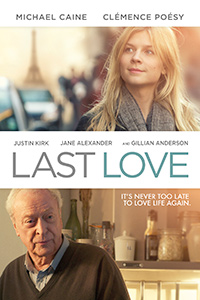 German director Sandra Nettlebeck returns with her fourth feature, Last Love, adapted from a novel by writer/actress Francoise Dorner, a co-production effort that is mostly an English language feature, though not likely to reach the heights of acclaim achieved by her successful 2001 debut, Mostly Martha. As usual, Nettlebeck has amassed an interesting cast likely to attract attention, so it's disheartening that the film is ultimately a rather ungainly and predictable familial drama with narrative dynamics similar to a slew of recent titles dealing with the loss, regret, and estrangement.
Matthew Morgan (Michael Caine) is a grief stricken American professor living in Paris, unable to get over the death of his wife Joan (Jane Alexander), who passed away in 2007. Life seems to have hit a standstill, with Matthew wallowing in an unkempt existence, refusing to learn the native language of the country he's living in whilst lazily making attempts to invest in undemanding activities like stamp collecting.
A chance meeting with a dance instructor named Pauline (Clemence Poesy) on a bus sees the old man invigorated by her energy. In turn, Pauline begins to see Matthew as a replacement father figure since her own is deceased. They bond by taking long walks and lunching together, but the situation gets complicated when Matthew overdoses on pills and ends up in the hospital, causing his estranged children (Justin Kirk, Gillian Anderson) to begrudgingly leave their roosts in the US to come see what's up with dad. Upset at the fact that Matthew never bothered to mention that he had children, Pauline attempts to help him reconnect with his own kids while trying to manage her own feelings.
There's a running gag throughout Last Love relating to the stereotyped American refusal/fear of learning foreign languages, even when they reside in another country. There are numerous scenes revolving around Matthew's inability to speak French, usually accompanied by his insistence on correcting several French speakers who make small grammatical errors in their English. Likewise, Anderson's character even pretends a lack of understanding out of spite, though we learn later that she's fluent. Obviously, it's a statement about language and communication and how we can make self-imposed stoppers at will, a nifty way to isolate oneself in a near perfect state of ignorance, and if only Nettelebeck didn't run it into the ground with a silly revolving sequence at a sandwich shop with pickles.
Caine, while an odd choice for the American protagonist at the center of the story, is a likeable enough draw, even if the character of Matthew Morgan feels a bit hazily realized. Poesey, perhaps recognizable from a recurring role in several Harry Potter films, does what she can with a role that requires her to utter glaringly obvious lines like "The day we figure out everything about our lives is the day we die." Their relationship is startlingly similar to that of Terence Stamp and Gemma Arterton in Unfinished Song, where a young choir teacher strikes up a friendship with a man who recently lost his spouse. Gratingly, Poesey's Pauline develops a romantic attachment to Matthew's son, played by Justin Kirk, leaving poor Gillian Anderson's character as nothing more than a semi-bitchy after thought.
The original title of the film was Mr. Morgan's Last Love, which seems to adhere to Nettlebeck's penchant for focusing studiously on one object or person, as her protagonists or objects are often titular (Mostly Martha; Sergeant Pepper; Helen). The shortening of the title only highlights the flimsy characterization and subsequent relationship driving Last Love, which isn't allowed to fluctuate enough to generate any kind of emotional depth.