Disc Reviews
American Horror Project – Volume 1 | Blu-ray Review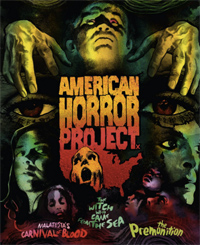 In a commendable effort to save forgotten genre items either cloaked in obscurity or in danger of disappearing completely due to degrading source materials, distributor Arrow Video releases its first volume of a new series called American Horror Project. Fans of vintage indie horror from a game changing golden era should be enthused for this trio of inventive efforts even if not all live up to the excitement promised by the vibrant packaging. Lurid, carnivalesque, and even tawdry, it's a new formidable platform for films unfairly dismissed upon release and deserving of another opportunity to provoke.
The earliest film here is the ungainly titled Malatesta's Bucket of Blood, the 1973 debut and solo feature of Christopher Speeth. The plot synopsis promises palpable weirdness, concerning a middle aged couple, Mr. and Mrs. Norris (Paul Hostetler, Betsy Henn) who show up seeking employment at a seedy, run down carnival. Their zeal is a ruse, however, because they're convinced their son, who disappeared after visiting the amusement park, never left. They're shown the vague ropes by the weirdo manager, Mr. Blood (Jerome Dempsey), while their daughter Sonja (Lenny Baker) does some exploring of her own, flirting with a dumb, blond stud and getting into strange situations a heavily accented little person, Mr. Bobo (Herve Villechaize). Eventually, it's revealed a group of cannibalistic ghouls are eating people beneath the park's infrastructure as they gaze upon classic silent genre films, Mr. Blood is (you guessed it) a vampire, and the titular Malatesta (Daniel Dietrich) is the phantom owner lording over his private evil kingdom.
Cheaply made, some incredibly imaginative set designs are squandered by the nonsensical plot. Despite a young Herve Villechaize appearing as the curious Mr. Bobo, other cast members are significantly wooden (particularly two very off putting performances from Hostetler and Henn as the distraught parents echoing the couple in Wes Craven's Last House on the Left, 1972).
The Premonition (1976)
Robert Allan Schnizter's sophomore film The Premonition is notably atmospheric during its protracted set-up, but falls apart disastrously in the second half. Schnizter ended a six year hiatus following his low-budget debt, No Place to Hide (an early Sylvester Stallone vehicle), and this psychic horror narrative feels very much of the period. It's a pity it wasn't more revered, however, especially for lead Sharon Farrell, who headlined Larry Cohen's early cult classic, It's Alive (1974), another parental nightmare scenario.
Professor Miles Bennett (Edward Bell) and his beautiful wife Sheri (Farrell) enjoy their suburban existence with five year old daughter Janie (Danielle Brisbois). Until Janie's crazed biological mother Andrea (Ellen Barber) seduces a psychotic circus clown (Richard Lynch) and attempts to steal Janie back. The resulting trauma awakens Sheri's dormant psychic abilities.
As far as convincing tone goes, The Premonition is probably the strongest item in this first volume, once again proving Farell to be an actress who should be more well-known than she is. Likewise, Schnitzer gets some amazingly creepy moments from Lynch (an actor frequently cast in Rob Zombie's recent productions) as Jude, who's more menacing outside the clown make-up, in a constant state of sexual frustration thanks to his cohort's obvious teasing. All the right elements are in place for an effectively moody genre piece, but Schnitzer's scenario trips up on itself with some repetitive nightmare sequences and eventual non-enthralling displays of psychic power (involving, ultimately, the power of song). One of the film's best aspects is a strange score from Henry Mollicone.
The Witch Who Came from the Sea (1976)
By far the oddest title in the set is this horror film as sexual dysfunction metaphor starring Millie Perkins, who famously made her debut in the tragic titular role of George Steven's 1959 production The Diary of Anne Frank. Scripted by her husband Robert Thom, Perkins stars as Molly, a rather bewildered woman who works as a waitress in an ocean side Los Angeles restaurant and haphazardly looks after two young nephews while their overworked seamstress mother struggles to support them on welfare.
The Witch Who Came from the Sea is actually a lot more ambitious than its sleazier moments might suggest, both as a conceptualization of distressed female sexuality and problematic assessments of fairy tales and classic mythology. With a murderous ménage a trois fantasy sequence playing like a predecessor to Lars Von Trier, the title has several moments which potentially designates it as a film ahead of its time, and thus relegates it as perhaps the most essential film of this set (and highlights the importance of rescuing titles such as this from relative obscurity).
Director Matt Cimber is also the most notable name of the three, and he'd follow up this film with the controversial Joseph M. Cain adaptation of Butterfly, which infamously starred Pia Zadora, Stacy Keach, and Orson Welles as one of the tawdriest and ridiculous depictions of incest ever committed to film. It is also the theme providing the crux of Molly's mental ailments, a sex abuse survivor whose repressed libido activates murderous tendencies stemming from her childhood rape by her father. At times, Millie Perkins is eerily adept, whenever the script isn't demanding she ham it up (such as one extended diatribe against working as a 'bunny' to further her career in the service industry—her sister tells her, "you could be a top cocktail waitress") or prognosticating about the pills she's supposed to ingest for her vague 'condition.' Cimber gets some shockingly provocative moments, beginning with opening sequences on muscle beach, where Molly ogles a number of scantily clad weight lifters with large, engorged phalluses. Although the title could obviously be read as a precursor to later examinations of alienated female sexuality (Under the Skin, 2013), the film's tone and mermaid motif equally recall Curtis Harrington's Night Tide (1961) and the seedy aura of Venice Beach.
Thom's script has some delightfully subversive moments, even with pointed reference to the Hans Christian Andersen fairy tale which births the particular brand of misogyny being depicted here. "Do you know The Little Mermaid?" she girlishly asks a bar patron. "Lots of them," is the snarled reply. And the witch of the title is Venus, the goddess of Love so famously depicted by Botticelli in the half shell, herself a child of rape from the almighty Zeus (the character's revisionist memories of her own father has her proclaiming to her nephews, "he was too good to live on land").
Disc Review:
As with all of Arrow's titles, this disc set comes with a bounty of extra features. The transfers are better than could be hoped for, even though Malatesta has some obvious wear and tear, and some of the frames of Witch are also compromised beyond repair. The Premonition (which is the best disc of the three) and Malatesta are presented in 1.85:1, while Witch is 2.35:1. Each disc is a brand new 2k restoration from original vault materials or film elements and comes equipped with its own bells and whistles. Each title is introduced by author Stephen Thrower (Nightmare USA) along with an optional audio commentary track.
On Malatesta:
An interview with director Christopher Speeth, an interview with writer Werner Liepolt, and a discussion with directors Richard Stange and Alan Johnson pertaining specifically to the design of Malatesta's underground are included.
On The Premonition:
A making-of-documentary featuring director Schnitzer, composer Henry Mollicone (the score is also available as an isolated track), and DP Victor Milt, as well as archive interviews with Schnitzer and star Richard Lynch are available. Three of the director's previous short films, "Vernal Equinox," "Terminal Point, and "A Rumbling in the Land" are also on the disc.
On The Witch Who Came from the Sea:
A making-of-documentary featuring director Cimber, actress Millie Perkins, actor John Goff, and DP Dean Cundy is available, as well as archive footage featuring interviews with Cimber, Perkins, and Cundy. An additional feature finds Cimber reflecting on the title, which has become something of a cult classic.
Final Thoughts:
A mere glimpse of the neglected bounty of genre cinema out of sight and out of mind, Arrow Video's American Horror Project Volume One hints at more wonders to come in its new resuscitative cinema movement.
Film Reviews:
The Witch Who Came from the Sea: ★★★/☆☆☆☆☆
The Premonition: ★★½/☆☆☆☆☆
Malatesta's Carnival of Blood: ★/☆☆☆☆☆
Disc Review: ★★★★/☆☆☆☆☆