Disc Reviews
Black Mama, White Mama (2-Disc Special Edition) | Blu-Ray Review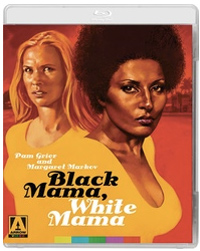 Arrow Video continues its revitalization of Pam Grier's iconic Blaxploitation period with 1973's Black Mama, White Mama, arguably the star's breakout vehicle which would steer her career through some of her most notable roles for the next two years. A low-budget women-in-prison grindhouse effort filmed in the Philippines by iconic and prolific director Eddie Romero (who had cast Grier in his previous Dr. Moreau rip-off, The Twilight People, 1972), the film recapitulates Stanley Kramer's race relations title The Defiant Ones (1958) by tethering a militant revolutionary to a prostitute and continually teasing the possibility they may engage in titillating behavior. On the surface, everything appears to be superficial and silly, a straight edged escape flick featuring scantily clad gals hurtling improbably through the jungle. And yet, there's something a bit more subversive as regards the gender and racial implications in the easily dismissed title. Modeled after the efficient (i.e., cheap) productions being sloughed out of Roger Corman's machine, the film doesn't align perfectly with later films in any of the genres it could be labeled as. Though hardly revolutionary, there are some (perhaps subconscious) moments of subversivism in between the requisite shoot-out scenes where bullets tear apart men and release women from the trappings of their apparel.
Prostitute Lee Daniels (Grier) and revolutionary Karen (Margaret Markov) are transported to a women's prison, but because of their constant fighting are hauled off to a maximum security facility. But Karen's guerilla friends, led by Ernesto (Zaldy Zschornack), ambush their transport allowing the women, who have been handcuffed together, to flee into the jungle and escape the island. Eager to quell the guerilla group, Captain Cruz (Eddie Garcia) hires hardened criminal Ruben (Sid Haig) to capture the women, while warlord and pimp Vic Cheng (Vic Diaz) is eager to obtain the forty thousand dollars Lee stole from him.
The screenplay, written by H.R. Christian, and based on a story by Joe Viola and Jonathan Demme (who scripted 1972's The Hot Box, a similar jungle scenario featuring Markov), doesn't seem concerned with directly addressing the racial implications (at least not as obviously as Stanley Kramer), which might also be due to the film's locale and a bevy of supporting Filipino characters. But the commodification of gender is certainly on display in interesting ways.
An unspoken rivalry seems to be made apparent in the early visual exchanges between Grier and Markov as they're transported to their jungle prison, although this could equally be read as a mutual attraction. Likewise, their occupational choices signify how both women are accustomed to using their bodies to exact their will, a prostitute to support herself, while her white counterpart uses hers to exact her political agenda. Competing for the attention of the lesbian prison warden (Lynn Borden), allusions are made to how these horny women have no access to men, which isn't quite true since a whole bunch of them (including a disturbing bounty hunter played by Sid Haig) are available on the island, which would seem to indicate these isolated, self-governing women don't count the other people on the island as 'men.' But to pass unnoticed in the general populous during their escape, they are forced to don appropriately virginal feminine personas, first as nuns, and then even trying to pass themselves off as schoolgirls.
If the title had been produced following Grier's ascension to stardom, she would've been groomed as the favored militant, and already it's easy to see how much more effective this might have felt with the two leads reversed. It's clear we're supposed to believe Margaret Markov is more universally appealing, as evidenced by a sequence where she lures a young man into a trap while Grier hides in the bushes. But Romero's film seems to indicate this hierarchy is either feminine based or resolutely upheld by women themselves since all the male characters hardly seem as discerning (like a pair of Filipino women Haig beds) as to who they have access to. Likewise, the men depicted here are clearly distracted by their own power plays (such as when Haig demands Captain Cruz and his boss undress so everyone can see who has the larger penis), an exception being Vic Diaz as a bloated, toad-like pimp who electrocutes women in the nude, and, possibly worse, makes others lick his hairy belly while others watch.
Disc Review:
Arrow Video continues its praiseworthy efforts in restoring neglected exploitation classics, and this high-definition transfer is free of flaws with a handsome restoration. Audio is equally cleaned up and resolutely clear. Filmmaker Andrew Leavold (The Search for Weng Weng) provides optional commentary, and Arrow Video includes a number of superb extra features, including interviews with Markov and Sid Haig (sadly, no Grier here), and an archive interview with Eddie Romero.
White Mama Unchained:
Arrow Video conducted this fourteen minute 2015 interview with Margaret Markov, who discusses her initial attraction to acting while growing up in a family of ten children. The actress discusses her filmography before and after the Romero title.
Sid Haig's Filipino Adventure:
Arrow also snags this fifteen minute 2015 interview with Sid Haig, who has fond memories filming in the Philippines thanks to the film crews (previously he was in Jack Hill's The Big Bird Cage and Big Doll House filmed there).Haig recalls working with Grier, first on Bird Cage, where she was discovered by Jack Hill while working as a secretary at American International.
The Mad Director of Blood Island:
Director Eddie Romero discusses his career in this fourteen minute archival interview conducted by Andrew Leavold, who charts a chronological conversation through his filmography.
Final Thoughts:
Hardly a feminist manifesto, and not exactly revolutionary as far as Grier's problematic characterizations in Blaxploitation cinema (see Sheba, Baby for a less exploitative rendering), Black Mama, White Mama contains intriguing gender dynamics and subversively coded power plays allowing it a reconsideration not evident in most grindhouse efforts.
Film Review: ★★½/☆☆☆☆☆
Disc Review: ★★★★/☆☆☆☆☆