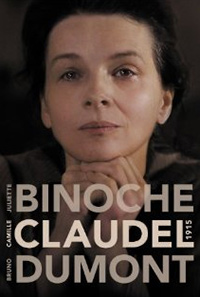 Many are perhaps familiar with Isabelle Adjani's much hailed Oscar nominated performance as the turn of the century French sculptress Camille Claudel in the 1988 Bruno Nuytten sensation, an artist whose unfortunate demise overshadowed her work. When director Bruno Dumont announced his latest film, Camille Claudel, 1915, (a 2013 Berlin Film Festival entry) which would mark the first time the auteur utilizes a notable actor, here in the form of Juliette Binoche, it marked an intriguing change of pace for a director known for oblique and sometimes distractingly philosophical works where the sacred and profane seethe incongruously until sparks of surprising violence puncture the ambiance.
What's perhaps more surprising is Dumont's end result here, an elegiac look at a brief moment in time where Claudel was only two years into a nearly thirty year internment in an insane asylum. Without a doubt, the success lies primarily with a formidable performance from Binoche, her strikingly pale visage and darkly brooding eyes belie a numb terror lurking in a brilliant mind locked hopelessly in a living tomb, with wails often taking the place of words.
After a near two year stint in an asylum outside of Avignon, Camille Claudel leads an isolated and numbing existence inside the cloistered hospital, as equally distant from the nuns as she seems to be from the other inmates. Allowed to prepare her own meals due to her pervasive fear of being poisoned (she is convinced that sculptor Auguste Rodin plots to do so, and though her affair with him ended twenty years prior, the separation still seems to have caused a marked imbalance), she appears to be mostly annoyed with the others, and it's clear that she realizes she does not belong amongst them.
Briefly affectionate with one inmate in particular, we learn that Camille still has hope of returning home to Paris to live with her mother, and when it's announced her brother, author Paul Claudel (Jean-Luc Vincent) will be paying her a visit in a day, we watch a flurry of hopeful emotions blossom nervously. As Paul prepares to visit his troubled sister, he soliloquizes his conservative and religious beliefs to a friend, and his sister's best interests hardly seem to trump the family's reputation. While his belabored piety, granting him supposed sainthood in the eyes of others, would indicate otherwise, his meeting with his sister is hardly benevolent.
While the 1988 film focuses on Claudel's passionate affair with the very married Auguste Rodin (portrayed by Gerard Depardieu), Adjani's performance roils into a frenzied, hysterical rage over the soured relationship, a break so potent that it causes her undoing. While she descends into her madness, Nuytten ends his film, and we're told Claudel would die nearly three decades later in an asylum. Dumont's film picks up at an intriguing point, for only two years into her stay, Claudel is very much aware that she does not belong in the asylum, often tasked by the nuns to help care for the other patients. Still suffering from a pronounced persecution complex revolving around her affair with Rodin, she is lucid, verbalizing that she's not quite sure why she's being held there, and to what end.
The film is based on actual letters between Camille and her brother Paul, and his impending visit supplies Dumont's film with a rather negated climax, for Camille is still shown to have considerable hope about her brother's visit, thinking she may eventually be free of her prison. Yet, we all know this will not be the outcome of the meeting. Apparently Binoche's scripted dialogue was less than four pages, most of that saved for her longest interaction, which takes place with her brother. When Dumont switches briefly to show Paul readying for his visit, the author waxes poetically about his religious and other beliefs, and it seems here that passages of actual passages from letters interjected. Pompous, pretentious, even infuriating, as played by theater actor Jean-Luc Vincent, Paul Claudel seems something akin to the puffy and malevolent son of Fabrice Luchini.
Disc Review
Kino Lorber's presentation of Camille Claudel, 1915 is a plain Jane package, with not a special feature in sight (though a handful of theatrical previews for other Kino acquirements are available). Likewise, the decision to bypass a blu-ray edition is also disappointing, given that this isn't the case in France (where the title is available in this format but without English subtitles). Given that Dumont filmed this in an actual asylum and that Claudel is a fascinating historical figure, some kind of additional featurette would have been more than welcome. Presented with a standard 2.35:1 aspect ration, it's certainly a serviceable viewing experience.
Final Thoughts
The austere, bleak look of Camille Claudel, 1915 is ravishingly picturesque, with cinematographer Guillaumes Deffontaines juxtaposing extreme close-ups of Binoche's wan, unhappy face with barren landscapes and leafless branches reaching heavenward. Blasts of vibrant colors in certain interior shots, like purple curtains, make the hopelessly drab chambers (filmed in an actual asylum) look like carefully framed portraits. But the powerful evocation of a trapped soul rests entirely in the furrowed brow of Binoche, whose laments about her humanity slipping away, screaming "I can't stand the sight of these creatures," is nothing if not profoundly moving. Always revered for her commitment to roles and artists she believes in, her Camille Claudel is one of her most provocative performances yet, and the unrelenting Dumont chose wisely.
Film Review: ★★★½/☆☆☆☆☆
Disc Review: ★★½/☆☆☆☆☆