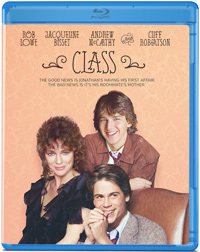 A prolific screenwriter who emerged from the late 1970s as a promising American film director, Lewis John Carlino wouldn't get behind the camera following his third, and least successfully received feature, Class (1983), an item which, in passing, looks to have the stamp of John Hughes and the Brat Pack all over it. Aggravating in its considerable inconsistencies, this was the director's first attempt to film a treatment he didn't write or adapt himself, scripted by Jim Kouf and David Greenwalt (both writers who would move into mainstream film and television). The result is a rather wishy-washy prep school version of The Graduate, but the comparison is merely a pale echo, trapped inside a banal resolution with troubling misogynist tendencies.
Immediately upon meeting his new roommate Skip (Rob Lowe) at prep-school, Johnathan (Andrew McCarthy) is thrust into a rigorous new environment. Initial misgivings are set aside for a meaningful friendship and Skip convinces the shy Jonathan to step outside of his comfort zone. This eventually leads to Jonathan having an affair with an older woman, Ellen (Jacqueline Bisset), who is eventually revealed to be Skip's mother.
Carlino's first screenplay feature was for John Frankenheimer's classic 1966 film Seconds (which was considered a failure upon release, critically resuscitated for the excellent product it was decades later), followed by notable vintage items such as the provocative adaptation of D.H. Lawrence's The Fox (1967), Michael Winner's The Mechanic (1972) and the eerie psychic drama Resurrection (1980) which starred Ellen Burstyn. Between these, he began a heady directorial career adapting Yukio Mishima's novel The Sailor Who Fell from Grace with the Sea (1970), and then an Oscar nominated adaptation of Pat Conroy's The Great Santini (1979). Though Carlino continued as a screenwriter following Class, the film would halt his directorial career, unfortunate considering it's simply a rather forgettable venture.
Pitting Andrew McCarthy against Rob Lowe, the most interesting element of Class is how their casting would most likely be switched in a more contemporary setting (though dramatic ventures featuring younger men sleeping with older women are an increasing rarity, relegated to the realm of foreign directors, such as Anne Fontaine's 2013 film, Adore). Though there are some particular moments of discomfort, the film always tends to defuse the situation, keeping things in the realm of the superficial, including what's supposed to be the meaningful friendship between Jonathan and Skip (which begins with a bit where they both don women's underwear). But the script doesn't properly develop any of these relationships, most obviously the ticking time bomb between Jonathan and Ellen, which is not properly dressed as the surprise it should be, considering you've read the synopsis prior to watching the film.
Since there is no great reveal, Class spins its wheels on the audience until we at last reach the inevitable, resulting in an awkward dinner sequence involving a patriarchal Cliff Robertson, and soon afterwards disposes of Bisset's cougar as a mere mentally unbalanced housewife who checks herself in to a sanitarium to seek help as a functional alcoholic attracted to young men (shades of Carlino's adaptation of I Never Promised You a Rose Garden). A subplot involving an SAT cheating conspiracy seems included only to provide heightened but easily dismissible tension, though Elmer Bernstein's score does its best to assist.
Disc Review:
Olive Films releases this Orion property in a standard package, presented in 1.85:1. Like many of the label's titles, this is the item's first appearance on Blu-ray and isn't particularly extraordinary. There are no extra features included.
Final Thoughts:
Though it's always a pleasure to see Bisset, Class also happened to be the feature film debut of a handful of notable people, including John Cusack (sister Joan appears in the mix), Virginia Madsen, Lolita Davidovich, and Alan Ruck (plus featuring Anna Maria Horsford in an early role). As a forgotten item from the early 1980s, Class holds a certain appeal but only for fans of its sparkly cast.
Film Review: ★★½/☆☆☆☆☆
Disc Review: ★★★/☆☆☆☆☆