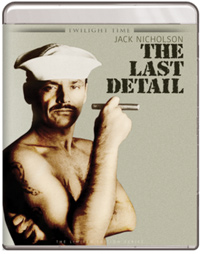 Hal Ashby remains one of the most curious auteurs to rise out of the prosperous 1970s American studio era, his titles maintaining an indelible mark on the glorious period of filmmaking, ranging from 1971's Harold & Maude to 1979's Being There. The 1980s weren't quite as kind, and Ashby, like a passel of other mavericks of the decade (Altman comes immediately to mind), stumbled into the age of excess, and in this particular case, eventually oblivion. On the surface, most of Ashby's films promise to be comedies, quirky or otherwise, but he eventually reveals those expectations to be a superficial veneer, his characters mostly downtrodden sorts who are either bitterly disillusioned or resigned to their own dysthymic worldview. One of his greatest achievements was his third effort, 1973's The Last Detail, pairing Ashby with another icon of the era, Jack Nicholson, himself in the midst of his own golden years as one of the best American actors of his generation. Neither melancholy nor glitzy enough to warrant the similar cult following of several other Ashby titles, it's a beautiful portrait of barely contained despair trapped in the escapist values of a road trip going nowhere.
Billy "Badass" Buddusky (Nicholson) and Richard "Mule" Mulhall (Otis Young) are U.S. Navy petty officers assigned to transport sailor Larry Meadows (Randy Quaid) from Norfolk, Virginia to a naval prison in Portsmouth, New Hampshire. Though not exactly enthused about the mission, they immediately begin devising a plan to maximize the time allotted as a vacation of sorts, devising their week long mission into a two day gig, tops. Once they meet Meadows, a simpleton who's been duped and unfairly sentenced to a decade in the clink, the two older men take pity on him and attempt to show him a good time on their journey, crashing into bars, whorehouses, and even detouring to see the young man's mother.
Its clear Buddusky and Mulhall will come to pity their ward, a kind-hearted simpleton who doesn't seem to know any better, unfairly condemned to a ten year stint. But how much are they willing to risk for him? Contemporary audiences certainly wouldn't expect the authenticity of Robert Towne's screenplay, which presents sympathetic, characters who eventually, and realistically, follow their own self preservation instincts. The Last Detail is an interesting counterpoint to Nicholson's iconic, more famous performance in Milos Forman's One Flew Over the Cuckoo's Nest, the actor portraying a similar anti-establishment rebel, albeit one who has nothing to lose, so acts accordingly as far as rocking the boat. Apathy and bitterness have worn down Mulhall and Buddusky, but the men they once were flair up now and then, such as an early sequence where they encounter a racist bartender, one of the film's few moments of bliss not stretched thin to reveal the aching desperation underneath.
Nicholson took home the Best Actor prize at the 1974 Cannes Film Festival (an award he shared with Charles Boyer for Alain Resnais' Stavisky) and was nominated as Best Actor in 1973 (which he lost to Jack Lemmon for Save the Tiger). Vincent Canby called the movie 'unhomogenized,' and there's clearly something about The Last Detail which sticks out, something ungainly which denies us the sort of contentment we're accustomed to with portraits of bleak, unhappy characters. But it's these joys despite the easy resolutions granting The Last Detail, and many of Ashby's other films, a pithy resonance.
If Nicholson manages to be galvanizing, it's because he's well primed by his odd couple screen time with an amazing Otis Young in a much more reserved performance, a man equally fed up with the system but unwilling (or unable) to shout as loudly about it. A relatively fresh-faced Randy Quaid (who starred in Bogdanovich's Paper Moon the same year) is also charming, the actor's eventual descent into well-publicized madness adding a despondent subtext to such a promising career. In the supporting cast, Michael Moriarty, Nancy Allen, and an extremely quick surprise cameo from Gilda Radner fly by, while a young Carol Kane snags one of the film's best sequences as a prostitute hired to initiate Quaid's Meadows into adulthood before he lands in the hoosegow.
Disc Review:
Twilight Time continues its tradition of revitalizing important cinema classics with this high definition transfer, once again, a 3,000 copy limited edition. Presented in 1.85:1, Michael Chapman's superb and gritty cinematography bodes well with this release, and as usual with the label, the audio seems particularly tailored (surprisingly, the lone extra feature, beyond a theatrical trailer, is the isolated score track of Johnny Mandel's "The Shadow of Your Smile").
Final Thoughts:
A quintessential title from the bygone New Hollywood era, the sterling reputation of The Last Detail tends to be overshadowed by more famous works from both its director and star, but this handsome transfer is the best release yet.
Film Review: ★★★★/☆☆☆☆☆
Disc Review: ★★★½/☆☆☆☆☆