Tuesday Blus: You Can Make It If You Try with Claude Berri's The Two of Us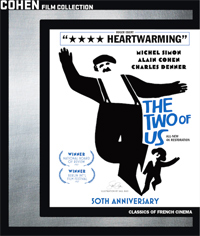 Celebrating its fiftieth anniversary with a theatrical re-release of its restoration in late 2017, The Cohen Media Group resurrects the winning debut of Claude Berri's 1967 The Two of Us, which won Michel Simon a Best Actor award at the Berlin International Film Festival.
A bittersweet chronicle of life during wartime as told through the eyes of a displaced 8-year-old Jewish boy who is sent to live in hiding with an old Catholic couple in the countryside. Tender, solemn, and more amusing than one would expect of a war-time melodrama, this is an early hit for the famed Berri, still best known in the US for his two 1986 Marcel Pagnol adaptations Manon of the Spring and Jean de Florette.
From our theatrical re-release review: "Of course, it's the level of poignancy Berri captures between Simon and Cohen as they bond and eventually support each other, as evidenced by a tender moment when Claude returns from school bald-headed after he's caught sending love letters to a girl at school. And through it all, Pepe never learns the truth of Claude's ethnic heritage, which ends in a perfectly bittersweet moment in the rain, evoking complex shades of poignancy which are reached for similarly in something like Benigni's Life is Beautiful (1988) but are much better captured by Berri and Michel Simon within the closing frames of The Two of Us."
Disc Review:
Cohen Media Group presents this new transfer in 1.66:1 with 2.0 Dual Mono. Picture and sound quality are serviceable in this property which once belonged to the Criterion Collection. Feature length audio commentary from film critic Wade Major.
Film Review: ★★★½/☆☆☆☆☆
Disc Review: ★★★½/☆☆☆☆☆