Criterion Collection: Moonrise | Blu-ray Review
For a two-time Academy Award winning director, Frank Borzage remains one of the most neglected studio auteurs of Hollywood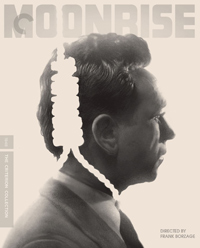 's childhood, one of the few to successfully straddle the silent/talkie divide. He was the first to receive the Best Director Academy Award for 1927's 7th Heaven, which featured Janet Gaynor (who won Best Actress for her work in three films the same year, which included Street Angel and Murnau's Sunrise), and he won again in 1932 for Bad Girl (which was recently restored courtesy of Kino Lorber). The 1930s were Borzage's heyday, churning out romantic melodramas which featured the era's biggest matinee idols, including several Joan Crawford pictures (Mannequin, 1937; The Shining Hour, 1938; Strange Cargo, 1940), and items for Marlene Dietrich (Desire, 1936) and Mary Pickford (Secrets, 1933). And yet, he isn't a name well-regarded outside of cineaste circles. This month, Criterion resurrects Borzage's only crack at film noir with his last notable feature, 1948's Moonrise. Although the blacklist would force Borzage into semi-permanent retirement from filmmaking, he would return with two minor features at the end of the 1950s (China Doll; The Big Fishermen), it would be this marriage of noir and toxic melodrama which would stand as his last critically championed achievement, which received an Oscar nod for Best Sound Recording.
Like Borzage's later career, Moonrise is an exercise in what could have been, seeing as it was once meant as a vehicle for names like Burt Lancaster, James Stewart, and Lillian Gish. While Lloyd Bridges and Ethel Barrymore factor prominently in brief supporting turns, the narrative rides solemnly on the shoulders of Dane Clark and Gail Russell, lovers doomed by the cruel hand of fate. The sins of the father provide a predestination template for Danny Hawkins, who is just a boy when his father is hanged for killing a man. Growing up as social pariah under the care of his loving grandmother (Barrymore), Danny (Clark) grows into hard-edged youth who gets carried away during an exchange of fisticuffs with his rival Jerry Sykes (Lloyd Bridges) and kills him. Hiding the body in the woods, Danny romances Sykes' girlfriend Gilly (Russell), who can see his vulnerability despite his flinty exterior. Meanwhile, Jerry's father, the town's wealthiest citizen, demands an investigation into his disappearance. As the community frowns upon the blossoming romance between Danny and Gilly, the discovery of Jerry's corpse makes him the prime suspect.
Unlike many film noirs, Borzage's Moonrise ends on a hopeful note of redemption. Danny's actions have led him astray, but rather than going beyond the point of no return, he's goaded into turning himself in thanks, mostly, to a bit of kindness and understanding from the likes of Allyn Joslyn's sheriff, his best buddy Mose (Rex Ingram), and Russell's rather wanly construed school teacher. Ingram is an interesting presence in this post WWII melodrama, a black man who carries the film's obvious wisdoms in his exchanges with Danny about the dangers of divorcing oneself from society. But while Moonrise might end lightly, for the most part it's a trenchantly grim affair, opening with the gloomy murder of Danny's father, which heavy heavy hangs on him as a troubled youth who grows into a stunted, underachieving adult.
Disc Review:
Criterion presents Moonrise as a newly restored 4K digital transfer with uncompressed monaural soundtrack in 1.37:1. Picture and sound quality are significantly attenuated in this sterling presentation. Beyond Philip Kemp's insert essay, the release includes one extra feature.
Herve Dumont & Peter Cowie:
This seventeen-minute conversation, recorded in Lausanne, Switzerland in January 2018, between film scholar Herve Dumont (author of Frank Borzage: The Life and Films of a Hollywood Romantic) and Peter Cowie, discusses the importance of Borzage during the great days of Hollywood.
Final Thoughts:
Neither as lightweight as Borzage's prized melodramas nor as bizarre as some of his other obscure titles (Strange Cargo, for instance), Moonrise is morose, melodramatic gem from the most prolific era of film noir, as well as an excellent entry into Borzage's significant filmography.
Film Review: ★★★½/☆☆☆☆☆
Disc Review: ★★★★/☆☆☆☆☆