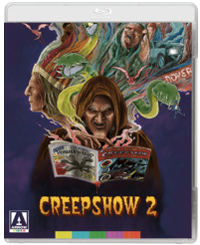 Fans of Stephen King, George A. Romero, horror anthology cinema and the texture of 1980s genre are familiar with 1982's Creepshow, a riff on E.C. horror comic books of the 1950s. The Romero/King collaboration generated a cult following, and like other films of the period reconfiguring vintage comic books or classic television series (like 1983's Twilight Zone: The Movie) laid the groundwork for the same sorts of anthology or genre omnibus films which sporadically take hold every few years or so (the VHS trilogy). Less popular but still worthy of consideration despite feeling slapdash is the 1987 sequel Creepshow 2, which featured King and Romero returning for screenwriting credits with television director Michael Gornick (Romero's DP from Creepshow, as well as Martin, Day of the Dead and Dawn of the Dead) in charge of what would stand as his only theatrical feature (later, he would direct the mini-series version of King's "The Golden Years," and produce the television versions of "The Stand" and "The Langoliers"). The result, featuring only three narratives (instead of the five managed in the earlier film) linked by an intersecting cartoon framing device, feels a bit like something made for television, an assemblage clearly marked by cheapie production values and tales without any real thrills or camp value. Despite suffering these predictable sequel slights, major themes and motifs present in each narrative are rather subversive for a throwaway horror film from 1987.
Throughout this trio of segments, one glaring detail remains clear—the white protagonists are eventually revealed to be insidious, unsympathetic characters fully deserving of the retribution served by racial others or Mother Nature. The first example of this in "Old Chief Wood'nhead" is more problematic and complex, if mostly because we're led to believe the old white folks running their crumbling convenience store in a rural ghost town are good people. An incredibly hokey George Kennedy outshines a stiff performance from Dorothy Lamour (in what would be her last screen appearance) as a long married couple who have opposing opinions on the local Native American community and their mounting debt owed to their store. The irony here, of course, concerns how the Natives' land was ripped away from them by white Europeans, whose descendants are now further indenturing the indigenous population after a majority of them moved on after draining the area of its resources, industry, and commerce. The key here concerns treasures Frank Salsedo's Ben Whitemoon bestows on Kennedy and his wife as collateral for his people until they can pay their debt. Later, the woefully miscast Holt McCallany (who is not of Native American descent) is a rebellious criminal, ready to abandon the disenfranchised legacy he's been born into by robbing the white folk's convenience store and taking off for Los Angeles to become a model (his dialogue concerning his mane of thick, dark hair is especially campy, but makes for great unintentional period comedy). His run in with the Spruces' ends in bloody tragedy, and they may not deserve a brutal fate…but the supernatural element comprised of the wooden warrior stature for which the segment is named puts everything in rightful balance, including vengeance for the murder of innocents, and the return of property to its rightful owners.
Although hokey, "Old Chief Wood'nhead" is the most complex storyline of the three. The middle segment, "The Raft," which is the only tale based on previously written material by King (which appears in the anthology Skeleton Crew), while a lot of fun, isn't exactly difficult to interpret, focusing on a quartet of youthful hetero stereotypes. A foursome of horny young white folks take a joyride and end up at an idyllic water reserve where a pleasant raft is floating in the middle of the placid water. In traditional fashion, the most obnoxious characters get consumed first by an oily sludge consuming all the life forms daring to dip into the lake, including Paul Satterfield's alpha male jock. His nerdy counterpart, played by Randy Beer, promises to be the character worthy of salvation…until his lascivious advances on the last surviving female seals her slimy doom, while his own cockiness assists in his own undoing.
Lastly, Lois Chiles (best known as Bond girl Holly Goodhead from Lewis Gilbert's Moonraker, 1979) stars as an accomplished businesswoman cum adulteress (a favored staple of King's) who runs over a black hitchhiker (well-known character actor Tom Wright) while leaving her lover's home. Instead of stopping to help him she ruthlessly keeps on driving. Stephen King himself shows up in a cameo as would-be witness, while Chiles spends the remainder of her journey home being terrorized by the bloodied corpse of the hitchhiker, who keeps reappearing no matter how gruesomely she mangles him, adamantly professing to 'thank' her for the ride. Tying all of this together is a wraparound cartoon, which briefly features actor and make-up effects artist Tom Savini (who was also in the connective tissue of the first film) as the Creep, the comic book salesman who interacts with avid fan Billy, a straw haired white boy bullied by a group of bike-riding miscreants led by a brutish figure who looks like the love child of Ursula the Sea Witch and Meatloaf's Eddie the Ex-Delivery boy from The Rocky Horror Picture Show (1975). Compared to the abusive father played by Tom Atkins in the first film, the cartoonish quality feels more akin to the 1993 animated series "Tales from the Cryptkeeper," itself the kiddie version of the popular late night cable program for HBO's 1989 to 1996 "Tales from the Crypt."
Disc Review:
Leave it to Arrow Video to bestow an obscure horror sequel with a new 2K restoration and unprecedented packaging. This high-definition transfer is presented in 1.85:1 with 5.1 DTS-HD Audio. Picture and sound quality are phenomenal for a title last released cheaply on DVD from Anchor Bay in 2001. Likewise, Arrow assembles an array of extra features, including audio commentary from Michael Gornick for your viewing pleasure.
Poncho's Last Ride:
Arrow Video interviewed actor Daniel Beer for this fifteen minute segment, recorded in October, 2016, sharing how he came to be involved in the production (and the apparent difficulty casting agents had in finding the appropriate actor for his role in the segment "The Raft").
The Road to Dover:
Tom Wright is on hand for this new fourteen minute interview courtesy of Arrow Video, recorded in Los Angeles, October, 2016. The actor speaks about his beginnings in Philadelphia and New York, and his first role in 1978's The Wanderers, which eventually led to a healthy career in film.
Screenplay for a Sequel:
This ten minute plus interview with George A. Romero finds the director speaking about his interests and influences with writing Creepshow and its sequel.
Tales from the Creep:
Actor and make-up artist Tom Savini appears for this eight minute interview to speak about the significance of Creepshow for his career.
Nightmares in Foam Rubber:
FX artists Howard Berger and Greg Nicotero are on hand for this new half hour interview and the processes behind the special effects in the three segments of Creepshow 2.
My Friend Rick:
FX artist Howard Berger is included in this short two minute plus segment to speak on his mentor Rick Baker.
Behind-the-Scenes Footage:
This release also showcases nearly six minutes of behind-the-scenes footage, including the make-up process for Savini's Creep.
Final Thoughts:
A neglected afterthought from the mid-80s, Creepshow 2 is certainly not as noteworthy or well-made as its predecessor. However, for a genre anthology featuring cohesive and subversive motifs concerned with vengeance bestowed on the glaring white privilege (which was more normalized in the age of excess than it is today), it's surely a gruesome little guilty pleasure.
Film Review: ★★½/☆☆☆☆☆
Disc Review: ★★★★/☆☆☆☆☆