Tony Toni Tone: Maren Ade Returns with Profound Portrait of Estranged Family Members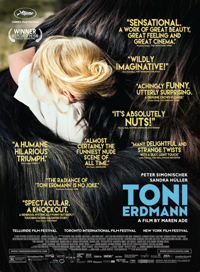 Comedic films coming out of Germany, at least those nabbing international acclaim and/or distribution, are few and far between. And although one could describe director Maren Ade's lovely third film, Toni Erdmann in such terms as novelty, it's also much more complex and elegant than what such a label connotes. Spectacularly engrossing and emotionally generous, the near three hour venture sounds slight when described, as it details a retired German music teacher and his idiosyncratic method of trying to reconnect with his distant daughter, a woman scrambling to climb the corporate ladder in a consulting firm in Bucharest. Instead, sequences, which more or less end up being a series of increasingly oddball sketches where father and daughter formulate a rather distinctive method of communication build efficiently and energetically into a formidable testament of its director/writer's skills.
Winfried (Peter Simonischek) is divorced and on the verge of retiring as an eccentric but appreciated music teacher. When his dog suddenly dies, he takes the opportunity to visit his increasingly distant daughter Ines (Sandra Huller), who currently lives in Bucharest working for an important consulting firm in the oil industry. Surprising her with an unexpected weekend visit, father and daughter share a strained, awkward visit which sees Winfried potentially compromise an important contract she's been attempting to secure for quite some time. Sending her father off, she reminisces about the grueling weekend only to discover her father hasn't left. Instead, he drops in on her social life in a garish disguise as someone named Toni Erdmann, an alter ego with a fright wig and false set of snaggleteeth who professes to be her CEO's life coach (as well as the German Ambassador to another set of folks). Ines decides to play along with her father's game, initially to avoid embarrassment with her colleagues. But the strange game begins to have a profound effect on them both.
Seven years have passed since Maren Ade's significant sophomore feature, Everyone Else took home the Silver Bear and the Best Actress Prize at the 2009 Berlin International Film Festival, a film as equally accomplished yet resoundingly bleak in its depiction of an unravelling relationship (she's busied herself producing other art-house films from notable auteurs in the meantime). Across her trio of films, including her stellar 2003 debut The Forest for the Trees, Ade shows a predilection for off putting, abrasive female protagonists, centering her films on women who seem to be oblivious or ignorant of their compromised social skills.
As Ines, Sandra Huller is much more personable than Ade's previous two heroines, yet not without particularly notable flaws, consumed by work and allowing her material desires to erode familial ties which we assume were once quite meaningful. Reminiscent of Cate Blanchett (with a little bit of Juliette Lewis), Huller (perhaps best known for 2006's Requiem, about a repressed religious woman whose epileptic seizures lead to a deadly series of exorcisms) is nothing short of fantastic, bursting out of the 'straight man' mode designed for her character which culminates in what may possibly stand as the best off-the-cuff Whitney Houston cover ever.
As her sidekick, Austrian actor Peter Simonischek is revelation (of note, he played an ailing patriarch struggling to reconnect with two estranged daughters in Gotz Spielmann's October-November, 2013), who provides all those around him with entertainment at his expense despite the profoundly sad expression ever present in his eyes.
Ade takes significant pains to show father and daughter in a state of utter estrangement, and the film's first act lays a melancholy foundation allowing for the resulting comedy to reach its perfect poignant pitch. Neither mawkish nor sentimental, the characterizations here are phenomenal, especially as father and daughter reveal their shared melancholia. Truly a prodigious example of complex psychological portraitures, Toni Erdmann should finally bring Maren Ade the commendation she deserved.
Once Simonischek's Winfried dons his Toni Erdmann persona you'll likely find yourself not wanting the film to end, even with slight asides into more sobering territory. The final culmination is an unforgettable birthday party Ines throws for herself, of which the less said, the better (but it might be wise to abstain from glancing through photo stills in the film's marketing materials).
Reviewed on May 13 at the 2016 Cannes Film Festival – Main Competition. 162 Mins.
★★★★½/☆☆☆☆☆