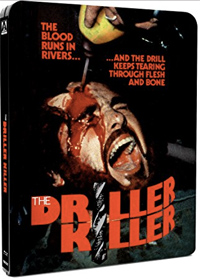 Highly indebted to Martin Scorsese and Paul Schrader's 1976's Taxi Driver, a classic portrait of urban sleaze and anti-social behavior, (perhaps more than anyone might care to admit), Abel Ferrara's long unavailable theatrical debut The Driller Killer blazes back to life with a brand new 4K restoration courtesy of Arrow Video, following in the footsteps of the recent resurrection of his equally obscure 1981 release Ms. 45. Starring Ferrara himself as an enigmatic artist who quickly loses his mind when he moves into a New York apartment with two equally irresponsible roomies while a punk band rehearses endlessly on the floor below, it would be Ferrara's first step away from the adult filmmaking world, having directed 9 Lives of a Wet Pussy, s/natch, under the pseudonym Jimmy Boy L in 1976.
About to be evicted from his apartment where he lives with his two girlfriends/roommates, struggling artist Reno Miller (Ferrara) is desperately trying to finish a painting he's been struggling to finish for a male patron (albeit one eager to cash in on free sexual favors as he awaits his commissioned product). Their phone bill cut off and without any further prospects in site, Reno reaches a breaking point when a punk band moves in downstairs and incessantly practices. Unable to fulfill his creative potential, all work and no play causes Reno to pick up his power drill and start ramming it into innocent people.
Although Ferrara is now loosely associated, however peripherally as an outspoken outsider, with the group of auteurs who helped shape a particular period dedicated to the gritty underbelly of New American Cinema, (which includes Scorsese, Schrader, Coppola, De Palma, Lumet, and several others) his ascension is perhaps more akin to William Lustig, best known for 1980's Maniac. Before his own breakthrough with an iconic portrait of a serial killer (which was remade in 2012 starring Elijah Wood), Lustig was making pornography under the name Billy Bagg before entering mainstream cinema with the queasy portrait of a madman bearing certain similarities to The Driller Killer.
Beyond its wonderful sing-songy but macabre title, which comes to overbearing fruition in the repetitive second half (recalling a similar power tool tic afforded Isabelle Huppert in Hal Hartley's Amateur, never used with such reckless abandon), Ferrara's debut captures a certain period of New York's punk scene thanks to the practicing No Wave band. Ferrara himself is a striking onscreen presence, resembling the Italian brother of someone like Charlotte Gainsbourg as he quickly slips into insanity (although he exudes an uneasy, anxious energy well before the narrative confirms its monotonous character arc). Compared to other similarly toned vestiges from the period, The Driller Killer is less like Walter Hill's seminal The Warriors than it is Luci Fulci's Donald Duck vocalized serial killer in the dub-your-heart out The New York Ripper (1982).
More grindhouse than arthouse (an austere arthouse version of Ferrara's film would look like Antoine Barraud's 2014 film Portrait of the Artist, which stars Bertrand Bonello as an artist who kills), The Driller Killer does have a striking ambience—the grotesqueness of Ferrara angrily jamming his whirring instrument into homeless victims is hard to forget, with Ferrara assisting in the editing process (alongside a trio of others, Bonnie & Michael Constant, and Orlando Gallini in their only major credit), and resulting in some moments of gory beauty, like gesticulating wildly in slow-motion through cascades of blood, which is on par with the stomach churning discomfort of Henry: Portrait of Serial Killer.
If only the rest of the film could match these visceral moments, alongside Joe Delia's (Bad Lieutenant; King of New York) score. Screenwriter Nicholas St. John, who penned Ferrara's porno film, thankfully was allowed more growth in his storytelling abilities as his collaboration with the auteur moved forward (the end product of The Driller Killer belies a story developing as it went along), penning the majority of his filmography up through 1996's The Funeral.
Disc Review:
Arrow grants The Driller Killer with a brand new 4K restoration from the original camera negative, which includes a never-before-seen version along with the theatrical cut (it should be noted, previous to this release, the only worthwhile copy of the title was a 2004 release from Cult Epics). Arriving in 1.85:1 and 1.37:1 aspect ratios, both picture and sound quality of this grindhouse classic are superb, and signals a necessary resurgence of an auteur whose early works have fallen into undeserved obscurity. As usual, the label delivers with a dizzying mix of special features, including audio commentary from Ferrara moderated by Brad Stevens (author of Abel Ferrara: The Moral Vision), recorded exclusively for this Blu-ray release.
Laine and Abel – An Interview with the Driller Killer:
Arrow interviewed Ferrara in March, 2016 in London for this seventeen minute segment. Ferrara speaks about his beginnings in cinema, including his first adult film, before moving in to The Driller Killer. Experimental cinematic artists Michael Snow and Stan Brakhage are listed as influences he had in mind, as well as The Texas Chainsaw Massacre (1974).
Willing and Abel – Ferraraology 101:
Alexandra Heller-Nicholas, author of Cultographies: Ms. 45 developed this half hour visual essay guide to the films and career of Ferrara.
Mulberry St.:
Arrow includes Ferrara's 2010 feature length documentary Mulberry St. as an extra feature, the first time the title has ever been available in the US. The doc's subject is the particular New York location which has played a key role in his life and work.
Final Thoughts:
A punk-tinged shriek of grindhouse genre, Abel Ferrara's first backhanded slap arrives with a gloriously restored new release ripe for rediscovery.
Film Review: ★★½/☆☆☆☆☆
Disc Review: ★★★★/☆☆☆☆☆