Criterion Collection: Barry Lyndon (1975) | Blu-ray Review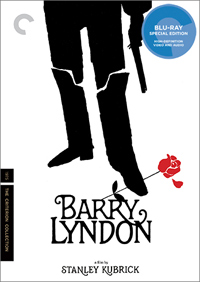 Within the omnipresent and overpowering narration guiding Barry Lyndon, a passage on the title character's wife describes her as "not very much more important than the elegant carpets and pictures which form the pleasant background of his existence." It is an attitude which similarly communicates Stanley Kubrick's approach to his infamous period piece, a 1975 box office failure which netted a handful of Academy Awards for its stunning visual articulations of the minor 1844 William Makepeace Thackeray novel he adapted it from, and has since been used as evidence to suggest the auteur had reached a point of boredom in his career. But for all the fussing about Kubrick's detachment and the extreme austerity of a film pirouetting around the anticipated rise and fall of a ne'er-do-well struggling vainly to become a major player in the aristocracy, it is perhaps one of the most revolutionary examples of art-house auteur cinema before or since.
The film is dismissively referred to from one of the subjects in Rodney Ascher's Room 237 (2012) as merely an example of a "bored genius," but Kubrick's ambitious attempt to follow his trio of groundbreaking socio-political sci-fi epics (Dr. Strangelove; 2001: A Space Odyssey; A Clockwork Orange) with a methodically designed and performed period piece hardly suggests the withering contempt of a burned-out artist. Kubrick created for the period piece the same dissection Robert Altman exacted upon the western with McCabe & Mrs. Miller only four years prior by destroying romanticized expectations of what cinema genre must be.
As dictated by its comprehensive narrator, the saga of Barry Lyndon (Ryan O'Neal) begins before he has the title he's come to be known by, reaching back to 1750's Ireland, wherein his father is killed in a senseless duel over some horses. His mother (Marie Kean) promises to abstain from remarriage and devote her life to her son. As a young man, he becomes infatuated with his cousin, Nora Brady (Gay Hamilton), who has been betrothed to Army Captain John Quin (Leonard Rossiter). Jealousy between her suitors results in an ill-fated duel, which sends Barry scrambling out of Ireland, where he is robbed and then flings himself into the British Army. Learning the duel was a ruse staged by Nora's family, Barry becomes dejected, and after being posted to Germany during the Seven Years' War, he becomes a deserter. Stealing the identity of a dead soldier, he is discovered by Prussian Captain Potzdorf (Hardy Kruger), who threatens to turn Barry over unless he joins the Prussian Army. A complex web of intrigue ensues when Barry is forced to act as an agent for the Prussian secret police and report on the actions of Chevalier de Balibari (Patrick Magee), who they believe to be a spy. Revealing his intentions to the Chevalier results in a convenient friendship, which eventually allows for Barry to escape the country. When Barry meets the widowed Lady Lynton (Marisa Berenson), his salvation presents itself. Seducing her into marriage, he inherits her dead husband's title, as well as the man's resentful son, Lord Bullingdon (Leon Vitali), whose hatred for Barry will eventually spell his doom.
Roger Ebert provided one of the most apt descriptions of the film, comparing Kubrick's examination of Barry Lyndon's banal life "as if through the wrong end of a telescope, seeing it in microscopic clarity." The film was nominated for seven Academy Awards, and took home four (Cinematography, Music, Art-Direction, and Costume Design). Truly, Barry Lyndon is a stunning example of directorial vision both aurally and visually—the repeated strains of Handel, Vivaldi, and Schubert are the lulling counterparts to Kubrick's jarring use of Beethoven's Ode to Joy from the devious A Clockwork Orange. But it is not a film which courts the same passions for any of its characters, especially since all its supporting players are mere cogs in the creation and negation of the Barry bandwagon (a parenthetical used for a Joseph Cedar film, The Moderate Rise and Tragic Fall… could have easily been assigned thus).
Handsome leading actor Ryan O'Neal was bitterly criticized for his performance (and Irish accent), however, he's merely overshadowed by the real star of the production, which would be Kubrick himself. One could even say of O'Neal, he's not dull—he's just directed that way. Prior to her role as Lady Lynton, Marisa Berenson had already worked on major productions from Bob Fosse and Luchino Visconti, here a mournful figure whose elaborate hairpieces often upstage her. Even the continually droll but monotonous narration from Michael Hordern (a character actor with an extensive filmography but who was never received with as much enthusiasm, at least not to explain Kubrick's attraction to him), which continually drains the film of any surprise or expectation, seems to exact the cruel reality of Kubrick's tone—for as the mechanism of a moving painting would suggest, life, and all its possible trajectories have already been laid out for all to see.
Heaving its way until a final third act, where we've joyously passed extended appearances from some Kubrick regulars (Patrick Magee of A Clockwork Orange and Philip Stone, the creepy butler from The Shining), Kubrick at last allows for some final throes of emotion. A public outburst from Lady Lynton's adult son, Lord Bullingdon, played with fierce temerity by Leon Vitali (who would later appear in Kubrick's swan song, Eyes Wide Shut), leads to costume rending and spanking at the hands of his stepfather, and eventually the demand for satisfaction which will seal Lyndon's fate. And then, a steely face-off between Barry's mother (Marie Kean, a revered character actress who also appeared in films by David Lean, Roman Polanski, Neil Jordan, and John Huston) and the toxic Reverend Runt (Murray Melvin of Richardson's A Taste of Honey), who has been feeding into the distraught Lady Lynton's increasing hysteria.
Like all of Kubrick's films, Barry Lyndon is dictated by and fascinated with the perspective of its male protagonist, a man who also similarly ends up in the same place he began, a plaything victim to a fate over which he has no control, as shared by his brethren in A Clockwork Orange, The Shining, or even Eyes Wide Shut.
Disc Review:
Kubrick's selective late filmography has long eluded Criterion's annals (the label has slowly but surely been collecting the earlier works, including The Killing, Paths of Glory, Spartacus, and recently Dr. Strangelove), so the inclusion of Barry Lyndon is hopefully a sign of greater things to come. However, this new 4K digital restoration, presented in 1.66:1 with uncompressed monaural soundtrack and an alternate 5.1 surround soundtrack is one of the label's finest achievements—say what you will about pacing or characterization, but John Alcott's candlelit cinematography is a haunting spirit of its own. Best of all, a second disc is included filled with a variety of special features.
Making Barry Lyndon:
Criterion produced this thirty-seven-minute account of the making of the film in 2017, featuring executive producer Jan Harlan, assistant directors Brian Cook and Michael Stevenson, actors Dominic Savage and Lion Vitali, and includes excerpts from a 1976 audio with Kubrick.
Achieving Perfection:
The technological and artistic achievements behind the film's cinematography are detailed in this fifteen-minute 2017 production from Criterion which features focus puller Douglas Milsome, gaffer Lou Bogue, and excerpts from a 1980 audio interview with cinematographer John Alcott.
Timing and Tension:
Criterion caught up with editor Tony Lawson for this thirteen-minute feature to discuss the editing of Barry Lyndon.
Drama in Detail:
Oscar-winning production designer Ken Adam is the focal point of this thirteen-minute piece produced by Criterion in 2017, which features historian Sir Christopher Frayling (Ken Adam: The Art of Production Design).
Balancing Every Sound:
Actor Leon Vitali is on hand for this 2017 produced ten-minute feature from Criterion to discuss Kubrick's original monaural audio work on Barry Lyndon as well as the 5.1 surround remix of the soundtrack made in 2000.
On the Costumes:
Ulla-Britt Soderlund is featured in a five-minute excerpt from this 1976 archival broadcast of Les rendezvous du Dimanche, in which she discusses her work on Barry Lyndon for the film's lead costume designer, Milena Canonero.
Passion and Reason:
Critic Michel Ciment (Stanley Kubrick: The Definitive Edition) is interviewed by Criterion in this seventeen-minute bit from 2017 to discuss Barry Lyndon, and breaks down the auteur's work into three distinct stages.
A Cinematic Canvas:
Criterion produced this fifteen-minute interview with Adam Eaker, the assistant curator at the Metropolitan Museum of Art, to discuss the fine art that inspired the visuals for Barry Lyndon, particularly evocations of eighteenth-century painting.
Final Thoughts:
One of several cinematic masterpieces from Stanley Kubrick, Barry Lyndon remains his most mournful and morose—because of its underrated, maligned reputation, and as a deliberation of a nobody who dared to be a somebody, undone by the same flawed aspirations which granted him moderate success.
Film Review: ★★★★/☆☆☆☆☆
Disc Review: ★★★★/☆☆☆☆☆