Disc Reviews
Criterion Collection: Code Unknown | Blu-ray Review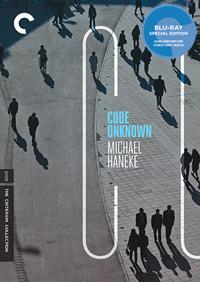 Over the past two decades, Austrian auteur Michael Haneke has grown into one of the most formidable cinematic titans currently working today. Winning five awards for his six times competing at Cannes (including Palme d'Or wins in 2009 and 2012), several of his prominent early titles tend to be overlooked in broad discussions concerning the filmmaker's continued observation of humankind's increasing inability to communicate.
A purveyor of social maladies, usually within an isolated microcosm, Criterion's restoration of his first French production, 2000's Code Unknown, is a perfect opportunity to revisit a prescient example of greater cultural shifts and conflicts to come. Although contemporary audiences might be tempted to lump this early title from Haneke into a movement of cinema from this particular decade wherein interconnected vignettes became a popular format, this compilation of one shot, single-takes is beyond comparison with the glut of busy-bodied melodramas eventually running this composition tactic into the ground.
Jean (Alexandre Hamidi) runs away from his father's farm, wishing to have no part of the rural destiny his family has laid out for him. Fleeing to Paris to stay with his older brother Georges (Thierry Neuvic), Jean instead finds his older sibling's girlfriend, Anne (Juliette Binoche), an actress who confirms the brother is away photographing the war in Kosovo. On her way to an audition, she gives Jean the new code to enter her apartment. When the frustrated youth demeans a homeless Romanian woman (Luminita Gheorghiu) in passing, an idealistic African immigrant, Amadou (Ona Lu Yenke) attempts to force Jean to apologize. Police are summoned as a brawl ensues, with Amadou and the homeless woman arrested while Jean and Anne are left to their own devices. This incident affects each of these people and their narratives in different ways.
Haneke collaborates once more with DoP Jurgen Jurges, who was on board for the director's first international break-out, 1997's controversial Funny Games, as well as the post-apocalyptic survival film Time of the Wolf (2003). Haneke recycles a similar format used in his 1994 title 71 Fragments of a Chronology of Chance, but working forwards instead of backwards this time around, as the film's continued title An Incomplete Account of Various Journeys indicates. Following the stunning nine minute opening sequence, documenting the incident which would unite all the continuous storylines, Haneke teases and taunts with unsettling cuts between each scenario, an abrupt tactic which helps enhance our own emotional apathy towards these characters.
French actress Juliette Binoche headlines a diverse cast, one of many Haneke's approximations of a troubled white couple known as Anne and George. Here, Binoche is Anne, a reasonably well known actress married to a wartime journalist played by Thierry Neuvic, currently documenting the conflict in Kosovo. Romanian actress Luminita Gheorghiu (later known for her roles in notable New Wave Romanian features such as The Death of Mr. Lazarescu and Child's Pose) is a sympathetic immigrant, while actor Bruno Todeschini appears briefly as Anne's co-star. Walid Afkir (who would be featured in Cache and Amour) makes his screen debut, and Arsinee Khanjian pops up in one sequence as a combative friend of Binoche and Neuvic.
Reverberations of conflicted communication factor significantly into these revolving strands, ending with the calming bookend of deaf children engaged in a game of charades. Though Binoche's Anne belongs to the desensitized, privileged class, unable to break free from selfish trajectories to really 'deal' with the inconveniences of everyday life (such as the possibility of her neighbor abusing a child), the film grants her a wide range of emotional opportunities, like an elated reunion with her co-star as they loop dialogue, or a pair of auditions, one a breathless, hysterical stage monologue from Shakespeare's Twelfth Night. Snagging a role in what appears to be a thriller, she plays the victim in a film called The Collector (which sounds similar to William Wyler's 1965 adaptation of the John Fowles novel). Lured by her assailant under the guise of a real estate agent, the film within a film stresses the importance of being able to 'hear the silence.' And thus, Code Unknown reveals similarities amongst its unhappy urban characters, each struggling to exert control over their day-to-day lives with varying degrees of success. Sharing or withholding information is part of this 'game' or 'gambling' for control, like Anne pointing out Amadou in a restaurant with George. "Don't let him see," she hisses.
An emotional outbreak during a routine trip to the grocery story begins with admonishments and ends in tears of regret. "Have you ever made a single person happy?" Anne wildly asks her husband, a man who finds war-torn nations more easily able to navigate than the climes of French civilization. And what does a statement like this mean, the notion of 'making' someone else happy? No one in Code Unknown has such ability, mostly because none of them seems to have happiness residing within themselves, or whatever that even means. A tangled intersection concerning class and racial inequality in one of Europe's most revered cities, opportunity doesn't appear to directly alleviate emotional despondency.
Disc Review:
Without a doubt, Code Unknown's most potent sequence is the stellar opening tracking shot, both as a cinematographic and performative feat, and stands as one the most singularly impressive accomplishments in the latter half of DoP Jurgen Jurges' career. Presented in its original theatrical 1.85:1 aspect ratio, Criterion's 2K digital transfer (the first addition of Haneke to the collection) looks and sounds superb. Criterion continues with its thoughtful tradition of extensive extra features for additional consideration.
Michael Haneke Introduction:
Haneke introduces the film explaining his initial interest of showcasing France's colonial past by depicting modern issues of immigrants moving from poor countries to rich ones.
Michael Haneke:
This 2015 interview with Haneke was conducted by Criterion in Windigsteig, Austria. The half hour interview finds Haneke discussing the making of the title, a film he says means a lot to him, referring to it as his "mildest film," and one he is able to watch without embarrassment.
Filming Haneke:
This documentary from 2000 details the film's production and features interviews with Haneke, producer Marin Karmitz, and several members of cast and crew, including Juliette Binoche. The half hour interview finds Karmitz referring to, what was at the time, a new 'stylistic approach' to storytelling.
Haneke on the Boulevard Sequences, March 2001:
This eleven minute feature from 2001 finds Haneke explaining in detail the procedures for capturing the extensive single-take sequences on the boulevard.
Roy Grundmann Interview:
Film historian Roy Grundmann (and editor of A Companion to Michael Haneke) is interviewed by Criterion in Boston, 2015. Grundmann begins with Haneke's accidental move from television to feature filmmaking with his first feature film, The Seventh Continent in 1989 (a move based on the dark nature of the film's content).
Final Thoughts:
Haneke announced himself as an expert dissector of contemporary malaise, and the ripple effect of Code Unknown plays out like an autopsy of precise inevitability. While its reputation has been overshadowed by later works from the filmmaker, it remains a provocative deconstruction of modern anhedonia.
Film Review: ★★★★/☆☆☆☆☆
Disc Review: ★★★★/☆☆☆☆☆