The Sterile Cuckoo: Jolie's Handsome Relationship Drama is Long in Tooth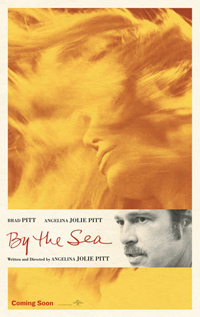 Moving on from last year's suffocatingly honorable POW reenactment drama Unbroken, Angelina Jolie returns with her third and most simplistic narrative to date with By the Sea. A small scale passion project which finds the director acting alongside her real-life husband and Mr. and Mrs. Smith (2005) co-star Brad Pitt, Jolie proves, once again, she has great curatorial tastes as far as who she assembles both in front of and behind the camera.
Though this familiar scenario (Jolie's first screenplay) is enhanced majestically by the public's fascination with the celebrity couple, one gets the sense Jolie, inspired by a tradition of late 60s to 70s European influenced cinema examining dark nights of the soul, is a master of dissection and exhibition rather than homage. Sometimes visually stunning to behold, the film more often feels like an animated corpse, awakened by some ancient Sisyphean curse to remind us of the hellish possibilities in store for childless heterosexual marriages.
An American couple on holiday travel to France and hole up in a seaside manor. It's sometime in the 1970s and Roland (Pitt) is struggling to retain his reputation as a writer of note, though he finds more inspiration at the bottom of a bottle. His wife Vanessa (Jolie) is a retired dancer, and it seems she is viciously unhappy with their marriage. As he toddles off to write (and drink) every day, she remains simmering in their room, besotted by emotional issues pertaining to something devastating from their past. Then, newlyweds Lea (Melanie Laurent) and Francois (Melvil Poupaud) check in to the adjacent room and the troubled couple discovers a hole in the wall to observe them and their constant lovemaking. But this quickly turns into a perverse game, albeit one where Roland and Vanessa are finally forced to face their demons.
Shortly into the set-up of By the Sea, in one of Pitt's many conversations with notable French character actor Niels Arestrup, we're fed a bit of exposition about the troubled couple. Married for fourteen years, a flippant comment about children, and then…hey! Wait a minute? Why don't these two have any kids? The absence, as well as the obvious inability for the subject to be addressed, is the glaring predicament Jolie ponders, both in her character as well as Pitt's increasing inability to write, his creativity entering its own sterile zone.
And so, By the Sea seems to go into the charted territory of Edward Albee's Who's Afraid of Virginia Woolf? (1966), made into that classic Mike Nichols film starring another real-life power couple Elizabeth Taylor and Richard Burton. And also like that play/film, Jolie tosses a younger, naive couple into the mix for purposes of juxtaposition and exploitation. Except, Jolie's treatment is more reminiscent of another Burton/Taylor vehicle, Joseph Losey's adaptation of Tennessee Williams' Boom! (1968), the infamous failure wherein the married pop stars tear each other apart on a Mediterranean island amidst overwritten motifs. But Jolie's take plays like Williams on Valium.
Mirrors and perspective factor significantly into the languishing distress of Roland and Nessa, and Christian Berger, regular DoP for Michael Haneke (The White Ribbon; Cache) captures a sun-soaked idyll and turns the façade of the crumbling manor into a constrictive tomb. Jolie, often swathed in blowsy white or black garbs as she dons an ill-fitting hair-do resembling a chopped Girl Interrupted wig, is transfixing to stare at, though her wide-eyed turn feels somnambulistic, like a decadent vampire owly and irritated at being awoken and tasked with administering a lead performance.
The narrative more graciously favors Pitt, who is quite good in small sequences and the film works marvelously when depicting a couple whose erotic tension disappeared long ago only to return in small, surprising doses, as conveyed in their 'game' of watching the younger couple next door. But anytime we're treated to glimpses of their severe (and banal) emotional baggage, the narrative brakes skid out of control, leading to the film's handful of inauthentic moments, such as an anxious shower scene or the piece de resistance of dialogue where someone has to scream through choked sobs "I'm barren!"
Supporting characters have limited purpose here, and Jolie nabs a couple French actors who are too good for their meagre roles. On top of Arestrup, she casts Melanie Laurent and Melvil Poupaud, and they end up seeming like the more interesting couple only because our limited view of them adds a bit of mystery. Jolie's crushing running time (132 minutes) means lots of sequences involving her character, (who is given little to do but seem miserable, unhappy, and anesthetized on pills), wandering about her room or venturing to the local grocery store, where she also avoids human contact. The result is a rather boring character piece about a retired dancer and her struggling writer husband.
One gets the sense By the Sea is an inverse portrait of Jolie and Pitt's publicly documented relationship. Indeed, what would they seem like behind the charade of paparazzi glitz and glamour without a horde of children we're all well aware they have? Issues of sterility and enmity unfold like the couple's worst fuzzy nightmare, though undefined and superficial. Arguably, this is Jolie's most accomplished piece of filmmaking to date (here she credits herself as Angelina Jolie Pitt, though why she chooses to place the yoke of her husband's name over hers at this point in time seems unnecessary), but it's still plagued by a ponderous sense of self-seriousness.
Reviewed on November 5 at the 2015 AFI Film Festival – Opening Night Gala. 132 Mins.
★★★/☆☆☆☆☆