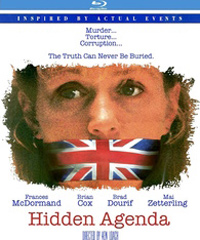 Shortly before news broke of British auteur Ken Loach's latest production (a surprise since his 2014 title Jimmy's Hall was intended to be his last film) his 1990 film Hidden Agenda received a Blu-ray release. An interesting footnote in Loach's extensive filmography, the film is a definite departure from a director whose work is usually invested in portraits of British Socialist realism. Sandwiched between 1986's Fatherland (a co-production with West Germany, also seeing a Blu-ray release this November courtesy of Twilight Time) and 1991's Riff-Raff, Loach tried his hand at a political thriller based on actual events. It took home the Jury Prize at that year's Cannes Film Festival (of the many times Loach has competed for the Palme d'Or, he's won this particular distinction three times, and the Palme itself in 2006) and caused a significant furor in the UK thanks to its blunt references to current government officials of the period.
American couple Ingrid Jessner (Frances McDormand) and Paul Sullivan (Brad Dourif) are activists on a Civil Liberties investigation team in Britain looking into human rights violations against British security measures utilizing murder and abuse to curb Irish nationalism. They find plenty of damning information but they unwittingly become pawns in a political scandal when an IRA member slips a tape recording with evidence of a conspiracy indicating national leaders rigged processes to usher in the current administration. And with help from the CIA at that. When Paul is shot and killed while riding in a car with a known IRA agent, a media frenzy necessitates an investigation, and police official Kerrigan (Brian Cox) quickly finds himself in over his head.
Time has not kept the controversial reputation of Hidden Agenda intact, its title reminiscent of any number of forgettable genre films in the decades since it premiered. But looking back, Loach's film remains striking for how ordinary it looks and how matter-of-factly screenwriter Jim Allen races through a labyrinthine government conspiracy reaching to the very top of the chain.
This is the type of material John Grisham was churning out in the 1990s, with film adaptations doctored up with sexy celebrities, while narratives were marred by various romantic entanglements and always treated to a predetermined resolution. Not so here. A modern equivalent might be something like Doug Liman's 2010 film Fair Game (which also premiered at Cannes) since it brazenly names top tier officials and their involvement in blowing a CIA operative Valerie Plame's cover as act of in-house retaliation.
The film is enhanced by notable names in the cast, such as Frances McDormand and Brad Dourif as the Civil Liberties investigators. Dourif's appearance is brief, and McDormand is a sympathetic cypher for the audience, not unlike her presence in Mississippi Burning (1988). But the film's greatest asset is a blazing Brian Cox as the investigating police official who finds out too much information for his own good and is thus blackmailed and physically removed from the investigation. The scandal this is based upon is known as the Stalker Affair, whereby policeman John Stalker was removed from the case after unearthing damning information of a 'shoot-to-kill' policy by the British. Charged with associating with known criminals, he was eventually cleared of the accusation but not reinstated as head of this investigation, the results of which were never made public.
DoP Clive Tickner squeezes an awful lot of menace out of hushed, whispered meetings between these characters in pubs, waiting rooms, restaurants and other claustrophobic places. It's a drained looking film, with only Stewart Copeland's tense score adding direct assistance to the foreboding mood. Writer Jim Allen makes his feature screenwriting debut after working exclusively in television on a number of controversial titles. He would spend the rest of the decade working with Loach, penning Raining Stones (1993) and Land and Freedom (1995) before his death in 1999. Hidden Agenda does sometimes feel like rather talky stage-play, but thanks to an increasingly emotive performance from Cox, the film manages to break into some energetic moments.
Disc Review:
Kino Lorber releases the title under the distributer's 'classics' banner, one of many notable titles previously unable on Blu-ray. Presented in 1.85:1, it's also one of many unassuming transfers. As usual for these releases, it arrives without any special features. Picture quality and sound are adequate.
Final Thoughts:
Those thinking they've unearthed a forgotten conspiracy thriller genre gem of the 1990s may be disappointed as Loach isn't interested in padding his social issue film with distracting frills. But it's a great opportunity to rediscover an obscure title from his filmography, while fans of Cox or McDormand (not to mention a brief supporting turn from famed Swedish actress Mai Zetterling in one of her final film roles) should certainly take note.
Film Review: ★★★/☆☆☆☆☆
Disc Review: ★★★/☆☆☆☆☆