Disc Reviews
Criterion Collection: Rumble Fish | Blu-ray Review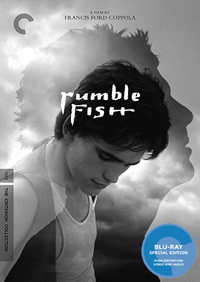 The 1980s began roughly for Francis Ford Coppola, one of the most lionized American auteurs ever, whose streak of the 1970s was an unmitigated procession of iconic films (resulting in Best Picture wins for The Godfather and The Godfather: Part II and Palme d'Or wins for The Conversation and Apocalypse Now). His golden era came to a sudden halt with the 1980 musical One from the Heart, a box office bomb in which Coppola re-created Las Vegas with a number of pricey studio sets. This was followed by the Wim Wenders failure Hammett in 1982, with Coppola denied directorial credit even though Wenders' contributions were extremely minimized.
So by the time 1983 rolled around, it's not surprising to note his twin adaptations of two S.E. Hinton novels released the same year feel somewhat divorced from the epic Hollywood sagas of the previous decade. The more famous of these is The Outsiders, which hosted a hodgepodge of notable alums in early roles (including Patrick Swayze, Tom Cruise, Nicolas Cage, and many others), but it would be black and white art-house beauty Rumble Fish which truly set a new precedent for Coppola. A tale of two rebellious brothers in a dreamily distilled Tulsa, this pronouncedly poetic venture would lay the groundwork for a new generation of American indie auteurs, including Jim Jarmusch and Gus Van Sant, whose early aesthetics are comparable to Coppola's haunting film, reuniting him with Matt Dillon, nephew Nicolas Cage, and his second of four pairings with Diane Lane.
A cascade of familiar but youthful faces flash across the screen in the opening moments within hazy Benny's Billiards, including Benny (Tom Waits), Smokey (Nicolas Cage), Steve (Vincent Spano), B.J. (Chris Penn), and their mindless leader, Rusty-James (Matt Dillon). Midget (Laurence Fishburne) arrives to announce rival gang leader Biff (Glenn Withrow) is on the hunt for Rusty-James to satisfy an urge over some slight.
Rusty-James nearly misses his scheduled fight thanks to a brief rendezvous with sometimes girlfriend Patty (Diane Lane), but his wild saga becomes tempered upon the return of his mythical older brother the Motorcycle Boy (Mickey Rourke), returning to Oklahoma after absconding to California where he found their estranged mother and let himself get run down by life. Local law enforcement (William Smith) is none too pleased to see the return of the notorious color-blind hellion, no matter how demure his current state of mind. Dismayed at the Motorcycle Boy's reticence and his continued affair with heroin addicted school teacher Cassandra (Diana Scarwid), Rusty-James is forced to contend with his surroundings anew, including their useless alcoholic father (Dennis Hopper).
While The Outsiders takes place in 1966 Oklahoma, Rumble Fish is about a generation removed from the glorious period of the rival white gangs. The youthful apathy of a new age, embodied here by Dillon's Rusty-James, flounders beneath the weight of a transitional period, kids slow to divorce themselves from the notions of a bygone understanding of the world while trying to redefine and identify a new era.
Drugs have crept into the fabric of the street rebel and destroyed the strident romanticism which previously defined the rejection of the status quo. But they're determined to keep their vague agenda alive, while the name Rusty-James is so frequently repeated, it becomes the ill-defined mantra of a ragtag group of disillusioned youth trying to resurrect the prodigal messiah they lost in his older brother, Mickey Rourke's Motorcycle Boy, a man whose name is scrawled on the walls and signposts all over the smoke-filled landscape of Tulsa.
These are characters on the verge of significant change and speaking a lingo already on the verge of anachronism, creeping into a period when names like Biff and Smokey will no longer be acceptably hard-edged. Clearly, this place and these people are in-between times, as reflected by Coppola's pronounced visualizations. They are one with the shadows, waiting to creep into a visible physicality as they learn to define their needs. The notion of time, and how it defines age and circumstance is pictured or mentioned in every sequence. The shadows creep long into their afternoons, and Rusty-James and his gang exist in these in-between spaces, under stairwells and bridges, or tucked into alleyways.
The constant smoke, fog, or shadows, also marks these characters as vehicles of transition, matter about to be acted upon and changed into something else. As such, their motivations are equally undiscernible. They aren't so much rebels without a cause, but rebels in love with the notion of another era's MO of not having one. Whereas Marlon Brando's biker famously retorted when asked what he was rebelling against in 1953's The Wild One with "Whaddya got?," these are teens merely bucking the encroaching difficulties of their modernized age. Embracing the black and white, their ghostly universe is vandalized by color, here in the form of red and blue Betta fish (or Siamese fighting fish), isolated creatures who attack their own reflections (a delicious metaphor for the conflict between Rusty-James and the Motorcycle Boy).
Forcing the foreboding dramatic conflict which has been hanging around at the periphery of the film, the freedom of the captive fighting fish is reminiscent of a device Andrea Arnold would use in 2009 between her protagonist and a horse in (aptly titled) Fish Tank.
Stylistically speaking, Rumble Fish has the velvety similarities of Mala Noche (1986) or Down by Law (1986), while tonally feels like the art-house version of Walter Hill's The Warriors (1979). Dillon seems perfectly cast as an emotionally stunted wanderer, a young man who has already eclipsed his opportunity to lead his boys into a new glorious age by his own steadfast reverence for his brother ("loyalty is his only vice," Rourke explains). But he can see the demise of his dreams crashing down in a world which will no longer tolerate the idea of someone like The Motorcycle Boy, or young women, like Lane's lovely Patty, who will not tolerate his general disinterest. The thrust of the narrative couldn't be more opaque, but Coppola and DP Stephen H. Burum (who has worked on De Palma's films since 1984's Body Double) concoct a unique visual parable on identity, rebellion, and adolescence.
Disc Review:
Criterion grants Rumble Fish a new, restored 4K digital transfer, presented in its original aspect ratio of 1.85:1. DP Stephen H. Burum supervised the transfer, which was also approved by Coppola, scanned from the original 35mm negative. The presentation retains the film's evocative and hypnotic tone, including the Golden Globe nominated score from Stewart Copeland. Coppola provides optional commentary and the release contains a bevy of extra features.
Interviews:
Criterion includes a number of new interviews with principal cast and crew, including Francis Ford Coppola, S.E. Hinton, Matt Dillon and Diane Lane, Stephen Burum and Dean Tavoularis, Roman Coppola, as well as an excerpt from a 1984 interview with Mickey Rourke on the series "Cinemas, cinemas," and archival interviews from 1983 with Dillon, Lane, Vincent Spano, and producer Doug Claybourne on City Lights.
On Location in Tulsa:
Kim Aubry produced this short documentary in 2005 about the making of Rumble Fish, featuring Coppola and S.E. Hinton as well as cast members Nicolas Cage, Matt Dillon, Laurence Fishburne, Diane Lane, and Mickey Rourke.
Rumble Fish – The Percussion-Based Score:
Kim Aubry also produced this piece in 2005 on the unique score of Rumble Fish created by percussionist Stewart Copeland and sound designer Richard Beggs.
Locations – Looking for Rusty James:
Alberto Fuguet made this cinematic essay in 2013 about the deep impact Rumble Fish had on his life while growing up in Chile.
Deleted Scenes:
Coppola introduces six deleted scenes.
Camus for Kids:
Film historian Rodney F. Hill delves into the existentialist themes and character traits of Rumble Fish.
Don't Box Me In:
Criterion includes the 1983 music video for the track "Don't Box Me In" featuring percussionist Stewart Copeland and vocalist Stan Ridgway.
Final Thoughts:
A neglected masterwork from Coppola finally gets the remastered release it deserves.
Film Review: ★★★★½/☆☆☆☆☆
Disc Review: ★★★★/☆☆☆☆☆