Disc Reviews
Criterion Collection: Hoop Dreams | Blu-ray Review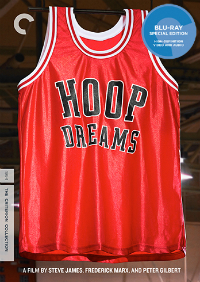 "This is one of the best films about American life that I have ever seen", Roger Ebert famously stated during the first of many reviews of director Steve James, cinematographer Peter Gilbert and editor Frederick Marx's still remarkable basketball documentary, Hoop Dreams, on Siskel & Ebert over the course of the film's 1994-95 run. Having set out to make a film on street basketball players in Chicago during the mid-80s, the fledgling filmmakers never could have conceived of the vast narrative of American life's unpredictable twists and turns that Ebert so staunchly spoke of. Today, now over two decades old, restored by the Academy which originally snubbed it so shamefully back in 1995, it looks better than it ever has and still rings of supreme cultural relevancy within the interweavings of sport, family, education and poverty.
At its core, Hoop Dreams is essentially a parable for the American dream itself. James's sprawling five year journey through the ups and downs of up and coming African American high school basketball players William Gates and Arthur Agee sees them aim at a career in the mythical land of professional sports, where hard work pays off, money flows free and happiness comes in the form of Nike sponsorships and guest appearances – America in its most falsely flawless state, though deceptively enticing none-the-less, especially for youngsters. And as it turns out, nothing brings families together like sport.
Willing to sacrifice the most basic of comfortable living conditions for the sake of their children's potential basketball careers, both the Gates and Agee families attempt to send their kids to a high priced private school with a proven basketball program in hopes of securing the impossible dream, not knowing what unintended consequences such an endeavor could conjure. As the filmmakers themselves admit, this is not a Hollywood picture where high school heroes persevere through injury, poverty and family strife to win the day with the expectant slow motion, high emotion buzzer-beater. This is real life, where knees blow out at the worst possible moment, parents are human beings with their own personal faults and triumphs, schools are more interested in stats and money than the betterment of their student body and cultural cliches are alive and well, yet are lensed empathetically from a humanist's perspective that shows that the struggle to keep the lights on, feed a family and keep focused on the future is just that – a very real struggle often burdened by a cyclic inheritance of neighborhood poverty and a lack of hopeful perspective. And yet, with basketball on the brain, dreams are still pursued, for better or worse.
This is where Hoop Dreams brings us down to the nitty gritty of high school sporting politics, the dirty business of college recruiting and the sly games played by professional sporting scouts. As if by blind luck for the filmmakers, it turns out that both William and Arthur develop into sensational b-ball players over the course of the feature's filming, developing complex on screen relationships with the dense and charismatic coaches who mentor them, and eventually courting interest from colleges and scouts from all over. In the unadorn presentation of events, we begin to question the motivations of all of those involved, the purpose of sports themselves and the delicate balance they play in American society as both a means of community engagement and a profiteering system that leeches the unsuspecting youth and their families, blinded by their children's enjoyment and the unlikely professional possibilities at hand.
Over the three hour running time, we see William and Arthur grow from spirited young players into confident senior year court stars, but as their age increases, so do their interests in other things such as girls and clothes and things that are not school, creating natural teenage conflict, situations one could never guess, surprisingly high tension, and unpredictable repercussions for both the players and their families. As we all should know by know, the American dream is most often a shiny, well intentioned facade that only a lucky few pass through like Alice in the looking glass. And even those lucky enough to make it would be fortunate not to get lost or lose their heads in the process. That said, having set such monumental precedence in the world of cinema, we'd be surprised if Hoop Dreams isn't remembered by the doc loving crowd with comparable reverence as the literary world regards Carroll's beloved fantasy classic. It surely deserves it, Betacam blurriness and all.
Disc Review:
It's hard to believe a film shot exclusively on Beta could look this good, but the extra resolution seems to have cleaned up much of the foggy look given the 80s technology and rather than passing the point of grotesque pixelization by sharpening the image, the inherent lines that occasionally crop up in the image just look surprisingly crisp and genuinely normal. In addition, the audio has also been spruced up and given a 4.0 DTS-HD that pushes out dialogue, Ben Sidran's cinematically dramatic score and the 80s hip-hop jams that line the film with equal fervor.
Audio Commentaries
Both commentaries, one with filmmakers Steve James, Frederick Marx, and Peter Gilbert, and one with the film's subjects, Arthur Agee and William Gates, span the entire lengthy film and impart a wealth of insight about all aspects of the film's production, how it was received and the personal perspectives of how the film effected each of their lives in various ways. Enlightening listens, the both of them.
Life After 'Hoop Dreams'
Taking footage shot back in 2005 of the families then a decade out from the film and contrasting it with new interviews with the filmmakers, this new piece reflects on how participating in the film has affected their various courses in life. 40 min
Siskel & Ebert
No one was more publicly vocal about their appreciation for this film. Famously, the pair found a way to feature the film on their show time and time again – prior to its premiere at the Sundance Film Festival, then again at the end of the year, and again for the Academy Awards, and again after the Academy Awards and again at the end of the decade. It's no secret – they both loved it – and their fondness for the film made a major impact on the film's cultural success. 15 min
Additional Scenes
Rough, unrestored with time code and all, these scenes are mixed of alternate edits, completely cut scenes and extended scenes. It's hard to imagine how they chose just these few scenes from the massive amount of footage they must have had from years of shooting, but here it is – sometimes touching, often times humorous. 21 min
Music Video
Directed by Peter Gilbert, this Tony M. video was produced to promote the release of the Hoop Dreams soundtrack. 3 min
Theatrical Trailers
In a pair of trailers, one with classic 90s voiceovers and an overwrought pomp and circumstance soundtrack, while the other sports the Tony M. hip hop title track and flashy intertitles, the marketing for this film was all over the place. Including both was a great way to see how broad an audience they were reaching at the time. 3 min
Booklet
This pamphlet features essays by author John Edgar Wideman (which can be here here) and filmmaker and critic Robert Greene (which can be read here), as well as transfer notes and film credits.

Final Thoughts:
When I think about Hoop Dreams breaking through the business barriers that normally would stop a three hour documentary about inner city life to become both a cultural phenomenon and a box office success, it blows my mind and reinstills me with hope about the future of film and American life in general. It's still a miraculous achievement that has rarely been emulated. Being that Steve James and his crew started shooting the year that I was born, I did not see the film on its original theatrical run, so I'm incredibly grateful that the Criterion Collection has put this ravishing package together to be cherished and regarded for years to come.
Film: ★★★★★/☆☆☆☆☆
Disc: ★★★★★/☆☆☆☆☆