Disc Reviews
Criterion Collection: La Promesse | Blu-ray Review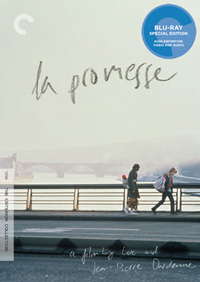 La Promesse, newly released on Blu-ray by Criterion, introduced the world to the filmmaking team of Jean-Pierre and Luc Dardenne, and their patented brand of realism on steroids. Produced during the booming economy of 1996, La Promesse, is a contemporary story of dissipated dreams and crumbling morals, told amid an unrelenting atmosphere of dank squalor. Against this unlikely backdrop, a troubled teenager unearths his own deeply buried moral compass, and transforms the dingy streets and narrow alleyways of his life into a new path to a world of human decency.
The plight of newly arrived immigrants, a favorite topic of the Dardenne Brothers, is the driving theme here, as we meet Igor (Jérémie Renier), a 15 year old who divides his time between apprenticing as a mechanic and helping his father (Olivier Gourmet) in the family business. But that endeavor is a dodgy one, involving the exploitation of undocumented workers through a corrupt chain of graft that apparently runs all the way to the mayor's office. When a woman named Assita (Assita Ouedraogo) arrives from Africa with her new baby, an accident occurs that brings the human cost of his father's operation into sharp relief for young Igor. He slowly stages a small rebellion against his father's practices; a rebellion that grows until it becomes a symbol for Igor's full coming of age.
Like all the Dardenne's productions, La Promesse takes place in their hometown of Liège, Belgium, and the significance of this setting on the development the brothers' cinematic style cannot be overstated. Liège is not a quaint European town of sidewalk cafes and art museums, but a damp, smoggy industrial burg, more reminiscent of Gary, Indiana than Provence. Lunch pails and hardhats are Liège's fashion accessories of choice and, as depicted by the Dardennes, the city is also prime real estate for sleazy hustlers on the make. Through their intimate knowledge of its environs, the Dardennes integrate Liège's cold, sharp edges so completely into their narratives the city becomes a virtual character, and often plays a dominant role in shaping the lives of their protagonists.
The Dardenne's signature vèritè-noir style is still in its infancy here, and generally avoids the jarringly close camera-subject placement found in later films like Rosetta and The Son. Visually and thematically, one could make a case that La Promesse is a sort of unofficial prequel to 2008's Lorna's Silence, which features an all grown up Jérémie Renier and a slew of second generation immigrants who've discovered how to profitably exploit their recently arrived countrymen. But La Promesse is no slacker when it comes to gritty contours, and firmly establishes Olivier Gourmet as the perfect vessel for the Dardenne's ultra real textures. A schlubby everyman, Gourmet physically epitomizes characters who, devoid of connections or talent, succeed through sheer effort and force of will. Here his character provides the film with critical underpinning – the Christian work ethic gone wrong – and establishes an immoral base from which his son struggles to escape.
But highest among La Promesse's revelations is the work Jérémie Renier as young Igor. With his unkempt blond mop and neglected teeth, he miraculously imbues his conniving streetwise waif with a likable innocence despite some reprehensible behaviors. On the job with his father, he glides effortlessly from slick glad-hand to heartless taskmaster, while finding time to build a rustic go cart with other neighborhood kids. His character's epiphany in the later reels has an honest and authentic ring, as his naive eyes are opened to a much larger and more complex reality. Today, Jérémie Renier is an international star, and deservedly so. One more gift from the Dardennes to the world.
Disc Review
While one can debate the logic of releasing a 16mm negative on Blu-ray, Criterion's transfer of La Promesse is exceptionally clean while retaining the film's original grungy atmosphere. The timing appears to be biased slightly warm, which is a classic method of adding richness to the smaller format. The film is presented in its original 1.66:1 aspect, with reasonably good sharpness and shadow detail.
The 5.1 audio remix works well, with the rear channels lending perspective to the film's swirling hand-held camera. The Dardenne's characteristic envelope of white noise takes on added dimension, increasing the perception of reality.
Conversation between film critic Scott Foundas and filmmakers Luc and Jean-Pierre Dardenne
Foundas sits down with the brothers at their office in Liège for an extensive interview. We learn much the genesis of their style, which basically was a matter of reducing the tools of filmmaking to essential elements. The casting of Renier and Gourmet is discussed in detail, and the Dardenne's unique off-screen methods of immersing actors in character. With a duration of an hour, there's lots of interesting tidbits concerning the Dardenne's early days and their background in documentaries. Foundas is clearly a Dardenne Brothers fanboy, and does a good job of asking informed and pertinent questions.
New interview piece featuring actors Jérémie Renier and Olivier Gourmet
Renier and Gourmet add depth and perspective to the making of La Promesse, including the great personal financial risk taken by the Dardennes to produce it. Both actors were inexperienced at the time of the shoot, which made them more amenable to the Dardenne's unconventional methods. Gourmet discusses the brothers' emphasis on actors' movements as opposed to dialogue, while Renier reflects on the profound effect La Promesse had on his career. It's clear each man feels a deep gratitude to the Dardennes, and the 18 minute segment is lively and informative.
A booklet featuring an essay by film critic Kent Jones
Jones' essay goes into a bit more detail on how the Dardenne Brothers managed to salvage their careers after a series of financial and artistic flops, along with insight into their methods of narrative construction. The 14 page booklet also includes credits and stills from the film.
Final thoughts
La Promesse explores themes and styles the Dardenne Brothers would soon perfect, propelling them to the status of film festival heavyweights and perennial prize-winners. And while their unique blending of the dramatic with the documentary is familiar – and often copied – today, in 1996 the cinema of the Brothers Dardenne was a revelation. La Promesse offers a glimpse of these talented filmmakers in their ascendancy, and a renewed appreciation of their influential technique. But underneath the film's handheld cameras and stark lighting schemes. there's a story with a warm and beating heart, interpreted to perfection by Gourmet and Renier. That's the real secret of the Dardenne's success: they've never forgotten that the play's the thing.