Disc Reviews
Criterion Collection: Metropolitan Blu-ray Review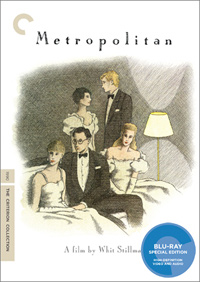 With this past Spring's release of Damsels In Distress, his first new title in thirteen years, the Criterion Collection has refurbished two Whit Stillman titles this month, including his impressive independent darling from 1990, Metropolitan. An odd-duck anachronism upon its initial release, time has only added a more subdued refinement and fascination to its subject matter, a depiction of a dying culture giving birth to an auteur whose own brand of strangeness may have recently shown itself to be as equally misdated in dealing with the modern youth in today's world, where the upper class more freely walks amongst its inferior company.
One New York Christmas, not long ago, a group of seven upper class young adults on Christmas vacation are on their way to a deb ball, and it tis the season for a considerable flurry of such high brow events. Several members of the group known as the Sally Fowler Rat Pack hail a taxi cab, and mistakenly believe they have stolen it from an unsuspecting loner standing by the taxi. The group leader, Nick Smith (Christopher Eigman), introduces himself to the ginger individual, Tom Townsend (Edward Clements), and insists on splitting the taxi with him, thereby aggressively inviting the newcomer to their event. Upon meeting the rest of the pack, Tom shares his vocal disdain and critique of deb balls, though seems intrigued by this strange, elitist world. Bonding with Nick, and making an impression on the young women, in particular, Audrey (Carolyn Farina), Tom quickly becomes a regular addition to the pack, even though he is hesitant to declare himself thus, furtively hiding his insecurities concerning his place in a lower economic class and living on the West Side. The rat pack regularly attends a plethora of deb balls and social gatherings, exploring internal foibles and commiserating with lofty intentions about Jane Austen, literary criticism and the inevitable extinction of the particular societal surroundings they inhabit. But Audrey's blatant crush on the emotionally unavailable Tom (who is in love with one of their contemporaries, a flighty flirt named Serena Slocum) causes minor turmoil within the group, along with Nick's questionable gossip about a fellow classmen (Will Kempe), with whom a confrontation ensues.
There's an unmistakable and unavoidable pretentiousness to the proceedings in Metropolitan, where a group of old money youths constantly gather to frivolously gossip, eat, and philosophize about various vagaries. There's also something entirely enchanting and timeless about the film as well, at it's heart concerning a group of young people that are doing their best to fit in. In retrospect, the film plays like an F. Scott Fitzgerald adaptation as filmed by Todd Solondz. But these young people aren't in the bustling 1920's, but late 80's New York City, and yet they couldn't seem more out of touch with reality. It's as if A.R. Gurney were focusing his withering pen on a WASP litter, letting their own natural ignorance of the real world spin them into a flurry of oblivion. Our entrance into this world is through Tom, an individual who has very definite opinions about everything based specifically on what higher authorities have stated for him. He's derisive about deb balls, though admits he'd never attended one before, and is quick to judge Jane Austen's Mansfield Park, the favorite Austen novel of the dowdy but romantically inclined Audrey. Tom admits he has never read an Austen novel, claiming he prefers to read literary criticism. Instead he relies on the critique of Austen by Lionel Trilling, a man who denounced Mansfield Park as amoral, since it concerned a group of young people putting on a play. And yes, Stillman is being blatantly obvious with the comparisons he wishes us to draw with his own material. "You don't have to read a book to have an opinion," says Tom. Two decades later, pundits make similar statements about Stillman's body of work.
Considering the miniscule budget featuring a cast of unknowns (that are still unknown, with many of them never branching out at all afterwards) and from a first time director, at that, Metropolitan is indeed an extraordinary cinematic artifact, featuring a brilliantly written screenplay. Though it's difficult to become emotionally or intrinsically invested with any of the characters, their out of touch banter and lofty judgments are hysterical and sharply hewn, such as their dismissal of Luis Bunuel's The Discreet Charm of the Bourgeoisie, which one character insists does not realistically depict said class of people. "The surrealists were a bunch of social climbers," it's decided. Stillman's comfort with the extravagant vernacular of the bourgeoisie and his use of the outsider as protagonist ushering us into an unseen sect works to his effect (and for our enjoyment here). Revisiting this formula for his latest work in Damsels In Distress with a group of college age girls at a modern day university, it seems that Stillman himself may now be the anachronism, his new damsels purloined seemingly from an alternate universe and played as bizarre shtick, dance-crazes and all. It's clear that Stillman has a knack for narratives concerning the coming of age for those in circles that may not be in touch with a discernible reality, but his Metropolitan certainly stands as his most accomplished look about a group of people about to enter a brave new world, one unbalanced, and, as they learn from their descent into it, unhinged.
Disc Review:
Criterion lovingly handles Stillman's first film, which is, after all, considered one of the greatest independent film achievements of the 1990s. The restored high-definition transfer looks amazing, even in spots where there's an obvious grain evident in certain night time sequences. This is also to the film's detriment, at times, the furniture and furnishings of some of the rooms perhaps realistically questionable for deb ball purposes. Additionally, there's optional commentary available from Stillman, editor Christopher Tellefsen, and actors Christopher Eigeman and Taylor Nichols. However, additional extras for the film are quite sparse, though the new restoration includes the customary uncompressed monaural soundtrack, which only serves to enhance the original score by Tom Judson and Mark Suozzo (who has composed for Stillman on additional outings).
Outtakes
The disc includes rare outtakes, which are of questionable quality since they haven't been restored or edited, with dialogue barely audible in certain sequences. These prove to be mildly interesting in perhaps exploring Stillman's techniques, but are neither very memorable or of lasting interest. Included with these is a memorial montage to line producer Brian Greenbaum.
Alternate Casting
Of more intrigue are two scenes included here where other characters were originally cast with different actors. There's Lloyd Kaufman as the record producer, but, of more interest, a scene where Will Kempe plays Nick Smith, a role that went to Christopher Eigman. Kempe would end up playing Rick Von Sloneker, a smaller role (which makes sense because Kempe comes across as rigid and amateurish in his few moments of screen time).
Original Trailer
And lastly, Criterion includes the original trailer, which sells the film as a sort of romantically incestuous farce between rich, young, beautiful things. "They're doomed," the preview tells us, with a more famous snippet of one character stating they belong to a group in the midst of "downward social mobility." "They're bourgeois, and they're in love. They're metropolitan." The original trailer doesn't quite manage to capture the essence of what Whit Stillman's film is really about, or what it's trying to say, and instead tries to downplay the film's lofty, literary, and intelligent ideals. A hard sell.
Final Thoughts:
Metropolitan introduced us to an intriguing new cinematic voice in Whit Stillman, and it stands as an utterly unique and highbrow example of the kind of cinema that's increasingly harder to find. Perhaps Stillman's unique perspective doesn't work in every realm but even from the start his films have been rich with texture and substance. It's the certain universal qualities of Metropolitan that still resonate, with it's depiction of young people aware that life's about to change and they have no idea how to prepare themselves for it. There's nothing life shattering that happens to anyone in the film, though there are frequent spats of verbal sparring. Someone calls something melodramatic, and Audrey responds, "Life is melodramatic if you consider the whole sweep of it." These are a set of characters on the cusp of discovering that, blowing every banal thing out of proportion as they have one extravagant kiki after another.