Criterion Collection: Personal Shopper | Blu-ray Review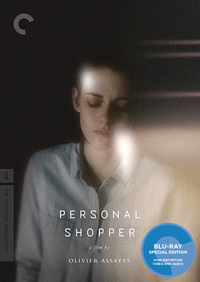 One of French auteur Olivier Assayas' most divisive films to date (it drew jeers at its premiere at the 2016 Cannes Film Festival, but snatched him a Best Director win, his first accolade after competing five times on the Croisette), Personal Shopper is a deliciously odd little duck. A mournful piece of melancholic longing, it's a ghost story masquerading as a morose character study of a lost American in Paris—and is so ambiguous and awash in subtexts its existence perhaps depends solely on the presence of its lead star, Kristen Stewart.
The popular actress famously won a Cesar (the first American to do so) for a supporting role in their 2014 collaboration, Clouds of Sils Maria. Assayas re-casts Stewart once again as a peripheral character to her own life, except this time making her the focus. Set within the mechanically belabored world (Assayas loves a concisely framed mise-en-scene, moving from the film industry, to fashion, to book publishing shortly) of the Parisian haute couture, Stewart is this time assisting an international superstar in the film's titular role—she shops for the woman, mimicking her tastes and anxieties—a litmus test for the designers and jewelers attempting to service the mysterious force known as Kyra. A shadow to the glamorous woman she shops for, Stewart is trapped in a bizarre state of superficial desires and forbidden pleasures while she tries to contact her dead twin brother, whose deadly heart condition she also shares.
Following the untimely death of her twin brother Lewis, whose spirit is still believed to be present in the Parisian estate in which he lives, his twin sister Maureen (Stewart) attempts to use her powers as a medium to discover if this is true. But while she attempts to remain focused on the promise she shared with her brother (which was to send the other a sign if one of them were to die), Maureen is more often caught up in rendering services to international star and actress Kyra (Nora van Waldstatten). Ignoring her own romantic relationship and focusing on her mission with the help of Lewis' girlfriend (Sigrid Bouaziz), something does eventually start to reach out to Maureen, but it doesn't seem to be her brother and may, in fact, be malevolent.
Personal Shopper is fascinated with binary states, but specifically with the gray limbo zone between two defined points and the collapsing, increasingly fluid methods of communication which can potentially cross through them. Stewart's 'profession' is one such starting point, a woman unable to engage with the material objects she's so clearly fixated on (her moroseness dissipates when she's hunting through dresses and necklaces and shoes, a fiery curiosity invigorating her energy, all in the name of 'pleasing' Kyra). How her occupation both occludes her mission to reach her dead brother Lewis' spirit and yet allows her to remain in Paris and pursue these interests is another frustrating oxymoron for Maureen.
If life and death are obvious opposing states, the defining characteristics of gender also play an important role. As Maureen dives into a historical context of mediums (Victor Hugo, who gets his own starring role in several clips of a 1970s made-for-television film, with French actor Benjamin Biolay sticking out like an intentionally sore thumb) and mysterious artists (the mystical Hilma af Klint and her prescient surrealism), the Fox Sisters get their influential due, as well as some questionable (but appropriate) bits of phantasm CGI and talk of ectoplasm.
Maureen's disconnect from Lewis may have as much to do with his state of being as his gender. After receiving an early round of texts from what is supposedly a ghostly stranger in a different time zone, one of her first questions is to inquire on the gender of her caller. "Does it matter?" is the response. Does it matter, for instance, that Maureen continually orders drinks, either coffee or beer, and never finishes them? Does it matter that she's most uncomfortable in these transitory moments traveling between cities, or what of the irony of blocking out communication by putting her phone in airplane mode but this isn't ever the mode of transportation?
It could be a question posed of many moments in the increasingly strange, beautifully paranoid Personal Shopper, which hinges wonderfully on a central performance from Stewart, who is as awkward as she is emotionally charged—she's never seemed more vulnerable and poised, which reaches a crescendo during her ghostly courtship where she's goaded to try on an exquisite dress of Kyra's whilst relaying her emotional response via text message ("no desire if it's not forbidden") which slides from a skimpy underwear promenade recalling Sigourney Weaver in Alien (set to the dulcet tones of Marlene Dietrich) before morphing into something reminiscent of the Amanda Knox scandal.
As with many of Assayas best titles, they're sometimes more enjoyable with repeated viewings, of which is certainly true of Personal Shopper. Once one gets past the idea of the film not being a glamorous genre piece starring Kristen Stewart, one begins to see reminiscences to Euro-borne Danger Porn, which the film resembles. If Jacques Rivette had ever wanted to adapt a Stephen King novella, it might play something like Personal Shopper, which is more about how our modes of communication have warped our perception and eroded our connections even as technological advances have made such interactions effortless and instantaneous.
Assayas builds his most suspenseful moments into the text message exchanges Stewart has with her ghostly courter—the film's most chilling instant results in her turning on a phone to read a trail of dwindling messages suggesting a foreboding presence is suddenly outside her door, as opposed to the bloody carnage we shall be witness to only moments later. Assayas injects several meaningful dialogue exchanges, as well, including the talented Lars Eidinger (who was also part of Sils Maria) as Kyra's lonesome plaything, a man who offers Maureen a job at Men's Vogue (although she clearly seems well versed in women's fashion—again, does it matter?), and then Danish actor Anders Danilesen Lie as the replacement for Lewis, and whose presence incites the physical transformation of the dead man.
Disc Review:
Cinematographer Yorick Le Saux supervised this director approved 2K digital transfer of Personal Shopper, presented in 2.40:1 with 5.1 surround DTS-HD Master Audio. Watch and listen to Kristen Stewart wax eloquent as she trembles anxiously in this digital transfer created directly from the 35-mm original camera negative. Picture and sound quality are well attenuated in this presentation of the low-key ghost story/travelogue about an American in Paris. Several extra features are also included.
Olivier Assayas:
Criterion interviewed Olivier Assayas in Toronto, 2017 for their release of Personal Shopper in this seventeen-minute segment. Assayas recalls moments from his childhood which influenced and inspired the film.
Cannes Film Festival, 2016:
Kristen Stewart is featured in this footage from the film's press conference at the 2016 Cannes Film Festival, which runs for forty-five minutes.
Final Thoughts:
Stewart shines in Assayas' ghost story, a slim narrative threaded into considerable subtexts on loss, correspondence, and emotional transactions.
Film Review: ★★★½/☆☆☆☆☆
Disc Review: ★★★★/☆☆☆☆☆