Criterion Collection: The Lure | Blu-ray Review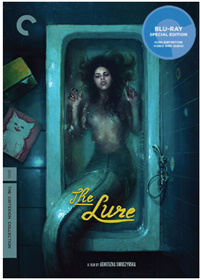 Agnieszka Smoczynska's idiosyncratic directorial debut The Lure has cult classic written all over it. A fairy tale about two siren sisters in 1980's Warsaw gets outfitted as a feminist horror-musical, announcing its director at the forefront of what promises to be the most promising crop of Polish cinema to hit international festivals in some time. It is the most pronouncedly distinct title to arrive since names like Zulawski, Polanski, Kieslowski, Has, and Skolimowski scattered to more promising international productions following struggles with Communism and censorship, while Poland's cinematic infrastructure is still struggling with a somewhat undetermined modern nationality—at least as far as how to formulate a contemporary identity without taking into consideration its politically fraught past and present. Released in her native Poland right before a splashy international premiere at the 2016 Sundance Film Festival (where it scooped up the Special Jury Prize in the World Dramatic competition), Smoczynska's title joins a shortlist of challenging women directors (Malgorzata Szumowska, Urszula Antoniak) broadening the horizons of Polish art-house cinema.
With incredible style and flair, it's almost easy to forgive a somewhat meandering screenplay, which suddenly morphs into hyper drive for a rushed finale. Still, until we reach these truncated moments, it's an often unpredictable and visually arresting series of sequences accompanied by catchy pop covers or its own insanely strange pieces.
On a dark night, a family of musicians encounter a pair of singing mermaids as they carouse on the shore. Begging to be invited to land, a handsome Bass player (Jakub Gierszal) and his Drummer dad (Andrzej Konopka) help the sisters out of the water, though a piercing shriek from lead vocalist mom (Kinga Preis) indicates trouble to come. The sisters, Silver (Marta Mazurek) and Golden (Michalina Olszanska) follow the musical family to the nightclub where they work, and are immediately signed as new musical act by the club's owner (Zygmunt Malanowicz). But no one seems to realize the sisters might, in fact, be malignant, and as they become a new sensation known as "The Lure," Golden starts to fall in love with the bass player.
As a unique hybrid with its own particular agenda, The Lure isn't effective as horror or dark comedy, but should find beloved fans in search of a new cult musical to worship. Initially, uneasiness lurks around every sequence since we're expecting these multi-lingual siren sisters to wreak utter havoc on the small Polish community. Why they've chosen this current hamlet isn't quite clear, but they stay longer than normal thanks to Golden's love for the first-wave hipster bass player. While Silver feeds off members of the local population, we're given vague details about the fate of those who fall in love with humans unable to reciprocate their attachment, at which point we're pretty sure what's in store.
Smoczynska's actual title translates as "The Daughter of the Dancing" referring to the types of venues depicted here, establishments aping Western pop songs and popular cultural reference, eventually abolished. These alien creatures seem an awful lot like Hans Christian Anderson crossed with figures from Greek mythology, and Smoczynska's resurrection of a particular lost moment recalls a similarly nostalgic, unattainable period. However, most of these characters aren't given actual names, all representative of familiar types.
In the first half of the film, lead singer/mother Kinga Preis is an arresting character, resembling the white Julie Brown and crooning a hypnotic cover of Donna Summers' "I Feel Love." She falls to the wayside while her son's doomed love story plays out, though what we're supposed to take away from the fate of the mermaids seems unclear beyond the usual consequences of attaching oneself to objects slated to expire. Always interesting, but not quite as outlandish as all its garish angles would indicate, The Lure marks Agnieszka Smoczynska as a talented, contemporary figure in the Polish film industry, and this calling card bodes well for a promising, unpredictable future.
Disc Review:
DP Kuba Kijowski supervised this high-definition digital master transfer from Criterion, presenting The Lure in 2.39:1 with 5.1 Surround DTS-HD Master Audio. Picture and sound quality are superb in this presentation of the visual and aural genre splice, and as usual, arrives with a stockpile of noteworthy extra features from the label, including two of Smoczynska's previous short films.
Off the Hook:
In this new forty-one-minute documentary feature on the making of The Lure, director Agnieszka Smoczynska is joined by screenwriter Robert Bolesto, actors Marta Mazurek and Michalina Olszanska, sound designer Marcin Lenarczyk, cinematographer Kuba Kijowski, music composers Barbara and Zuzanna Wronskie, and choreographer Kaya Kolodziejczyk.
Deleted Scenes:
Six deleted scenes, including an alternate opening and ending of the film, are included here.
Aria Diva:
Smoczynska's first short, Aria Diva, filmed in 2007 while she was a student at the Wadja School in Warsaw, features a housewife who becomes enamored with her upstairs neighbor, an opera diva.
Viva Maria!:
Smoczynska directed this short documentary on opera singer Maria Foltyn in 2010 while still a student at the Wadja School in Warsaw.
Final Thoughts:
A perversely strange take on The Little Mermaid lore, The Lure takes you into its stylish depths to relay the fate of some poor, unfortunate souls.
Film Review: ★★★/☆☆☆☆☆
Disc Review: ★★★★/☆☆☆☆☆