Criterion Collection: Stalker | Blu-ray Review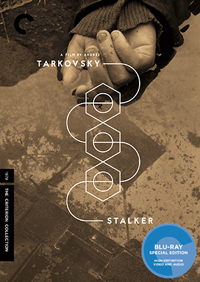 Mystical, existential journeys appear in cinematic form every so often, sometimes challenging our understandings of the world around us as well as the social constructs we use to define ourselves, beliefs, and traditions. And others succeed in reinventing a new, perceptive cinematic language through their own idiosyncratic process. Often, these films have their own particular cult followings, legions born out of the urban legends usually surrounding such cinema's strenuous (perhaps necessary) production process.
Jodorowsky's The Holy Mountain (1973) and Herzog's Fitzcarraldo come to mind as films conjuring something undefinable in their aura and visual textures. But perhaps nothing matches the density of Andrei Tarkovsky's inimitable Stalker, the Russian legend's fifth of seven films, and his final feature made within the confines of the Soviet machine. A metaphorical fable on religion (to summarize superficially), a titular guide takes a writer and a professor through a post apocalyptic wilderness left behind by aliens (known only as The Zone), in which exists The Room, a destination which, once reached, will yield its transgressors unto their innermost desires.
Loosely based on the Strugatsky's 1972 novel Roadside Picnic, a Stalker (Aleksandr Kaidanovskty) is hired to guide two men, a depressed writer (Anatoli Solonitsyn) and a professor (Nikolai Grinko) hoping to penetrate "The Zone." The enigmatic, foreboding wasteland is said to house secrets meant for those seeking enlightenment and/or the fulfillment of their deepest desires. Stalkers, (glorified guides equipped for the exploration of the dangerous, complex terrain) have the required skills for penetrating The Zone in hopes to lead its desperate customers to The Room, an inner sanctum which not all explorers are allowed into. Leaving behind his troubled wife and daughter, this Stalker is keen on instilling his apathetic, cynical clients with the sense of hope engendered by The Zone, a sort of last stand for those who find they having nothing left to live for.
Like most of Tarkovsky's filmography, mere summarization hardly defines the experience of engaging with his cinema. Stalker is an experience, to say the least, a sometimes-glacial knot of tangled inferences, religious metaphors, and political conditioning framed in a post-apocalyptic universe. As Mark Le Fanu outlines in his insert essay, the film's production belies significant, considerable struggle on behalf of the cast and crew which isn't evident in the film's spooling pools of philosophical significance. The Zone, and its crumbling, dilapidated magnitude now seems like the foreshadowing of the Chernobyl explosion, which took place in April of 1986, seven months prior to Tarvovsky's death at the age of 54 due to cancer (the extreme filming conditions of Stalker might have played a hand in this fate, as several other crew members and the director's wife experienced similar early ends).
If Dostoevsky had gotten around to philosophical sci-fi, it might have read something like Stalker, whose mournful central character extolls the importance of hope, which The Zone, by default represents—a sort of New Age mecca where "those who have lost all hope" are allowed entry. But unlike the healing power of Lourdes, the vacant façade that is The Room (a moniker which now simultaneously echoes the tone-deaf artifice of Tommy Wisseau) doesn't make much ado about anything once we reach it.
During one of the trio's many stints of bickering, they question what it is they desire—how does one know one really wants something? In their meta-analysis, the Stalker guides them with "What's The Zone to you?" At the same time, the Stalker's sepia toned home life (which echoes the broken-down banality of farm life in the classic American film The Wizard of Oz, 1939) is the only outside characterization we receive. His daughter, known only as Monkey, suffers from a mysterious ailment, while a longer suffering wife bemoans her husband the use of her watch (perhaps a motif about stealing another's time).
However, Stalker is not based on Dostoevsky (although Tarkovsky had ambitions to mount The Idiot), but the pulpier writings of brothers Arkady and Boris Strugatsky (who were also the authors of the source material for Tarkovsky's earlier sci-fi masterpiece, Solaris).
Boiling down their text to focus on one thrust of a journey into The Zone, Tarkovsky winnows this anguish into a testament of faith. After their inconclusive journey (because the entire operation is open to interpretation), the Stalker wails, comforted by his wife. The academics he had ushered into The Room are a dubious lot. "Their capacity for faith has atrophied," he concurs, upset he was not able to instill either of them with the requisite wonder with which to even approach the mysteries of The Zone.
Even less conclusive is a final sequence with Monkey, alone in the kitchen as three glasses on a table move of their own accord. A receptacle filled with liquid, and another with broken objects remain intact, while the empty vessel crashes and breaks on the floor—which perhaps suggests those besotted by drink or filled with cracked ideas are better off than those who are empty inside. Or maybe those looking to satisfy their hope by filling themselves with the outside stimulus they seek are only destined to fall into ruin.
The final look of the film is credited to DP Alexander Knayazhinsky, responsible for filming after the first print was destroyed (upon which Leonid Kalashnikov would remain uncredited), which happened after Tarkovsky fired first cinematographer Georgy Rerberg (who lensed his previous film, the autobiographical The Mirror). The troubled production history is nowhere evident in the film's seamless, meditative rhythm, even more stunning in its gloomy color palettes of a verdurous hinterland.
Disc Review:
The fourth Tarkovsky title to join Criterion, Stalker receives a new 2K digital restoration with uncompressed monaural soundtrack. Although various personal and production woes saw the reins of the DP change several times, the final version available is astounding visual masterwork. Presented here in 1.37:1, the restoration was taken from the 35mm original camera negative.
Geoff Dyer:
Dyer, author of Zona: A Book About a Film About a Journey to a Room, discusses his decades long love for Tarkovsky's film in this 2017 half-hour interview from Criterion.
Eduard Artemyev:
Composer Eduard Artemyev (who also scored Tarkovsky's Solaris and The Mirror) recalls the process of working on Stalker in this twenty-one interview excerpt from 2000.
Rashit Safiullin:
Set designer Rashit Safiullin discusses the process of working on Stalker in this fourteen-minute bit from 2000.
Alexander Knyazhinsky:
Knyazhinksy (here credited as the second DP associated with Stalker) appears here in this final interview before his death in 1996. The cinematographer recounts his working relationship with Tarkovsky and his arrival mid-way into an infamously troubled production in this brief five minute snippet.
Final Thoughts:
No one tops Tarkovsky's ability for immersion, and the metaphysical enigma of Stalker is one of cinema's most impressive achievements.
Film Review: ★★★★½/☆☆☆☆☆
Disc Review: ★★★★½/☆☆☆☆☆