Disc Reviews
Criterion Collection: The Confession|Blu-ray Review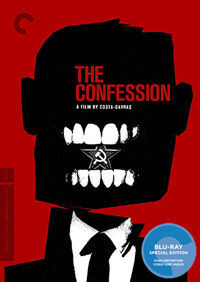 Criterion adds two more early works of auteur Costa-Gavras to the collection, rounding out his early trilogy of political thrillers headlined by Yves Montand with 1970's The Confession and 1972's State of Siege. Having blazed into the cinematic scene of the late 60's with the dramatic Z in 1969, his immediate follow-up was a more sobering treatment of historical bureaucratic wrongdoing. Wearying, to say the least, the film is based on the real life account of the Communist Party show trials in 1952 Czechoslovakia as accounted in Lise and Artur Lindon's book. Intelligently rendered, Costa-Gavras highlights the sobering reality of a mind-numbingly Kafkaesque scenario, filmed in an era where these depictions caused significant unrest, with communist factions of the period banning the film's release in several countries.
Anton Ludvik (Yves Montand), also known as Gerard from his days in the French Resistance, is vice minister of Foreign Affairs in Czechoslovakia. Due to the considerable unrest within Communist party factions in the early 1950's, which resulted in revolving accusations of traitors based on specific labels, ranging from Zionists (an umbrella term used to include Jews), Titoists, and Trotskyists, a rash of 'show trials,' resulted. These 'ceremonies' hinged on selected victims who were forced into admitting to crimes against the party they did not commit. Ludvik finds himself mysteriously arrested, held captive for many months and worn down mentally and physically until he agrees to admit to his assigned crimes. Meanwhile, his wife (Simone Signoret), a once prominent journalist, is reduced to the status of a factory worker while her husband undergoes his brutal treatment.
By today's standards, perhaps, The Confession pales in comparison to the torture porn aesthetic generally accompanying depictions such as these. But Gavras seemed committed to rendering the event without the aid of unnecessary thrills, using the increasingly worn down visage of Montand instead to convey the general onslaught of such an ordeal. The expressive DoP Raoul Coutard's framing even begins to feel workmanlike in its unrest, a far cry from the energy in his previous collaboration with Gavras on Z (and one can't neglect to mention Coutard's stunning contribution to the Nouvelle Vague thanks to his work on Godard's Breathless or Truffaut's Jules and Jim, among countless others).
The framed portrait of an omnipresent Stalin hovers over Gerard's captors early on in the film, the camera sometimes focused here as if to prove the immobility of the situation. Montand's real-life wife Simone Signoret appears in a supporting role, conveying the blind trust those belonging to the party were indoctrinated with. Her initial belief in her husband's guilt following the broadcast of his confession is a testament to the depths of political brainwashing going on here, and therefore the dangerousness in openly documenting such deception.
The Confession entails the grueling process of torture involved in manufacturing fabricated testimony, the wearing down of the mind akin to the surreal predicament (it nearly goes without saying) of Kafka's famed Josef K. in The Trial. But this specific historical instance perhaps more closely resembles a similar outline within the pages of Georges Simenon's 1948 novel Dirty Snow, in which a character undergoes similar treatment in Nazi occupied France. "Confession is the highest form of self-criticism," Gerard is advised early on, his innocence negligible. The party requires his guilt.
Disc Review:
Criterion provides a 2K digital restoration of The Confession, presented in the original 1.66:1 aspect ratio. It's an impressive package and the high caliber visuals look great, especially in close-ups where the passage of time is literally conveyed in the increasingly wearied face of Yves Montand. As usual, a bounty of worthwhile extra features is available to navigate:
You Speak of Prague: The Second Trial of Artur London:
Director Chris Marker was the set photographer on The Confession. He created a half hour documentary about the production of the film, which includes footage of director Costa-Gavras, star Yves Montand, and writers Artur London and Jorge Semprun. This aired on French television on March 5, 1970, and certainly bears the enigmatic stamp of Marker's sensibilities.
Portrait London:
A French television program that aired in 1981 to coincide with the release of American hostages in Iran features Artur and Lise London discussing their own experiences as political prisoners. It's a fascinating eleven minute segment.
Interview with Yves Montand:
A seven minute interview from May 10, 1970 features Montand discussing his preparations for the role.
Interview with Francoise Bonnot:
Bonnot, who edited nine films for Costa-Gavras, including Z, The Confession, and State of Siege, is featured in this seventeen minute segment conducted by Criterion in January 2015. She discusses her process of working with the famed director.
Costa-Gavras at the Midnight Sun Film Festival:
At the 1998 Midnight Sun Film Festival in Finland, film scholar Peter von Bagh discusses with Costa-Gavras the director's life and career. This hour long conversation is presented with edited montages throughout.
Interview with John Michalczyk:
Conducted by Criterion in December 2014, this seven minute segment is an interview with writer and filmmaker John Michalczyk, author of Costa-Gavras: The Political Fiction Film.
Final Thoughts:
Exhausting but never dull, The Confession remains an important early work from the notable and ever politically minded Costa-Gavras (continuing into his sixth decade of filmmaking, last seen in 2012 with Capital). Though less invigorating than the iconic Z, it remains a compelling depiction of a harrowing experience rarely caught so astutely in narrative filmmaking as it is here.
Film: ★★★½/☆☆☆☆☆
Disc: ★★★★/☆☆☆☆☆