Disc Reviews
Criterion Collection: The Merchant of Four Seasons |Blu-ray Review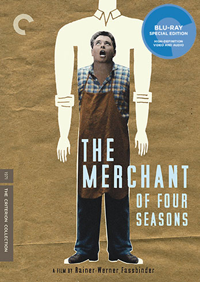 "We're all pigs," remarks a character late in Rainer Werner Fassbinder's 1971 classic The Merchant of Four Seasons, on observation one could apply to most of the desperate and disparate characters littered throughout the German New Wave master's oeuvre. In this instance, the comment is made by the protagonist's familial successor. Fassbinder's flaccid fruit vendor shrinks into the shadows of his own periphery, a failed patriarch reduced to the general fate of mediocre men in times of societal resurgence, (here specifically in the 1950s, the post-war period of the German economic miracle) marked for replacement by a trusted friend, stepping in to pinch-hit. Regarded as one of Fassbinder's best early titles, it is one of his most accessible Sirkian inspired melodramas earning notable critical applause during an impressively fruitful period, imbued with the director's favorite themes concerning dwindling personas of those foolish enough to seek fulfillment in socially sanctioned nuclear family units.
Hans (Hans Hirschmuller) is having a hard time. He's recently returned from serving in the Foreign Legion, a move made to escape from his domineering mother, a woman who wouldn't allow Hans to choose his chosen profession as a mechanic as she views this as beneath their family's class values. Haunted by a shameful memory from his service, Hans returns home to work as a fruit vendor, something his mother also despises. Assisted by his nagging wife (Irm Hermann), his attempts to see the actual woman he loves (Ingrid Caven) are thwarted by his conflicted feelings concerning how she turned down his marriage proposal and his own wife's jealousy. We learn he had once been a successful police officer, but taking advantage of a prostitute's desperation cost him his job. With his home life in ruins thanks to abusive, drunken bouts of violence, Hans' begins to deteriorate mentally and physically.
Within Fassbinder's astoundingly prolific filmography, The Merchant of Four Seasons certainly stands out amongst a multitude of impressive titles. In 1971 alone, the filmmaker unveiled five films, including two lesser known television titles. Merchant is credited as being a rare case of Fassbinder slowing down and taking his time, at least according to his own breakneck standards. At the Berlin Film Festival that year, Fassbinder premiered Whity, his most reviled work.
The difficult shoot and subsequent negative reaction birthed an immediate response from Fassbinder, Beware of a Holy Whore, which premiered several months later and is considered one of the best films on filmmaking. And then, after Whore was The Merchant of Four Seasons, a palette cleanser of sorts showing Fassbinder in his preferred mode of portraying the detrimental effects society has on the individual.
Hans the fruit vendor has to stand as one of the most pathetically passive of Fassbinder's doomed heroes, especially compared to queer counterparts (though the transgendered Volker Spengler from In a Year With 13 Moons comes close), such as the eponymous heroine of The Bitter Tears of Petra Von Kant (1972), a woman raging against expectations, or the naïvely objectified character from Fox and His Friends (1975). Hans is only successful in reducing his physical state to the point of collapse, shrinking to a shadow of himself thanks to his vampiric wife, played to perfection (despite her glycerin tears) by Irm Hermann, and astoundingly cruel mother played by Gusti Kreissl. As such, it's almost easier to appreciate Fassbinder's cruelty as a dark comedy rather than a melodrama, with only another petulant amalgamation of Hanna Schygulla as the rebellious sister standing in Hans' corner, while the director's wife Ingrid Caven appears as a sympathetic yet helpless extra marital love interest.
Disc Review:
This new 4K digital restoration from Criterion is impressively presented in this welcome Blu-ray package. Audio commentary from fellow German New Wave alum Wim Wenders is also definitely worth exploring after an initial reunion with the title. Several notable new interviews from Fassbinder's cadre are also available.
Irm Hermann Interview:
An interview from February 2015 was conducted by Criterion with Hermann in Berlin (there's also recent interview footage in the supplements of the recent Criterion release of Petra Von Kant). This nine minute segment finds the actress discussing her beginnings as an actress and how fate introduced her to Fassbinder, who cast her in his first short film.
Hans Hirschmuller Interview:
Also conducted in Berlin in February 2015, Criterion sits down with Hans Hirschmuller, who discusses Fassbinder's methods. The actor claims Fassbinder invented the role of Hans Epp specifically with him in mind.
Eric Rentschler Interview:
Criterion sat with film historian Eric Rentschler in Cambridge, Massachusetts in February, 2015 for this near half hour interview concerning Fassbinder's first taste of international success with The Merchant of Four Seasons.
Final Thoughts:
Fassbinder returned to work with DoP Dietrich Lohmann for Merchant, and indeed, the look of the film does seem more sophisticated (to be fair, Lohmann also worked on 1969's Love is Colder Than Death, as well, a title which features a fair amount of ravishing shots). Those preferring Fassbinder in soapy Sirkian overdrive may prefer Ali: Fear Eats the Soul (1974) or the more daring transgressions of The Bitter Tears of Petra Von Kant (1972), but this film marks the beginning of Fassbinder's notable stylizations of wicked social satire. "Nothing can be taken back once it's happened," Hans mournfully observes, and so it stands that Hans is a lesson in inescapable, compounded regret.
Film: ★★★★/☆☆☆☆☆
Disc: ★★★★/☆☆☆☆☆