Disc Reviews
Criterion Collection: Fantastic Mr. Fox | Blu-ray Review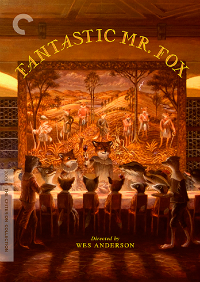 No one was surprised when it was announced in the wake of The Darjeeling Limited that Wes Anderson's next endeavor would be wholly animated in the most crafty, hand made fashion of all no less – stop motion. It all made sense. Detracting critics had long been writing the filmmaker off, seeing his deliberately executed, meticulously stylized films as elaborate cartoons dressed up in matching outfits, set to an A list 60's soundtrack even Scorsese would be proud to rock, somehow disregarding the compacted emotional density that lies just under the perfectly staged surface of just about every scene of every picture the man's made. And to top it all off, he'd previously dabbled in stop motion with the best in the business on The Life Aquatic, with Henry Selick crafting made up sea creatures to add a layer of playful unreality to a story drowning in the fears of old age and consequences of lifelong selfishness. What more fitting form could Anderson embrace but one he could completely control not only shot by shot, but frame by frame?
What wasn't expected was Anderson's decision to adapt, with help from friend and occasional writing partner Noah Baumbach, a beloved children's story by the famed author of other classic filmic adaptations, Roald Dahl, for the first time not working from wholly original content. He chose Fantastic Mr. Fox, a story he grew up adoring, a tail that, like many of his own, sees its protagonist forced to confront their own convoluted narcissism. Like Max Fischer, Royal Tenenbaum, Steve Zissou, and so many others from Anderson's menagerie of pompous yet fragile characters, Mr. Fox (voiced by an ultra suave George Clooney) finds himself the head of a household relying on him to be the responsible father and husband he's signed up to be, yet he can't seem to control himself from raiding the local farms for fowl and hard cider on the sly after promising to give up the criminal ghost. Stroking his own ultra confident ego while succumbing to the primitive urge to revel in conflict, Mr. Fox risks not only his own home, but that of his friendly wild neighbors as well, provoking the wrath of Boggis, Bunce & Bean, a trio of bloodthirsty British villeins turned villains hell-bent on seeking revenge on those who dared to plunder their property. And even amidst this riotous scheme, Anderson has plenty of time to integrate his signature theme of parental disjuncture between fantastically talented father and underwhelmingly normal son by roping in his brother Eric Anderson to voice the yoga obsessed teenage cousin fox, Kristofferson, whose invited on the covert chicken run as offspring replacement.
Stuffed wall to wall with perfectly timed Andersonian dialogue and enough elastic sight gags to keep a toddler stuck on repeat, Fantastic Mr. Fox is the filmmaker's first truly family friendly film, despite the continuous use of the word 'cuss' in place of actual cuss words and just enough tonal maneuvering of things like pregnancy and death to touch the melancholic soul while still barreling full force in comedy mode. It all seems but a brilliant, effortless balancing act pulled together by a tremendous team of arts and animators, brought to life by an all star cast that boasts not only Clooney, but Meryl Streep, Jason Schwartzman, Bill Murray, Willem Dafoe, Michael Gambon, and so many more talented actors we don't dare try to squeeze them all in. A work of pure animated joy that smacks of Andersonian stylings but doesn't seem to strain under the weight of its own subterranean yearning to be wild, alive, passionate and still compassionate, Fantastic Mr. Fox bares its name with a bold, self conscious tenacity, nodding in agreement, fantastic indeed.
Disc Review:
Almost perfectly timed with the coming release of The Grand Budapest Hotel, Criterion has put together a supplemental behemoth of a release for Fox. The amount of extra goodies included in this package is absolutely overwhelming, in the best of ways. Compared to the original, non-Criterion Blu-ray release, the transfer here seems to my eyes just a tiny touch brighter, barely noticeable. Generally indistinguishable otherwise, flawless. Audio likewise. Packed alongside the Blu-ray disc is a pair of DVDs just in case, all housed in a hefty double wide digipack, slipped nicely in a beautiful dust jacket. The only thing it seems to be missing is, oddly, a trailer.
Introduction
Voiced by composer Jarvis Cocker, we have an animated Petey giving the rundown of what kind of animated silliness we are in for. 1 min
Animatic
The entire film is blocked out here in semi-animated storyboards and pre-mixed dialogue. Interesting to see how the film changed throughout the whole process. 75 min
Making of 'Fantastic Mr. Fox'
Seeming to be extended, raw bits of what became some of the publicity EPK type pieces included down below, this is a seven part set of behind the scenes bits that cover visual inspiration, puppet building, and most incredible, time lapse photography that documents the animation of several scenes over the course of days, allowing the scene of tiny puppets to move as though normal and alive while the animators rush around as accelerated blurs. Annoyingly, there is no play all feature. 32 min
Awards Speeches
A trio of short animated acceptance speeches, two voiced by Anderson as animal avatars, one for the Nation Board of Review and the other the Academy Awards, and the third is Clooney as Mr. Fox, wondering what exactly is The Secret of Kells? 3 min
Set Photography by Ray Lewis
A beautiful collection of photographs from the many sets, scannable with remote.
Publicity Featurettes
If I'm not mistaken, these are quite similar, if not exactly the same EPK pieces that were included with the film's initial release. Still a slick set of glimpses behind the scenes at the production and the inspiration for the story. Bill Murray is also given the spotlight, meandering around the animation studios asking questions and entertaining the animators. 32 min
Sony Robots Commercial
This stop motion ad for Sony's Xperia is more straight forwardly cute than most of Anderson's work, but it was animated by the same crew that worked on the film, cotton smoke wisps and all. 1 min
Discussion and Analysis
An interview with a pair of children, Jake Ryan and Jeremy Logan, who are asked to compare the film to the book and also deconstruct the moral issues of the film. In light of the insane amount of other extras, this is the only bit that could have easily been cut. 11 min
"Fantastic Mr. Dahl"
Of the long running BBC produced Imagine series, this is a lovely hour long doc on Roald Dahl, his upbringing, family life, writing, his love of chocolate and much, much more. There are plenty of archival interview clips with the author, as well as many interviews with his family and friends. 61 min
Witch's Tree
Within you'll see Dahl up in the massive beach tree that inspired the house for Fantastic Mr. Fox, speaking on its importance to the story. 2 min
Dahl's Manuscripts
Like the Ray Lewis photography, here we have 18 pages of an early draft of the book that are scannable with remote.
Booklet
Thick with lovingly photographed puppets, set pieces and props, this booklet houses not only a critical piece by Erica Wagner, but also a written work by Anderson himself about staying in Dahl's Gypsy House during the writing of the film, as well as the only issue of White Cape, which is a fictional comic that appears as a prop in the film.
Final Thoughts:
What more is there to say? Did you read that intensely long list of supplemental material included with this brilliant film? If you've seen any Wes Anderson film at all, you have to know what you're in for, but if you still have doubts, answer these three questions. Does the sound of George Clooney's voice make you swoon? Do you appreciate dry wit mixed with melancholic undertones? Are you a fan of animation? If you answered yes to any of these, this is a blind buy. It's a fantastic package for a flat out fantastic film.
Film: ★★★★½/☆☆☆☆☆
Disc: ★★★★★/☆☆☆☆☆