Disc Reviews
Criterion Collection: The Long Day Closes | Blu-ray Review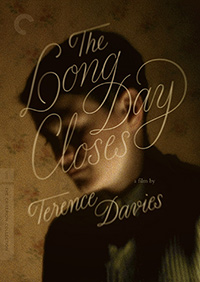 The inimitable Terence Davies gets his first Criterion treatment this month with his 1992 title, The Long Day Closes, a superb memory poem drenched in melancholy nostalgia. A follow-up to the much more dark and brutal Distant Voices, Still Lives (1988), Davies returns once more to the memoirs of a ravaged childhood, further expanded upon from his first three short films which comprised The Terence Davies Trilogy (1976-1984). Swimming freely between quiet fantasy sequences and recollections of free associations as we drift in and out of abandoned ramshackle buildings of the past like a restless spirit, there is a delicate and fragile longing in Davies' second feature, a ruminative exploration absent from the pained dirge of his previous film.
Bud (Leigh McCormack) is a bright and lonely 11 year old boy growing up in 1950's Liverpool. Absent a father figure, Bud spends most of his time at home with his mother (Marjorie Yates), a rather warm if sometimes distant figure, while his much older siblings and a friendly maid all seem rather chummy with him. Often bullied at school, he finds his greatest passion lies in going to the movies, a place he never seems to tire of. It's clear that Bud is gay, and his daydreams are sometimes troubled by the conditioned terror of Catholicism, his young mind attempting to reconcile the rigidity of religion with the life's passions.
Disc Review
The pristine restoration, which was apparently supervised by Davies and cinematographer Michael Coulter, looks superb. Davies' early works have long been unavailable in the US, or in poor quality prints, so to see this in such high resolution is indeed quite a treat, especially considering the dark and drab palette that populates Davies' era. Extra features include an episode of the British television series The South Bank Show from 1992, which showcases Davies, as well as footage from the film's production, and interviews with the cast and crew. Criterion also includes newer interviews with executive producer Colin McCabe and production designer Christopher Hobbs, though what's more exciting is an included audio commentary option from Davies and Houlter.
Final Thoughts
As we waft in through the blackened ruins of the past, our appetite whet by the 20th Century Fox drumroll, followed by the gentle crooning of Nat King Cole (a detail that takes on more meaning after a surprise sequence with a black man that accidentally visits the wrong establishment), we're displaced into Bud's rather glum worldview, the only stabs of light formulated by his daydreams and frequent escapes to the cinema. Peeping at his mother as she hangs the laundry, he spies a swarthy, shirtless young man over yonder, his gaze lingering long enough to earn a wink. Later, the same man will show up as a Christ figure in turmoil in a daydream.
The small enchantments that populate Bud's daydreams, whom we assume is representative of the young Davies, are blended seamlessly into an ordinary world of drab browns and greys in a shell-shocked culture quickly trying to gain distance from the not so distant past, and the effect is curiously moving, tapping instantly and emphatically into the awkward yet sometimes intriguing process of growing up.
The Long Day Closes is a much warmer, and loosely episodic film than Distant Voices, Still Lives, it's design, in comparison, offering a bit more hope for the isolated young man we see, as we leave him abruptly, gazing into the swirling night sky that soon envelopes us into a finale. Davies wonderfully weaves a tapestry of aural cues from childhood film favorites, such as Orson Welles' voice from The Magnificent Ambersons, and Martita Hunt, the Miss Havisham of David Lean's Great Expectations. As they float in and out as disembodied artifacts, there's a lovely poignancy to how Davies segues to the finale with the use of Debbie Reynold's song, "Tammy," made popular from her Tammy and the Bachelor film, which would go on to be a popular series.
The Long Day Closes is a film that seems to share locked compartments and past feelings, a moving tapestry of sight and sound that never quite fills in all the details about where and how we leave Bud and his caring mother. And perhaps it's this abstraction which makes it one of Davies' more emotionally potent films.
Film Rating: ★★★★ 1/2 /☆☆☆☆☆
Disc Rating: ★★★★/☆☆☆☆☆