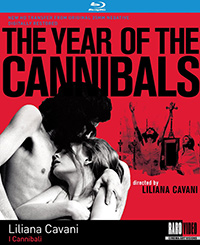 Raro Video resurrects an excitingly obscure title this month with Liliana Cavani's 1967 film, The Year of the Cannibals, a counter culture art house film modernizing Sophocles' play Antigone to explore modern political unrest, here in the streets of Milan. Cavani, perhaps best known for her notorious 1974 film The Night Porter, posing star Charlotte Rampling in one of her most iconic roles, has crafted a stunningly photographed and arresting film in this early work that's ripe for rediscovery. Shown in art houses and retrospectives after receiving favorable reaction upon domestic release and major film festival play (Directors' Fortnight at Cannes), the title never secured distribution in the US, though this is mostly due to Cavani's refusal to change the bleak finale when a major studio approached her to buy the film.
Set in a dystopic Milan, corpses litter the bustling streets after the government has squashed a vicious rebellion. However, the denizens aren't allowed to touch the rebel's bodies, forced to be shamed in the streets and not given proper burial. Antigone (Britt Ekland) has just discovered the body of her dead brother, splayed out in front of the entrance to a busy café. Upset that her family will do nothing for him, she resolves to defy the ruling and the major police presence to move her brother's body. Luckily, she befriends a foreigner named Tiresias (Pierre Clementi), a man without a country, speaking a language that no one can seem to identify, referred to in passing as "Double Dutch." After taking care of Antigone's brother, the pair decided to take other corpses that are unjustly and inhumanely littering the streets. This upsets social order and soon they are hunted by the police.
Disc Review
A digital restoration from the 35mm negative, the presentation of The Year of the Cannibals looks and sounds fantastic. Its lofty modernizing of Greek tragedy to reflect modern issues and attitudes works perfectly with Cavani's material, a director whose body of work has long gone unappreciated for its ambitious content and difficult subjects. While there aren't many bonus features, Raro gets a fantastic interview in the extra features from Cavani, who shares various anecdotes and thoughts on the film. Released around the same time as Petri's Investigation of a Citizen Above Suspicion (which features a more famous Morricone score) and Marco Ferreri's Dillinger Is Dead, Cavani claims her film has no domestic comparison, claiming that Cannibals has more in spirit with American counterculture films like Easy Rider or Kerouac's novel, On the Road (of which the denizens of Milan here are, literally, 'on the road').
Final Thoughts
Featuring a delicious Ennio Morricone score, the rather bizarre The Year of the Cannibals opens with Don Powell (of Slade) lending vocals to the title track, singing with reckless abandon a series of lyrics that are sometimes a bit laughable ("Call me a cannibal/I won't die") which, nevertheless, lends itself as an appropriate introduction into Cavani's strange world. A non-blonde Ekland fiercely resembles Charlize Theron here, giving quite an engaging performance as the dour Antigone. While Tiresias was a blind prophet in Greek mythology, Cavani instead takes away his language, the ability to easily communicate (the media eventually refers to his character as Mowgli from Kipling's The Jungle Book). Clementi was rather a strange and alluring figure in European cinema, perhaps best known for his roles in several Bunuel films, particularly Belle De Jour. Here he's perfectly cast as a youthful rebel, wearing orange pants without underwear and a delightful cape, apparently selections from his own wardrobe. Interestingly, he would go on to play an actual cannibal in Pier Paolo Pasolini's much more graphic Porcile (1969, aka Pigpen). Giulio Albonico's (who worked for several Italian greats, including Faenza, as well as DP on a 1975 version of Zorro starring Alain Delon) fantastic frames capture the beautiful streets of late 60's Milan, poetically littered with an alarming gaggle of corpses. The Year of the Cannibals is an expressive and exciting piece of inspired filmmaking and Raro Video's restorations is worth checking out.
Film Rating: ★★★★/☆☆☆☆☆
Disc Rating: ★★★★/☆☆☆☆☆