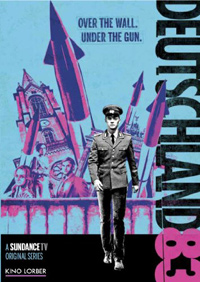 Premiering its first two episodes at the 2015 Berlin Film Festival, the eight episode Cold War television mini-series "Deutschland 83" went on to become the first German series to be broadcast on American television in its native language. A Sundance TV original series (co-produced by RTL Television), it stands as one of the more notable moments in television from 2015, an example of a growing international industry with increased cross-over potential. Created by husband and wife duo Anna Winger, an American novelist, and Joerg Winger, a German television producer, the series reflects not only period tensions but is constructed in a familiar format that's earned it comparisons to the acclaimed US series "The Americans." Imbued with a delectable early 80s soundtrack, East meets West with vintage flair, an antidote to the curiously hampered mechanics of Steven Spielberg's recent theatrical release, Bridge of Spies, which documents the birth of the infamous Berlin Wall delineating the physical line in the sand between Communism and Capitalism.
With each episode named for an actual NATO exercise in the 1980s, we immediately focus on our main protagonist, Martin Rauch (Jonas Nay), a twenty-three year old East Berliner interested in serving his country. Youthful and naive, he spends his days with girlfriend Annette (Sonja Gerhardt) as he cares for his mother (Carina N. Wiese), suffering from degenerative kidney failure. But his aunt Lenora (an expertly manipulative Maria Schrader) recruits him to work for the East German Secret Service to deployed as a spy in the West. Reluctant, he agrees to do so in order for his mother to ascend to the top of East Germany's organ donor list, a notable feat.
Posing as Mortiz Stamm, he is assigned to work as the aide-de-camp for General Wolfgang Edel (Ulrich Noethen), a top official in the Bundeswehr. Tasked with collecting information on the placement of the Pershing II Missiles, Martin is quickly sucked into Edel's familial drama, which includes his unhappy wife Ursula (Anna von Berg), their beautiful daughter (Lisa Tomaschewsky) and their closeted, anti-war son (Ludwig Trepte). While distracted with all that, his contact in the West, Tischbier (Alexander Beyer) tasks Martin with a series of dangerous missions, including breaking into the head NATO analyst's hotel room to steal a report and plant a bug in the office of the head security analyst's office. But for every success there seems to be an unexpected failure in operations and as Martin begins to learn, no one is who they present themselves to be, and he may be too late in warding off impending catastrophe on both personal and national fronts.
Jonas Nay, a rising German star, is allowed an impressive character arc as Martin, a young man who sloughs off a layer of ignorance to see the wicked possibilities of the world he's living in. Initially, he's a bit of a blank slate, but following several unfortunate and violent episodes, he segues into the favored endangered protagonist mode. Set throughout a specific period in 1983, the Wingers seem to have done their research working with directors Edward Berger and Samira Radsi.
A handful of notable German actors manage to impress, at the top of that list being Maria Schrader (Aimee & Jaguar; In Darkness), who we don't often see as a calculated, sociopathic villain. Several intriguing tangents develop, and significant use is made of another global pandemic going on at the same time, the increasingly alarming AIDs crisis, rearing its head in interesting ways. Beginning each episode with Peter Schilling's catchy hit "Major Tom (Coming Home)," a handful of infections pop tunes, from Grace Jones to Tears for Fears, to The Eurythmics land significant period texture as "Deutschland 83" races through its clandestine chords of heightened paranoia.
Disc Review:
Kino Lorber distributes the significant series in North America and presents it on a 3 disc DVD set. Displayed in 1.78:1, with each episodes nearing the fifty minute range, it's somewhat of a no frills package, though there's no notable difference in quality from similarly styled content on Netflix. A extra feature is available on Disc 3.
Deutschland 83 – The Actors:
A twelve minute feature introduces the series main players, including Jonas Nay, Sonja Gerhardt, and Ludwig Trepte, each speaking about their research for their roles.
Deutschland 83: The Creators:
A thirteen minute feature finds Anna and Joerg Winger discussing the origination of the project.
Q+A with Cast and Crew:
A twenty-two minute Q+A with the cast and creators at the Goethe-Institut in New York following a screening of the first episode, including the Wingers, Jonas Nay, Ludwig Trepte, and Sonja Gerhardt.
Final Thoughts:
Increasingly, we're beginning to see more cinematic and television productions more closely examining the mysterious happenings of East Germany. "Deutschland 83" is calibrated for tastes hell-bent on energetic, addictive narratives, and is sure to please contemporary bingers. As the series' tagline states, it's a particularly hot time in the Cold War.
Series Review: ★★★½/☆☆☆☆☆
Disc Review: ★★★/☆☆☆☆☆