Disc Reviews
Edgar Allan Poe's Black Cats: Two Adaptations by Sergio Martino & Lucio Fulci | Blu-ray Review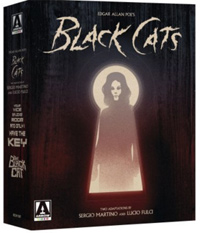 Throughout the history of cinema there are countless adaptations of Edgar Allan Poe's work, from D. W. Griffith's early take on The Sealed Room through Roger Corman's series of lo-fi refittings of the 60s up to last year's attempt to adapt The System of Doctor Tarr and Professor Fether in Stonehearst Asylum. Looking back at two loose Italian adaptations of Poe's classic horror short The Black Cat, Arrow's new Edgar Allan Poe's Black Cats set sees a towering duo of giallo cinema auteurs picking and choosing their favorite elements of the original tale and molding them to their supernatural, blade-wielding will with blood-spilling glee and cinematic aplomb.
Released in 1972 on the tail end of a trio of more classically typified gialli in The Strange Vice of Mrs. Wardh, The Case of the Scorpion's Tail and All the Colors of the Dark, Sergio Martino's kinkily titled Your Vice Is A Locked Room And Only I Have The Key stays closest to the source material by wedding a domestically abusive, creatively and sexually outmoded writer whose shadowy cat, Satan, seems to be the linch-pin to its twisty tale of murderous cover-ups and erotic revenge. Luigi Pistilli stars at the belligerent male alongside his tortured wife played by a luminous, tear smeared Anita Strindberg and his supposed niece played by Edwige Fenech who absolutely shines in the role as the sexually corruptive force of action. Written by giallo mainstay Ernesto Gastaldi, stunningly shot by the generally written off cinematographer Giancarlo Ferrando (whose resumé may be irrevocably stained by Claudio Fragasso's cinematic atrocity, Troll 2), and with music composed by the legendary Bruno Nicolai, the film sensorily soars. Visually sumptuous, narratively thrilling and musically memorable, Martino's take on Poe is an absolutely delightful melodramatic hybrid giallo.
While Your Vice… exploits the source material in order to highlight the internal horrors of its married leads while mirroring their mounting anxieties via the onyx furred feline of its namesake, Lucio Fulci's mid-period The Black Cat just pilfer's Poe's original for exploitational imagery, essentially ditching the self sabotaging inner turmoil for a superfluous supernatural yarn stuffed with non sequiturs. Released in 1981 between his warmly regarded City of the Living Dead and The Beyond, The Black Cat centers around a murderous grave recording medium played by Patrick Magee who uses his power to coax his ultra pragmatic cat into murdering townsfolk, seemingly at random. When an American photographer played by giallo queen Mimsy Farmer starts nosing around the local crypts and David Warbeck shows up, dashing as ever as an investigator for the Scotland Yard, the body count begins to rise and the cat, possessed by evil unto itself, takes things into its own claws. And while one might hope Fulci might able to weave something inspired from the fabric of Poe and the lineage of such genre talent, much narrative potential is frivolously wasted and nearly every character lacks any real depth. Saving the film from oblivion is a wonderfully ear-worming score by frequent De Palma collaborator Pino Donaggio and the always inventive cinematography of Sergio Salvati.
With roughly a decade between them, these films remain complimentary in their use of Poe's original narrative. Each film draws on completely different aspects of The Black Cat, with Martino's harkening back to the Poe's obsession with the evil and guilt that lies within the human spirit, while Fulci draws on much more of the imagery of the grotesque tale, highlighting iconography such as the hanged cat and the house burned to the ground while taking the story further into supernatural territory. While Fulci remains the more recognizable name in this set, it is Martino's stylish giallo melodrama Your Vice Is A Locked Room And Only I Have The Key that undoubtedly outshines The Black Cat, fun as it is in its ridiculousness.
Disc Review:
Arrow Video's lavish release of this duel set is absolutely stacked. Packed in a beautifully designed hard-shell box, these two films come alongside an excellent 80 page book with essays and interviews by Chris Alexander, Andreas Ehrenreich, Mikel Koven and Howard S. Berger, as well Edgar Allan Poe's original short story on which these films are based, "The Black Cat." Both films are gorgeously restored 2k scans, possessing an immense amount of newly revealed textural detail. The Black Cat does have a few remaining, irremovable scratches and occasional mild color fluctuations (note the mid-picture motorcycle intro), while Your Vice… is nearly pristine. Both also boast of a pair of clean mono audio tracks of the original Italian tracks, as well as English dubs.
Your Vice Is a Locked Room And Only I Have The Key
Through the Keyhole: An interview with Sergio Martino
At 77, director Sergio Martino is still vibrant and full of memories of the film's shoot in this new interview. Delving into the film's origins, he touches on Poe's influence, his own prior picture The Strange Vice of Mrs. Wardh, and meeting his three lead actors for the first time. 35 min
Unveiling the Vice
Produced by No Shame Films, this revealing though visually rough making-of retrospective features interviews with Martino, star Edwige Fenech and screenwriter Ernesto Gastaldi. 23 min
Dolls of Flesh and Blood: The Gialli of Sergio Martino
This wonderful visual essay by Michael Mackenzie explores the director's unique contributions to the giallo genre by placing it within the broader context of the giallo genre and the filmmaker's lengthy career. 29 min
The Strange Vices of Ms. Fenech
In yet another informative visual essay, film historian Justin Harries discusses Edwige Fenech's prolific career and lasting impression within the giallo genre and beyond. 30 min
Eli Roth on Your Vice
Giving a brief intro into what gialli are and some of the key films that led up to modern horror and slasher films, Roth comes off as a truly well versed, well spoken horror cinephile. 9 min
The Black Cat
Audio Commentary by filmmaker and Fangoria editor Chris Alexander
Instructive and enlightening, Alexander's knowledge of Fulci's filmography and horror films on the whole is quite an enjoyable listen, though this track might have benefited from having an additional voice to bounce thoughts off of. Occasionally, he take a few self indulgent, mildly distracted turns. That said, being a Buffalo resident, it was nice to hear the Cat's Pajamas overnight show shout-out – a nice little thematic tie in.
Poe into Fulci: The Spirit of Perverseness
Film historian and author Stephen Thrower speaks at length on Fulci's loose Poe adaptation, the film's casting and the some of the odd narrative opportunities lost along the way. 26 min
In the Paw-Prints of the Black Cat
Stephen Thrower returns to take a look at some of the original Black Cat locations on the 34th anniversary of the shoot. 8 min
Frightened Dagmar
In this brand new career interview with actress Dagmar Lassander, she tells her tale of beginning her career as a constume designer, swiftly moving before the camera and into exploitation pictures. At once candid in her discussion of onscreen nudity, she admits to her own astonished reaction to many modern films. 20 min
At Home with David Warbeck
Recorded at his own abode back in 1995, this archive interview with The Black Cat star sees him speaking on his relationship with Fulci, his creative process and much, much more. 70 min
Original Theatrical Trailer
"Death is not the end of everything." Taking quotes from the English-dub version, this blood soaked trailer is as wildly illogical as the film it previews. 3 min

Final Thoughts:
Just in time for Halloween, Edgar Allan Poe's Black Cats: Two Adaptations by Sergio Martino & Lucio Fulci set is a perfect pairing of giallo and throwback horror. And while the stylish whodunit murder mystery and over the top super natural kill list featuring a cute black cat should keep you thoroughly entertained, the copious amount of extra features that come packed wall-to-wall on these disks should have you satisfactorily enlightened. And if you see a black cat come near, run!
Disc Review: ★★★★★/☆☆☆☆☆
Film Reviews:
Your Vice Is A Locked Room And Only I Have The Key: ★★★/☆☆☆☆☆
The Black Cat: ★★/☆☆☆☆☆