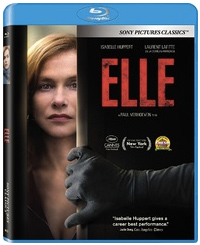 Isabelle Huppert scored some of the best notices of her prolific career with Paul Verhoeven's Elle. The Dutch auteur's French language debut, which premiered at the 2016 Cannes Film Festival before it was released in theaters last fall, brought in over two million at the US box office thanks to the significant awards campaign from distributor Sony Pictures Classics. The positive buzz paid off, picking up Golden Globes for Best Foreign Language Film and Actress, one of many accolades bestowed upon Huppert, who also received a Gotham, Indie Spirit Award, her second Cesar, as well as an Academy Award nomination for Best Actress. The international acclaim for a foreign language film with such particularly complex and unabashedly adult themes was one of many pleasant and unpredictable surprises in the film's successful US reception.
Verhoeven proves he's lost none of the daring which marked his early works in his latest feature, an adaptation of a novel by Philippe Djian (Betty Blue; Love is the Perfect Crime). Headlined by the inimitable Isabelle Huppert, the vehicle once again proves her to be a leading formidable talent, with a particular expertise when it comes to controversial portrayals of warped sexual expression. Their pairing is delectable, and marks a ravishing return to the screen for Verhoeven, who hasn't presented a feature since 2006's Black Book. Opening with the violent rape of a woman who runs a successful video gaming enterprise, she experiences a sordid journey of problematic coping mechanisms, while a significant, infamous chapter from her past simultaneously returns to haunt her. Meanwhile, her rapist continues to stalk her, but rather than seek revenge, she formulates a complicated game of cat and mouse and slowly begins to usurp an upper hand.
Michelle (Huppert) is brutally raped one day in her home by a masked intruder, but she decides not to report the incident to police. The head of a lucrative video game company, she instead relives the incident in her head before she finally reveals the assault to her confidantes, including ex-husband Richard (Charles Berling), best friend and co-worker Anna (Anne Consigny), and her husband Robert (Christian Berkel), a man who also happens to be Michelle's lover. They urge her to report it, but she fails to add the perpetrator has been taunting her still, which goads her to invest in methods of self-protection. At the same time, significant family drama begins to unfold, including with her son Vincent (Jonas Bloquet), mother (Judith Magre), and her estranged father, serving a life prison sentence for a killing spree which happened forty years earlier and now up for parole. Eventually, we learn the effects of her father's actions left a lasting impression on her, more than she'd care to admit. Meanwhile, the friendly but religious couple next door (Virginie Efira, Laurent Lafitte) also begin to factor into Michelle's troubled state of affairs.
Anyone familiar with Huppert's formidable career, which spans from the mid-70s and features collaborations with countless global auteurs, will find easy points of comparison with her 2001 signature role in Michael Haneke's The Piano Teacher, as well as Christophe Honore's incest shocker Ma Mere (2004), adapted from the Georges Bataille novel. But Huppert's Michelle is another multilayered characterization altogether, with its own peculiar bells and whistles, and the narrative's repetitive rape sequences, including their unseemly implications, are sure to anger many.
Verhoeven hasn't been this slick since his pre-Hollywood days, and his predilection for unhinged sexuality in Elle is surprisingly sans the sleazy silliness of Basic Instinct or Showgirls. What he accomplishes here was simply not possible within the confines of the US studio system, especially something featuring a character such as Michelle, who plays a persistently complicit role in her continued abuse at the hands of her assailant. As more and more background details are revealed of her character, a troubling history of martyrdom aligns with Verhoeven's continued religious references. Her father's rampage through the neighborhood when Michelle was ten years of age was due to drama over religious freedoms, with parents in the neighborhood requesting he desist in his Catholic blessings of their children.
The repeated implications regarding denotations of Catholics (traditions) and Jews (demarcations, including her demands for one of her subordinates to reveal his member) and the insidious history of Michelle's childhood can perhaps be deliberated further as due to the toxic leftovers of Nazism. Likewise, a series of particular events which marks her as a Christ-like figure who repeatedly foregoes her own needs and desires to ensure the comfort and happiness of friends, family, and even society completes Elle's perpetuation concerning the inheritance of tasked compensation due to the sins of the forefather.
As such, the uncomfortable 'rapiness' of it all takes on a sort of dangerous normalization as regards Michelle (and a final exchange between her and Virginie Efira is so remarkably subversive it nearly flies by without question). Despite her incredible agency in light of these circumstances, Elle is most definitely not going to be championed as a feminist film (Djian's original title, Oh…, we come to realize, is a simulation of her cries of protest during her assaults). But Verhoeven does something quite astounding with what, superficially, could be misconstrued as merely a pulpy genre piece. However, Elle is no easily reconciled revenge thriller—as we come to find, Michelle's motives don't even seem to be motivated by vengeance, but rather a strange mixture of desire, self-annihilation, and attraction to the forbidden.
What Verhoeven accomplishes is something quite provocative, in the truest sense of the word, love or hate the elements which are more easily left (and usually always are) unexplored within sexually defined genre items. So commandingly adept is Huppert (who scores a series of delicious comical moments, including with a furry feline friend, which makes this an odd companion piece to her role in Mia Hansen-Love's Things to Come, which premiered earlier this year in Berlin), one almost forgets to mention her commendable supporting players, particularly Laurent Lafitte, Charles Berling (with whom she starred alongside in Les Destinees and The Comedy of Innocence), and a delightful Judith Magre as her youth obsessed mother.
Anne Dudley's appropriately menacing score recalls a slew of adult thrillers from well over a decade ago, while DP Stephane Fontaine (Rust & Bone, Jimmy P.) deftly jumps from opulent exteriors housing a handful of morbidly comedic scenes, weirdly unnerving documentary footage of her troubled childhood, and some disturbing video-game technology of a phallic, flailing dragon brutally rape-killing a cartoon heroine (which has passing shades of something like Holy Motors).
At the end of the day, Elle belongs to Isabelle Huppert and stands out as one of her most seditious portrayals, a considerable feat in lieu of the phenomenal body of work it compares to.
Disc Review:
Sony Pictures Classics releases their awards darling in 1080p High Definition 2.40:1 with 5.1 DTS-HD. Picture and sound quality are pristine in this initial transfer of the title, though Verhoeven's Elle is the type of cinematic delight worthy of more pronounced or extravagant packaging. Some minor extra features are also available with this release.
Celebrating an Icon – AFI's Tribute to Isabelle Huppert:
A near forty minute excerpt is included of this tribute to Isabelle Huppert from the 2016 AFI Film Festival in Los Angeles.
A Tale of Empowerment – Making Elle:
This seven minute feature finds Huppert and Verhoeven speaking on their approach and involvement with the film. Verhoeven describes the film as his rebellion against genre.
Final Thoughts:
Whether familiar or new to the cinematic phenomenonality of Isabelle Huppert, Elle is one of her most deliciously twisted, formidably carnal incarnations to date.
Film Review ★★★★/☆☆☆☆☆
Disc Review ★★★½/☆☆☆☆☆