Disc Reviews
Criterion Collection: Multiple Maniacs | Blu-ray Review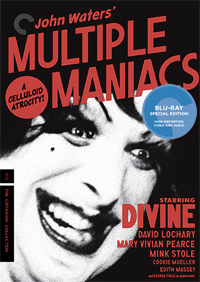 Since the possibility of a new John Waters feature now seems unlikely (considering his last film was 2003's A Dirty Shame), it's with colossal excitement to rediscover the boundary pushing filmmaker's previously obscure 1970 sophomore feature, Multiple Maniacs, a black and white assault on the senses which predates his garish and still formidable 1972 breakout, Pink Flamingos. The multifaceted auteur (an adversary against any semblance of what polite society would deem good taste served as director, famously daubed the 'prince of puke') served as producer, writer, editor and cinematographer on this cinematic follow-up to outré sentiments in his 1969 debut Mondo Trasho. Already, Waters showed the signature perversities which would soon blast him into the cultural zeitgeist of counter-cultural aesthetics, where he would continue to remain as a peripheral poster child of the cinematic rebel up until his unprecedented mainstream hit, Hairspray (1988). His ascension into Criterion's gold standard recuperates the provocateur as a technician whose unforgettable and tantalizing output has long been relegated to the circuit of the cult cinema fanatic (and perhaps suggests some restored titles of his more famous works to come). Proudly asserting itself as "a celluloid atrocity," Waters, as always, doesn't fall short of his promise in this sleazy, tawdry, hilarious harpooning of manners and mores.
Lady Divine (Divine) is the glamorous leader of the Cavalcade of Perversion, a traveling show mounted by a group of social misfits who profess to give free shows but then turn around and fleece their captive audience. With the aid of her boyfriend, Mr. David (David Lochary), the Lady and her motley crew evade police capture, which becomes more uncertain after she unwisely kills an officer of the law. Holing up with her daughter Cookie Divine (Cookie Mueller), the Lady's life is about to be turned upside down when her lover begins to have an affair with Bonnie (Mary Vivian Pearce), a woman who tried in vain to become part of the Cavalcade due to her incestuous relationship with an uncle to verify her salaciousness. Distraught at this sleight, Lady Divine seeks to destroy Bonnie and Mr. David, but things get a bit complicated when she runs into Mink (Mink Stole), a lesbian who seeks sexual gratification within the confines of the church.
Much like Pink Flamingos, the unseemly mise-en-scene of Multiple Maniacs is so cheaply administered and accompanied by such wooden to off-putting acting, it might be tough for some getting past the first few minutes (wherein David Lochary introduces the Cavalcade of Perversion to unwitting suburbanites in Baltimore) as production values are barely a step above an amateur porno flick. Unlike Pink Flamingos, however, which is made all the more grotesque thanks to its lurid depiction of the white trash aesthetic in glorious living color, Multiple Maniacs faintly resembles the experimental black and white foreign art-house films Waters pays reverence to with his string of posters on the wall (Pasolini's Teorema and Polanski's Cul-de-Sac are on prominent display, while Waters' favorite failure Boom!, which is also featured in Flamingos, peeks out from the sidelines alongside Danish filmmaker Mac Ahlberg's sex drama 1965 title I, a Woman). But where the film really gets off the ground is when Lady Divine makes her appearance, begging for joints and pills as she applies her finishing touches of make-up before her troupe assaults and robs the unsuspecting audience members of her makeshift freak show, a plump, exposed derriere demurely on display.
Without a doubt, Divine is the star, and as such, revels so thoroughly in her putridness, campiness, and perversity, one's eyes actually seem glued to her portentous frame (which Waters' camera lovingly soaks in, even under less than flattering circumstances).
Besides Divine, Multiple Maniacs features the director's usual suspects, including Lochary (who last appeared in 1974's Female Trouble shortly before his death), Mink Stole, Mary Vivian Pearce, Cookie Mueller, and the one and only Edith Massey, here relegated to a brief supporting turn as the owner of a diner who tattles on the adulterous Lochary, thus spinning the film's wispy narrative off into its own zany and unpredictable ripple effect of strange circumstances.
Divine, who is raped twice (at first as she sticks out of an alleyway while a mangy woman holds her down and a cross-dressing male counterpart rails away at her dramatically—the second is probably the only depiction of a rapist crustacean known to date, as Divine is taken against her will on a sofa while the giant "Lobstera" has its way with her), actually experiences one of the cinema's most blasphemous moments ever committed to celluloid.
While jarred from the first sexual assault as she makes her way to the diner to deal with her philandering beau, she experiences a free association lesbian romance with Mink Stole (dressed like a Fu Manchu style psychic) who satisfies her to orgasm with a rosary in a church pew while imagining Jesus Christ (George Figgs) as he journeys through the stations of the cross before inevitably being nailed to it. One only wishes someone had captured the behind-the-scenes giddiness which must have been going on as Waters skewered everything sacred from his repressive Catholic upbringing.
Disc Review:
Waters supervised this new 4K digital restoration of his sophomore film, presented here in 1.66:1 (the director's preferred aspect ratio) with uncompressed monaural soundtrack, remastered from the original magnetic audio track. Cheap cinema has never looked or sounded as good as it does with this lovely restoration, and Criterion includes several extra features, including new interviews from surviving cast and crew.
Interviews:
Pat Moran, Vincent Peranio, Mink Stole, Susan Lowe, and George Figgs are featured in this half hour interview segment filmed in Baltimore in 2016. Each share their connections to John Waters and their involvement with Multiple Maniacs.
The Stations of Filth:
Film scholar Gary Needham created this ten minute video essay in 2016 as an ode to Multiple Maniacs.
Final Thoughts:
We're duly forewarned in the opening moments of Multiple Maniacs as the emcee of the Cavalcade promises to assail us with 'real, actual filth,' and Waters does not disappoint.
Film Review: ★★★/☆☆☆☆☆
Disc Review: ★★★★/☆☆☆☆☆