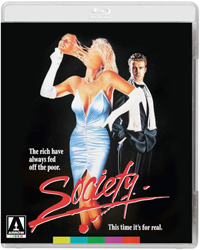 Arrow Video unveils one of the most impressive Blu-ray packages of 2015 with its remastered presentation of Brian Yuzna's languished body horror classic Society. Completed in 1989, along with the writer/producer's sophomore effort Bride of Re-Animator, his debut wouldn't see theatrical release in the US until 1992, several months after David Cronenberg unveiled similar monstrous sphincter designs in the celebrated Naked Lunch. Though it's generated a loyal cult following, and was treated to a 2002 DVD release that's long been out of print, Yuzna's class conscious metaphor still manages to unsettle with its inspired gross-out spectacle, gifting audiences a finale every bit as memorable as Cronenberg's early provocations.
Bill Whitney (Billy Warlock) has never felt like he quite belongs to his upper class Beverly Hills family. His parents seem to have an unnervingly close relationship with his sister (Patrice Jennings) and they don't really seem supportive of his sports aspirations and cheerleader girlfriend. A growing attraction to classmate Clarissa (Devin DeVasquez) seems to be the thread unraveling his otherwise comfortable existence, and he soon stumbles on a strange, sacrosanct truth as concerns his parents and their peers.
Yuzna's deliberate tone recalls Bob Balaban's 1989 feature debut, Parents, a black comedy horror film subverting 1950s social mores with its murderous familial unit. As the insert essay from Alan Jones points out, Yuzna arrived on the horror scene in a market already glutted with franchise sequels and prequels, automatically placing his vision into that rare bracket of originality explaining a degree of the enthusiastic criticism it received upon its initial release. In retrospect, audience familiarity renders Bill Whitney's predicament as rudimentary and even mundane. Yuzna, inspired by the paranoid tone of Rosemary's Baby and The Spiral Staircase, doesn't quite reach the same level of mounting dread with these clueless teens, but several moments of body contortion keep us on our toes for what's to come. The film does stand as a rather perverted little rebellion, credited by many sources as an Anti-Reagan spectacle with its depiction of the as yet un-coined 'one percenters' and their hidden debaucheries.
As played by eventual "Baywatch" and daytime soap opera star Billy Warlock, exuding a sort of light Rob Lowe vibe, we're basically counting the beats until the batshit crazy perversity blasts the film off into an oddball stratosphere in the second half. Incest, anal fisting (here called "shunting") and all kinds of oogy body transformations easily overshadow the obvious class metaphors, with the type of effects rivalling the best of Stan Winston and Roy Arbogast from Screaming Mad George (who also worked on Predator and several other of Yuzna's productions).
Disc Review:
Look no further than Arrow Video's explicit cover jacket to appreciate the unique artistry that went into every detail of their presentation of Society. A newly remastered 2K digital transfer (director approved), the package contains high-def Blu-ray and standard definition DVD discs, replete with a miasma of special features. It's a limited edition production, but is a must have for genre collectors (including the official comic book sequel to Society).
Governor of Society:
Director Brian Yuzna discusses the making of Society in this seventeen minute feature. He discusses investing all his money as a producer in Stuart Gordon's Re-Animator and his eventual progression to director.
The Masters of the Hunt:
Featurette includes interviews with Billy Warlock, Devin DeVasquez, Ben Meyerson, and Tim Bartell for twenty+ minutes. The cast members discuss their previous work experience prior to Society.
The Champion of the Shunt:
FX artist Screaming Mad George, David Grasso, and Nick Benson are interviewed in this twenty minute featurette. Screaming Mad George discusses the origination of his moniker.
2014 Q&A:
At the Celluloid Screams Festival in the UK, Brian Yuzna answers some questions following a screening for nearly forty minutes. The affable director discusses his difficulty with several projects which finally led to his decision to direct Society.
Society World Premiere:
Footage of Yuzna backstage at the film's world premiere at the Scala Cinema in London 1989 features him speaking on the film, sex, death, horror and puberty in two minutes.
Persecution Mania:
Screaming Mad George's music video for "Persecution Mania" is included. Six minutes of surreal strangeness follows.
Final Thoughts:
One of those alarming accomplishments that simply has to be seen to be believed, Brian Yuzna's inspired Society is biting social satire at last receiving a worthwhile treatment for individual consumption.
Film:★★★½/☆☆☆☆☆
Disc:★★★★/☆☆☆☆☆