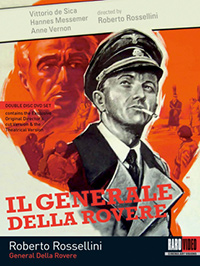 Back in 2009, the Criterion collection released Roberto Rossellini's 1959 film General Della Rovere on DVD, which won the Golden Lion at the Venice Film Festival, and saw the auteur receive celebratory reception, the first since his famed collaborative efforts with then wife Ingrid Bergman earlier in the decade had all been deemed critical and financial missteps. While that release has lapsed out of print, Raro Video, which has focused on releasing cult and classic oddities from around the globe (recently, they delightfully resurrected several Fernando Di Leo titles, and have a host of other upcoming refurbishments from Italy, including titles from Liliana Cavani and Umberto Lenzi), has thankfully been graceful enough to grant this mid-career notable from Rossellini a Blu-ray release. While it's a return to Rossellini's celebrated rendering of a historical period, the 'father' of neorealism is operating in recuperative mode here, a distinctly unique conversation piece to his 1940's War Trilogy, in particular, Rome, Open City, which was filmed in the bombed out rubble of Rome.
The true story of Emanuele Bardone (Vittorio De Sica) unfolds during the height of World War II in Nazi occupied Genoa, where Bardone masquerades as General Grimaldi, exploiting his fellow Italians by convincing them he will find their missing loved ones in exchange for large sums of money. But Bardone makes a fatal mistake by attempting to save a man that has already been executed, and so he is turned over to the occupying police. But the German commander, Colonel Mueller (Hannes Messemer), who seems to despise having to torture people, is rather fond of Bardone, offering him the choice of facing certain execution, or becoming a spy in the Nazi prison under the identity of General Della Rovere, charged with identifying leaders of the resistance. Of course, Bardone chooses the latter, less honorable option. But held within the confines of the prison walls, Bardone begins to change as he befriends these men and slowly becomes a leader amongst them, which forces him to a perilous crossroad.
Disc Review
Raro Video had the rare chance to usurp Criterion by nabbing the release rights to General Della Rovere, and they succeed with an equally impressive presentation. While Raro's version excludes extra feature input from Ingrid and Isabella Rossellini, a new interview with his son, Renzo Rossellini is included, as well as interviews with Adriano Apra, who discusses differences between the theatrical release and this director's cut and Aldo Strappini, who supervised restoration of the film. A forty five minute video essay "Truth of Fiction" is also an illuminating asset. But, strikingly, the most powerful aspect of the package is the new HD transfer from the 35 mm negative print—the film looks and sounds impeccable. Also note, a booklet featuring an essay by Adriano Apra.
Final Thoughts
At the center of General Della Rovere is an arresting performance from director Vittorio De Sica in a rare dramatic portrayal in front of the camera. From self-serving conman to accidental resistance leader, De Sica is the most absorbing element in what has to be Rossellini's most straightforward feature, which is filmed and edited oddly, calling attention to its artifice as equally as it envelopes us within an understandable moral dilemma. Coming off of filming a ten part documentary series on India, this was Rossellini's return to Italy. As he was hired to direct the film, and it certainly wasn't a passionate project, at least not to the same degree as his previously celebrated works. As such, there are some distracting instances of rear projection, and, even more noticeable, a strange combination of stock footage, upon which he even projects some of the actors. While sometimes visually unpleasant, this succinctly addresses Rossellini's play on artificiality and reality, filmmaking as ruse in the relation of truth, just as humanity is bifurcated in the face of war (only further enhanced by Raro's noticeable decision to include the rounded corners of the window boxed frame, which further enhances the film's detail and resonant reminder of its artificiality).
Rossellini reunites with Carlo Carlini, the DP from one of his last Bergman collaborations, Fear (1954, a rather tepid noir-light revolving around a woman's adulterous relationship, which could perhaps benefit from restoration), whose otherwise handsome framework here seems to go unnoticed due to the distraction caused by the editing. The film is especially striking when in the confines of the Nazi run prison, particularly a scene during a thundering air raid where Bardone as Della Rovere surprises everyone and himself by giving a rousing, motivational speech. While Rossellini's obvious techniques may arguably mar the visual pleasure, he enhances Della Rovere's rather powerful motif, leading us blatantly to Bardone's personal struggles, walking his own fine line between real and fake, spy and hero. Raro Video's package is definitely the best way currently available to experience one of Rossellini's most renowned titles.
Film: ★★★ 1/2 Disc: ★★★ 1/2