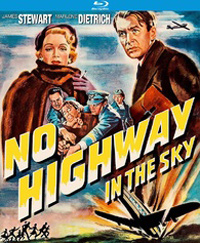 German import Henry Koster, like many of Hollywood's studio directors, is not a name many remember despite having been responsible for a quite a few notable titles, quite a few of them starring iconic luminaries across several eras. Emigrating from Germany in 1936 (where he was known as Hermann Kosterlitz), Koster began a lucrative collaboration with actress Deanna Durbin, and scored his only Oscar nod for directing a decade later with 1947's The Bishops' Wife starring Cary Grant. But today, he's probably best remembered for a couple James Stewart comedies, notably 1950's Harvey and 1962's Mr. Hobbs Takes a Vacation. In between these projects, Koster directed a now obscure melodrama starring Stewart, 1951's No Highway in the Sky, an aeronautics situational thriller which plays like an early sketch of what would come to be popularized as the disaster film.
Stewart stars as Theodore Honey, an American military war hero turned aeronautical engineer for Britain's Royal Airforce Establishment. When Honey believes a new model airplane called the Reindeer has significant structural weaknesses in the tail, which only become evident after a certain time at a certain altitude, no one is willing to believe him because they can't quite grasp the formula he's used to predict it. After a plane crashes in Labrador, Honey is flown to investigate, only to discover the plane used to take him there is also a Reindeer. Alerting the crew, who refuse to believe him, Honey lobbies famous actress Monica Teasdale (Marlene Dietrich) and affable stewardess Marjorie (Glynis Johns), and eventually the plane makes an emergency landing to verify his claims. However, when no errors are discovered and the flight is about to take off once more, Honey takes matters into his own hands by damaging the plane, and is then forced to undergo psychological tests in London as his theory is further investigated.
Notably, No Highway in the Sky reunites Stewart and Dietrich, who previously starred in the comedic western Destry Rides Again in 1939. By the 1950s, Dietrich's last prolific decade (she would appear in notable films by Hitchcock, Welles, Wilder, and Lang in the same period), the international icon's characterizations were always in contention with her considerable celebrity persona. Had Koster's film been calibrated particularly for her, this could have been more of a notable opportunity for Dietrich to revel in her portrayal of a famous actress.
As it stands, the film is a bit one-dimensional by way of its characterizations, with Dietrich playing a sympathetic beauty merely adding a bit of glamour to an otherwise meek production. Her kindness extends only to superficialities, a final act of kindness regarding Stewart's teenage daughter, for whom she purchases an expensive dress, advising Glynis Johns' domestically inclined flight attendant to "keep on telling her she's pretty, will you?" Johns, in her usual cherubic innocent mode (she's told "you'd be very good at bringing up a family"), once more plays the down-to-earth feminine persona (the same dynamic she was tasked with opposite Lana Turner in 1957's Another Time, Another Place), responsible for rousing the increasingly morose Stewart, once again the everyman struggling to do the right thing despite considerable social pressure.
A slew of notable supporting cast members are on hand, including Jack Hawkins (The Bridge on the River Kwai) as Stewart's boss and teenager Janette Scott (The Day of the Triffids), although none of these are exemplary characters, despite a teary confessional sequence from Scott to her daft father.
As a military war hero cum aeronautical engineer, Stewart's Theodore Honey is portrayed as suffering from significant social anxiety. "People must be someone else's concern," he exclaims. While his reverence for Dietrich, an actress his deceased wife was fond of, is believable enough to go along with their odd chemistry, the strained romance with Johns' flight attendant only serves to make her seem incredibly desperate and foolish. In hindsight, these characterizations only seem more banal, while the aeronautical material, based on the 1948 novel by Nivel Schute (On the Beach), and detailing various mechanical failures due to metal fatigue, would eventually seem prophetic. Even Michael Crichton's 1997 novel Airframe melds comparable technical elements to procedural thriller five decades later.
A trio of notable screenwriters, including R.C. Sheriff (Carol Reed's Odd Man Out), Alec Coppel (Vertigo), and Oscar Millard (Preminger's Angel Face) can't quite blend the film's technicalities with the human drama, settling for shades of banality on either side.
But No Highway in the Sky also bears striking resemblance to modern cinematic explorations of airplane dilemmas (especially compared to other Hollywood products from this period, namely 1952's Phone Call from a Stranger, for instance), and Stewart's defense against wrecking a plane while it was on the ground plays like a warped inverse to modern mainstream films like Flight (2013) and Sully (2016).
Disc Review:
Kino Lorber continues to impress with its extensive library of neglected titles, and No Highway in the Sky arrives under its Studio Classics label in 1.33:1. Picture and sound quality are serviceable and Kino includes audio commentary from film historian Jeremy Arnold and Bob Koster.
Final Thoughts:
Fans of Stewart and Dietrich should appreciate this obscure title finally making it to Blu-ray for the first time.
Film Review: ★★★/☆☆☆☆☆
Disc Review: ★★★/☆☆☆☆☆