Criterion Collection: Women in Love (1969) | Blu-ray Review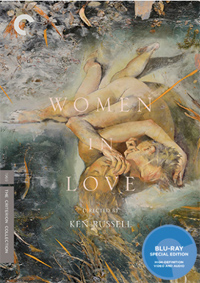 Although it's a rather libelous label often originated or thrust upon outré or idiosyncratic French directors, Britain's Ken Russell is perhaps the epitome of the enfant terrible, an auteur forever out of sync with the cultural dictates of his time. If Kubrick had yielded to more sexually obsessive narratives or libidinous interests, his filmography might have been more akin to someone like Russell, a director whose outlandish, daring, and depraved leanings made him one of the most influential directors of the 1970s but who would fall out of critical favor by the end of the 1980s.
Having worked over a decade in television and as a photographer, Russell's 1969 adaptation of D.H. Lawrence's 1920 novel Women in Love was his third feature (following the 1964 comedy French Dressing and a 1967 spy thriller Billion Dollar Brain, headlined by Michael Caine and Francoise Dorleac shortly before her untimely death the same year). Lawrence, one of England's most controversial novelists, whose subjects were often concerned with shifting cultural landscapes which resulted in dehumanization during industrialization and increased modernization, like Russell, is best remembered for his detailed accounts of sexuality (particularly with the infamous Lady Chatterley's Lover or the incestuous Sons and Lovers). Russell's first of three Lawrence adaptations (which would include a 1993 miniseries version of Lover and 1989's The Rainbow) would become infamous for being one of the first major motion pictures to portray male genitalia (and within a homoerotic, titillating context), and set the tone for a formidable period of output from both Russell and the British Film Industry.
In the mining town of Beldover circa 1920, sisters Gudrun (Glenda Jackson) and Ursula Brangwen (Jennie Linden) are waiting valiantly for something exciting to happen. Attending the wedding of Laura Crich (Sharon Gurney), daughter of the wealthy local mining family, to naval officer Tibby Lupton (Christopher Gable), each sister becomes enamored with a man attending the event. As Gudrun finds herself attracted to Laura's brother Gerald (Oliver Reed), school teacher Ursula finds respite with Gerald's best friend Rupert (Alan Bates), a school inspector. After Ursula and Rupert marry, the four of them take a life-changing vacation together in the Alps.
While Women in Love was released in the UK in 1969, it would take two years to crossover to the US, where it won stage actress Glenda Jackson the first of her two Oscars (and was the first of five films she would make with Russell before retiring from film altogether to pursue politics, eventually becoming a member of British Parliament). By 1971, Russell was in full force, releasing three new films over the year after Women in Love Academy Award success (and would be the only film for which Russell himself was nominated), including The Music Lovers, The Devils, and The Boyfriend. In retrospect, Women is one of Russell's most aesthetically reserved films, despite its exceptional cinematography from Billy Williams (who also netted an Oscar nod) and infamous nude wrestling sequence. Lawrence's distinctive prose still informs Larry Kramer's screenplay, which updates the 1910 setting to the immediate aftershocks of WWI, which is around the time the novel was actually published. Class barriers on the brink of erosion (or at least blurring) allow for the working class born sisters to mingle freely with the more aristocratically incluned Rupert Birkin and Gerald Crich, both who profess to fall in love with one of the sisters but come to find they each define this emotion quite differently.
Several supporting players dominate portions of the film, including Eleanor Bron (who gets to eat a fantastically innuendo laden fig) in the first half of the film as the jilted lover or Birkin, all of which plays quite fantastically with the subtle use of a musical cue during an impromptu playacting performance in "the Russian style." And Vladek Sheybal, best known as a Bond villain in 1963's From Russia with Love, plays the bisexual usurping paramour of Gudrun in the film's tragic third act, which sees the unfortunate demise of the jilted Gerald Crich (in a scene which recalls the title and theme of Fassbinder's Love is Colder Than Death, which was made the same year).
The role of nature in Women in Love is an all-consuming force, also claiming the lives of Gerald's sister and her husband during a frivolous night time swim. Reed, who would headline Russell's outrageous masterpiece The Devils, and star in the wonderfully offbeat musical Tommy (albeit a bit miscast considering his vocal talents), delivers one of his finest moderated performances as Crich, a man jostled between the perverse relationship with his parents (a wonderfully uncomfortable Catherine Willmer is his mother), his intense friendship with Birkin, and his volatile relationship with Gudrun. The roguish Bates, fresh off his sole Oscar nod for 1968's The Fixer, is as sterling as ever as the fervently flirtatious (and hopelessly pretentious) Birkin, a man who literally gets the last word in a narrative which struggles valiantly to portray the dangerous and limiting perceptions of what love is and how relationships should be dictated despite how they corrode or sometimes destroy us. Overriding it's significant pastoral landscapes, a handful of stunning prismatic images, a variety of loaded sexual exchanges (and, yes, signature Russell weirdness, like a strange dance dalliance with some cattle), is the Oscar winning performance from a captivating Glenda Jackson as the intelligent but fiercely complicated Gudrun, a woman aching to live beyond the confines of her times and unable to deliberate with her sister (an equally superb Jennie Linden, albeit in the less fascinating role) as fervently as their indulgent male counterparts.
Disc Review:
Criterion presents Women in Love as a newly restored 4K digital transfer (surprisingly, this is the first title of Ken Russell's to enter the collection—one can only hope this bodes well for future restorations of other portions of his filmography). Presented in 1.75:1 with uncompressed monaural soundtrack, picture and sound quality are pristine in this sumptuous transfer of DP Billy Williams' work here. The bonus features on the release are plentiful.
A British Picture – Portrait of an Enfant Terrible:
Ken Russell dramatized his own life and career in this fascinating forty-eight-minute self-portrait he made for British television in 1989 (which was created two years before Russell's last theatrical release, 1991's Whore)
Ken Russell:
Criterion includes this thirteen-minute excerpt from a 2007 BAFTA Los Angeles Heritage Archive interview with Ken Russell.
Glenda Jackson:
Colin Grimshaw conducted this twenty-minute 1976 interview with Glenda Jackson for the television program Film Talk as she discusses her experiences acting.
Billy Williams:
Criterion recorded this twenty-four-minute 2017 interview with DP Billy Williams in London for the release of this restoration.
Michael Bradsell:
Criterion also recorded this seventeen-minute 2017 interview with editor Michael Bradsell in London for the release of this restoration.
ATV Today:
In this ten-minute segment from the British television show ATV Today, which was filmed on set of Women in Love in 1968, Alan Bates, Jennie Linden, and screenwriter/producer Larry Kramer are interviewed.
Second Best:
Criterion includes this 1972 half-hour short film directed by Alan Bates, adapted from a D.H. Lawrence story, which originally aired on British television.
Final Thoughts:
A sterling confluence of three distinct icons (Lawrence, Russell, Jackson), Women in Love is a key masterpiece of 1970s era British cinema, and one which has outlasted its infamous bits to reveal a decadent, lush, study on the amorphous subjects of love and sexuality.
Film Review: ★★★★/☆☆☆☆☆
Disc Review: ★★★★/☆☆☆☆☆