Reviews
The Devils (1971) | 2015 Beyond Film Festival Review
Sympathy for The Devils: The Suppression of Ken Russell's Delirious, Incomparable Masterpiece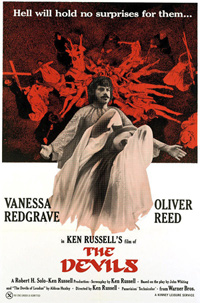 Despite the pronounced pedigree of its origins, Ken Russell's glorious 1971 film The Devils is still mysteriously unavailable in the United States. An infamously plagued reception continues to usurp deserved attention away from its subversive content, though a growing legion of champions within the critical arena which had once sacrilegiously abandoned it has resulted in its growing recuperation.
Based, very loosely on a 1952 novel by literary giant Aldous Huxley depicting the downfall of 17th century French priest Urbain Grandier, it relates an incidence of hysteria and mob mentality run amok in the totalitarian paradigm of the Catholic Church. Russell, his project backed by none other than Warner Bros. studio itself, crafted an off-putting extravaganza of a film (shall we say, making Huxley's text more Grandier) depicting events decried as pure blasphemy.
Wit unabashedly blunt sexual content and its extremely unpleasant portrait of uncensored human nature when allowed unmitigated power, there's nothing about this darkly comic and magnificently assembled production that cannot be described as either repulsive or grotesque. And yet, it's one of the most deliberate and successfully pointed damnations of corruption within the wicked façade of religion.
Russell succeeds in creating one of the most successful portraits of martyrdom committed to celluloid, influenced by Dreyer's 1928 classic The Passion of Joan of Arc. The legacy of the film tells an equally sordid story, and Russell's own text has also been a victim of continuing corrupt censorship, and remains tethered to its own unfortunate reputation of martyrdom. Except, unlike the conservative tastes dictating the parameters of what constituted great cinema in Russell's era, a significant evolution has transpired as regards the vocalization of taste and perspective. The keys to the cinematic canon are no longer hoarded by a select few wizened gatekeepers, and time will surely recuperate Ken Russell's maligned film to the magnanimous glory it deserves.
In 17th century France, Cardinal Richelieu (Christopher Logue) has devious plans to manipulate Louis XIII (Graham Armitage) by convincing him to force all of France's self-governing provinces to tear down fortifications in order to quell Protestant uprisings following the end of the religious wars. Father Urbain Grandier (Oliver Reed), a licentious but beloved priest of Loudun, has taken over control of the city following the death of the governor. Louis XIII had promised the dead governor of Loudun he would never touch a brick of the city's fortifications, which complicates Richelieu's plans. Thus begins a conspiracy to destroy Grandier's reputation, and an opportunity presents itself in the form of the hunchbacked Sister Jeanne (Vanessa Redgrave).
The abbess of a local Ursuline convent housing cloistered nuns, the sexually repressed Sister Jeanne secretly lusts for the handsome Grandier but becomes unhinged when she learns he has secretly married Madeleine De Brou (Gemma Jones) and claims she has been possessed by the priest, a man in collusion with the devil. Soon, her congregation is goaded into saying the same by Baron de Laubardemont (Dudley Sutton) and professional witch hunter Father Barre (Michael Gothard). The men ruthlessly manipulate the increasingly distraught women into a frenzy of blasphemous degradation, alerting Louis XIII and resulting into the unjust trial of Grandier.
Notable critical authorities of the time were severely unkind to The Devils. Roger Ebert wasted an entire piece on a facetious tirade after having to remark, as usual, about the difficulties of having to attend the cinema with crowds in inclement weather. From a bit more pretentious climes, New York Times critic Vincent Canby sniffed at the film as "the most boring kind of Pop art." Canby does make one correct statement, remarking Russell made a film "obviously less interested in coherent thought than in spectacle." Indeed, Russell, coming off the success of prodigiously mounted period pieces like the famed adaptation of D.H. Lawrence's Women in Love (1969) and the Tchaikovsky portrait The Music Lovers (1971), was more interested in conveying a fantastical, decadent essence better reflecting the delusions of a less enlightened period than any proper amount of costuming or set detail could ever attain.
Famously, Russell employed Derek Jarman to craft the film's sets specifically around a line from Huxley's novel to echo "rape in a public toilet," and the confines of the cloistered nuns eerily resembles this detail. The magnificent exteriors of The Devils were inspired by Fritz Lang's Metropolis (1927), and it seems Russell was ahead of his time in crafting anachronism into a period piece.
Director Alex Cox has designed The Devils to be "one of the most important films ever made," and many others have rallied around the support of the film, perhaps none more valiantly than friend and critic Mark Kermode, a vocal champion whose railing at last bore fruit when a UK DVD saw release in 2012. Warner Bros. has continued to let the film sit on its shelves, disinterested in re-releasing the controversial classic as a Director's Cut, which would include the infamous Rape of Christ sequence Kermode unearthed, resulting in a rebirth of interest in the film. Still without a rightful restoration here in the US, on rare occasions, theatrical sightings are made available.
The 2015 Beyond Film Festival in Hollywood screened a rare 35mm print of then title, an event that's only transpired twice before in the entire US. Though speckled with unavoidable grain, seeing the title as it was meant to be seen is a delightfully immersive and unforgettable experience. Featuring Oliver Reed in one of his best and most profound performances, the fiery finale, presented here in all its uncensored glory, is nothing short of astonishing. Vanessa Redgrave, in a role meant for Russell's usual female muse Glenda Jackson, is perversely entertaining as the hunchbacked, masturbating Sister Jeanne, a depiction that rivals the insanity of Lucyna Winnicka in the unsung 1961 Polish masterpiece Mother Joan of the Angels. Other standouts include a beautiful Gemma Jones as Grandier's dubiously legal wife, Graham Armitage as the cross-dressing Louis XIII and an unapologetically over-the-top Michael Gothard as exorcist Father Barre.
Filtered from Huxley, through John Whiting's 1960 stage play, to Ken Russell's consistently compromised film production, The Devils retains a provocative, perhaps unparalleled reputation. It won Best Foreign Film at the 1971 Venice Film Festival, which was before the event became competitive (thereafter banned in the country, while stars Reed and Redgrave were threatened with jail time should they set foot in Italy). Receiving the undesirable X rating in the US, it would languish heavily censored on increasingly hard-to-find VHS prints. Basically, The Devils is nothing more than the depiction of what happens to those daring to challenge the powers that be. But its message has been warped and disavowed by the self-righteous indignation of those unable to look past rigid limitations of their own indoctrination.
Weird, disarmingly funny, and stuffed to the gills with inspired visuals and intense framing from DoP David Watkin (Oscar winner for Out of Africa, 1985) The Devils is a masterpiece unrightly scorned and unjustly available. It's also one of the best films ever made.
Reviewed on October 8 at the 2015 Beyond Film Festival (introduced by director Bernard Rose). 107 mins.
★★★★★/☆☆☆☆☆