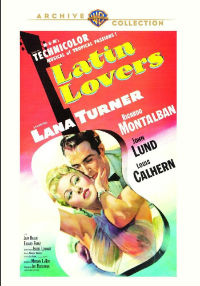 Prolific Hollywood director Mervyn LeRoy continued an impressive output of work during the collapse of the studio system of the 1950s, churning out twelve titles that decade and starting his own production company associated with Warner Bros. Though his career would taper off in the mid-to-late 60s, he was known for a helming a wide variety of genres. However, his later career would see a return to musical inclinations, though not all of them have withstood the tests of time. One such obscure item in his filmography is 1953's Latin Lovers, an 'exotic' romantic pseudo-musical comedy of rich people's errors starring one of LeRoy's most famous credited 'discoveries,' Lana Turner. Here, she's swathed in decadent black and white numbers as a woman of impressive and independent financial means, victim to a shared paranoia of the historically sensitive wealthy American in that she believes men only want her for her money. Kind hasn't treated the film with any fondness, sandwiched as it was between two other early LeRoy titles, like the oft referenced Esther Williams title Million Dollar Mermaid (1952) and the musical remake of Rose Marie (1954).
Filthy rich heiress Nora Taylor (Turner) seems unable to find a romantic love interest. Assuming men are more attracted to her sizeable bank account, she's perhaps more leery of suitors even wealthier than herself because she knows they're only keen on expanding their own financial empire. When a wealthy, demanding suitor (John Lund) asks for her hand in marriage, she is granted three weeks to think about the offer while he follows his polo team to Brazil. But upon hearing there's 'something in the air' in the exotic Latin country, she opts to tag along and falls immediately in love with a grinning caballero (Ricardo Montalban). Except, the handsome Brazilian finds out she has lots of money, so she devises a test to see if he's really attracted to her.
There are a handful of dance numbers and Ricardo Montalban (more or less serviceable) is forced into a couple singing sequences, but none of these help make the film feel like a musical. Like nearly every aspect of the film, these moments feel routine, overly choreographed, and devoid of any feeling (the film's score utilizes wafts of "Twinkle Twinkle Little Star" in an effort to make Turner's spoiled heiress seem whimsical).
Scripted by Isobel Lennart, a writer whose most notable credit would end up being 1968's Funny Girl (and also her last written feature due to an untimely automobile accident which would claim her life), this is one of her two features from 1953 following her infamous testimony in front if HUAC in 1952, where the ex-Communist named names. One wonders if the script's staunchly predictable and increasingly inert narrative was the product of a toxic environment.
It's difficult to care too much for Turner's Nora Taylor, an oil heiress who announces in her first scene the most important thing she learned from her father was the way to keep money was to get more of it. She's beautiful but not alluring and though the film premiered in the economic boom following WWII, it's hard not see how audiences, particularly women, weren't turned off by its heroine's 'predicament.' That same year, Jean Negulesco would unveil cinema's most winsome trio of cinematic gold diggers with Monroe, Bacall, and Grable in How to Marry a Millionaire, its bevy of beauties intent on securing moneyed men to ensure their future happiness. Conversely, Lana Turner goes so far as to simply give thirty seven million dollars away so the man of her dreams won't suffer from injured pride.
Petty tangents involving the New York therapists for both Turner and Lund back in New York (Eduard Franz, Beulah Bondi) grow tiresome since they're played for cheap comic relief. Louis Calhern appears as an unlikely grandfather to Montalban while poor John Lund seems to be merely the butt of Turner's incessantly aggravating scheme to fall in love with the first Brazilian who catches her eye. It's worth noting Rita Moreno shows up in a short sequence while Jean Hagen is utterly wasted in a role of convenience as Turner's secretary.
Disc Review:
Part of the Warner Bros. Archive Collection, the title is like many made-on-demand titles in the studio's catalogue. In need of restoration, most of the film seems tinged by a faint green color, and several early sequences show signs of significant wear.
Final Thoughts:
Only worthwhile for completests of LeRoy or one of the several notable names in the cast, Latin Lovers is bleached out storytelling.
Film Review: ★★/☆☆☆☆☆
Disc Review: ★★½/☆☆☆☆☆