The Lovers | Blu-ray Review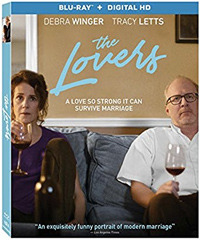 A classy, complex affair, Azazel Jacobs scores his greatest achievement to date with The Lovers, taking a break from the adolescent, man-child ennui which marked festival favorites like Momma's Man and Terri. Premiering at the 2017 Tribeca Film Festival shortly before a limited theatrical release in early May courtesy of A24, the indie dramedy raked in over two million at the domestic office. Stellar performances from Debra Winger and the increasingly impressive Tracy Letts (who similarly steals whole swaths of sequences as easily as he did in last year's Christine and Indignation) spike this Molotov cocktail on marriage with the dose of heartache and realism so often lacking in modern American indies.
Imagine if George and Martha actually had allowed themselves the opportunity to derive pleasure from extra-marital liaisons as an avenue to re-discover the attraction they once had for one another and you get a sense of the rueful tone.  Although hardly as caustic as the broken beings locking horns in Edward Albee's classic play, Jacobs scores his most mature and sobering portrayal to date. Compared to the focal points of earlier works like Momma's Man (2008) and Terri (2011), featuring male protagonists in the throes of arrested development or navigating adolescence as pariah, the unhappily married couple played delectably by Debra Winger and Tracy Letts may be a familiar concept, yet plays like uncharted territory as far as American indie cinema goes. Neither the butt of a joke nor fodder for a frivolous sex farce, theirs is an emotionally sound portrayal of a complex, adult relationship, and makes absolute mincemeat out of the lethargic shenanigans of the comparably staged It's Complicated (2009).
Michael (Letts) and Mary (Winger) have been going through the motions of a stale marriage for years. Both deeply embroiled in affairs with other people, they seem to be waiting for merely the right moment to announce the obvious to one another and begin a new chapter of their lives. When their son Joel (Tyler Ross) announces an upcoming visit home during a break from university to introduce them to his new girlfriend (Jessica Sula), Michael and Mary each hatch their own plots to use the event as a springboard for their big news. Robert (Aidan Gillen), an aspiring novelist, and Lucy (Melora Walters), an emotionally fragile ballet teacher, are both chomping at the bit for their respective lovers to end their empty husk of a marriage. As the date for Joel's visit looms night, the anxiety induced by Robert and Lucy force Michael and Mary to seek solace elsewhere…which leads them back into the comfort of each other's arms. Reawakening a sensuality they haven't felt for one another in years, Michael and Mary are soon hiding their rekindled feelings from their respective lovers.
Surely, the adulterous situation Jacobs is exploring is nothing new, as we've seen all approximations and combinations of this synopsis (including scenarios where two lovers discover their significant others are lovers as well, as in Kirill Serebrennikov's Betrayal, 2012). But there's a level of nuance in his The Lovers often absent from these deliberations of heteronormative marriages made sour by the crushing combo of time and domesticity. What's more, Michael and Mary are presented on an equal playing field, both at fault in the current state of affairs and yet also both wholly capable of exploring alternate avenues of fulfillment. Their reconnection is imperceptibly nestled in a tipping point involving Chinese take-out, and it's this, among many other details, which nails the irrationality involved in conceptions of lust and love. Both made aware of the other's infidelity, Jacobs steers this initial droll comedy into formidable poignancy.
Out shopping for groceries for their son's visit, a jocular trip gets marred suddenly, allowing for Letts to walk away with one of the best scenes standing befuddled at the meat counter. With realistic tendencies and avoiding the usual heartrending, exaggerated beats which are used to enhance what, at its core, is a social melodrama, The Lovers finds notes of the sublime in the dueling performances of Winger and Letts.
Disc Review:
Lionsgate releases The Lovers for home entertainment, presenting Jacobs' film in 1.85:1 High definition with 5.1 DTS-HD Master Audio. While there's nothing particularly notable about the picture and sound quality on this transfer, it's a fitting remastering for this portrait of a stale marriage jumpstarted from the doldrums of its sterile, domestic complacency. An optional audio commentary track from Azazel Jacobs is also available.
The Music of Romance – Scoring The Lovers:
Azazel Jacobs and composer Many Hoffman speak of their working relationship (she began working with Jacobs on his 2004 film The GoodTimesKid) and the inspirations for the themes and score of The Lovers in this thirteen minute bit.
A Complicated Passion – Making The Lovers:
Jacobs and his quartet of a main cast share their experiences writing and making The Lovers in this twenty minute feature.
Final Thoughts:
A quintessential study on dissatisfaction and the crushing expectations associated with long-term relationships, The Lovers satisfies on all narrative levels.
Film Review: ★★★½/☆☆☆☆☆
Disc Review: ★★★/☆☆☆☆☆