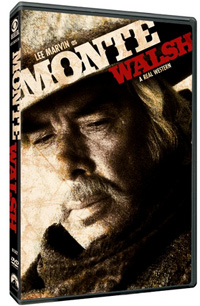 Despite it being the directorial debut of five times Oscar nominated cinematographer William A. Fraker, 1970's revisionist Western Monte Walsh isn't as well remembered as it possibly should be. Prizing characterization over narrative and ignoring the usual set of genre highlights until its third act, it's a mellow, melancholy bit of nostalgia about the last days of the Old West. Sporting a handsome cast and imbued with the right touch of technical appropriations, it's a rather humble offering following on the footsteps of iconic juggernauts of the genre, like True Grit or The Wild Bunch, both of which premiered the year prior. Awards glory and controversial depictions of violence launched those films into the zeitgeist, but Fraker's has remained an obscure item rooted in realistic, low key tendencies.
As Monte Walsh (Lee Marvin) and best pal Chet Rolling (Jack Palance) descend from the mountains after a long winter, they find the civilization they once knew has markedly changed. Clusters of men stand idly around the desolate places of business and are informed by Mr. Brennan (Jim Davis) most of the local commerce has been bought out by a corporation, resulting in mass layoffs in the region. Work has suddenly become scarce and there's a dwindling need for the cowboy figure now that big business has necessitated law, order, and economic routine. The friends discuss calling it quits as they take up work with local cowhands, and Chet decides to marry the pretty widow (Allyn Ann McLerie) at the local hardware store. "Nobody gets to be a cowboy forever," he concludes. Monte's love interest, the French prostitute Martine (Jeanne Moreau), seems as pleased as she is dismayed to find her seasonal beau considering it quits and settling down with her. But, she's aging out of her own profession, referring to her 'business of diminishing returns.' But a peaceful end is not in store for the old rogues, as fellow cowboys turning to crime, like Shorty Austin (Mitchell Ryan) create a situation Monte Walsh can't turn his back on.
It seems easy to dismiss Monte Walsh as a poor man's version of a Sam Peckinpah narrative, as The Wild Bunch also deals with a specific period of the dwindling days of the old west, forcing customarily good natured cowboys into the clutches of crime for survival. But Fraker's film plays like a sad, nostalgic whisper, fading out its protagonist, whereas Peckinpah's was an angry snarl, heralding only the passage of senseless violence from one generation to the next.
Initially silly, mostly thanks to John Barry's leading score, things get quite grim once we're past the midway point when Chet's peaceful reverie at the hardware store is suddenly interrupted. Based on a novel by Jack Schaefer, the author that famous cornerstone of the Western genre, Shane (1953), it's a wonder this didn't become more lurid in the adaptation from Lukas Heller (fresh off a five picture collaboration with Robert Aldrich on titles including Whatever Happened to Baby Jane?, Hush, Hush Sweet Charlotte, and The Killing of Sister George) and David Zelag Goodman (Peckinpah's Straw Dogs, 1971). Instead, it's sadly resolute, refashioning its third act into a customary, but weary act of vengeance, while Mama Cass croons the sad bars of "The Good Times Are Coming" across the closing credits. Fraker would only direct two more features before focusing on television projects inbetween many more major credits as a cinematographer, and one wonders if that would've changed had Monte Walsh made a more lasting impression.
Marvin is likeable as the shaggy cowboy, a role that would be recapitulated decades later by Tom Selleck in a 2003 television version, while Jack Palance is in rare form as a non-villain. Though she starred in Louis Malle's goofball Western-ish Viva Maria! (1965), it's surreal to see a demure Jeanne Moreau in color wearing period costume and speaking English. Together, Moreau and Marvin are oddly appealing and one wishes she had factored more into the trajectory.
Disc Review:
You'd never guess Fraker was fresh off working on Roman Polanski's Rosemary's Baby (1969), hiring first time DoP David M. Walsh (who would go on to quite an impressive career, including a couple early Woody Allen titles) for his revisionist Western debut, which focuses on rolling landscapes peppered with newly erected barbed wire fences and an increasingly shrinking population of people in a clapperboard desert town seemingly being swallowed up by its surroundings. Kino Lorber presents the title in 2.35:1 aspect ratio, and the film's transfer seems fitted with the same customary sense of workmanship this implies. As per usual, this resurrected title in their Studio Classics section is without extra features.
Final Thoughts:
A quiet death throe of the Old West's last gasp, Monte Walsh is a downbeat cowboy tale, though perhaps necessary viewing for Lee Marvin fans.
Film: ★★½/☆☆☆☆☆
Disc: ★★★/☆☆☆☆☆