Reviews
The Kindergarten Teacher | Review
Dangerous Minds: Lapid's Sophomore Film a Bizarre, Engrossing Character Study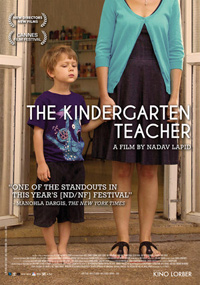 Repressed desires find an unexpected outlet in Israeli director Nadav Lapid's sophomore film, The Kindergarten Teacher, a sometimes mystifying character study. The director's 2011 debut, Policeman, was a topical glance at social unrest in Israel and took three years before it saw a theatrical release in the US, nearly a month after his second title saw a premiere outside of competition in the 2014 Cannes Critics' Week. Lapid once again conveys a knack for presenting us with unsettling behavior, this time around with such gradual displacement we feel uncomfortably complicit in our close observation of what plays out like a tranquil psychotic break. Intimate and at times quite pointedly critical as concerns the lavish worship and inaccurate interpretation of artistic intention, Lapid continues to assert an idiosyncratic perspective as offbeat as it is potentially off-putting.
Nira (Sarit Larry), a middle-aged kindergarten teacher in Israel believes she has discovered one of her current students, Yoav (Avi Schnaidman), to be a poet prodigy. Observing his method of creation with his babysitter Miri (Ester Rada), who transports the child to and from school, Nira slowly begins to be obsessed with knowing more about this strange child, whose poem "Hagar" inspired her to share it with her nightly poetry group (though she passes it off as her own). Attempting to glean more info about the boy's broken home life from the disinterested babysitter, an aspiring actress who has little tact when it comes to discussing her employer's affairs, Nira begins to think it's her duty to preserve and foster the child's talents.
As a critique of how societal tendencies hobble or misinterpret artistry, The Kindergarten Teacher seems inscrutable, even glibly cynical. But Lapid's statements are less grandiose than the widely read intentions of the politically minded Policeman, and as a character study, this portrait of lonely, arguably distorted mind is quite effective. Unpacking the curious relationship developed with the student prodigy, one notices more unsettling clues Lapid litters throughout the film. We're able to ascertain Nira is utterly bored and completely uninspired with her existence and occupation. Taking no interest in her own fully grown children, who have become menial figures she can barely bother to keep up with, her marriage to a man we never even learn the name of is equally disconsolate. A round of love-making finds Nira well-attuned to her husband's fetishes, but she interrupts their session to transcribe a poem via voicemail from her young student.
As played in an excellent performance form Sarit Larry (who hasn't appeared in a film since 1999), Nira's presence fluctuates between aging spinster and impassioned youthfulness, with a range of expressions making her seem ageless. But Lapid's more ingenious stroke is the ambiguous presentation of young Yoav, from angel faced child actor Avi Schnaidman in his first screen appearance. His poetic trances, initially mystical, began to take on the pallor of earthly manipulation when we learn details about his troubled home-life. Nira seems unaware of Yoav's manipulations, which the child reveals in uncanny instances, such as dealing with the death of his mother, and the eventual turn of events in the film's finale.
Undercurrents of class and ethnocentric heritage seem to factor into Nira's predicament. She attempts to explain to Yoav the significance of the district he's from, the privilege associated with his background and not hers. The consumption and enjoyment of art is new to her, also explaining the distress she displays at the prospect Yoav's talents will soon be burnt out by his unaccepting surroundings in a world that cares little for the fragile beauty of poetry. One could take this a step further and examine how Lapid uses this scenario as a metaphor for the current Israeli state, but such a reading may seem more concise depending on one's familiarity with the country's historical details.
Broken up with musical asides, including playful dance numbers and a sung poem from transfixing newcomer Ester Rada, The Kindergarten Teacher vacillates between a strangely empathetic film and an increasingly astringent portrait of two sociopaths. We know the young boy was influenced by his uncle, a flopped poet, but no one questions whether or not Yoav is indeed creating these poems or simply reciting obscure passages he's memorized, delighted at the attention received from adults. Both Nira and Miri take the child's poetry and use it for their own accomplishments and goals, painting a troubling portrait of the slippery nature of authorial intention and integrity. Laughably, the leader of Nira's poetry group pronounces one of Yoav's pieces as coming from someone who has known great passion.
Really, it's being presented by someone desperate to experience some sort of passion (in one of her many exchanges, we learn Nira only discovered poetry five years prior following the death of her own mother), and was most likely not even written by her pupil. One can't quite argue Nira's heart is in the right place, but she's increasingly determined to do something she believes to be worthy of certain importance. What The Kindergarten Teacher is saying about the notion of being a prodigy seems rather imprecise, until we realize it's an interpretation of a severely problematic beholder. Obsession hath no hearth like an academic bored.
★★★/☆☆☆☆☆