Still the Chill: Zwick Assembles Fine Cast for Routine Exercise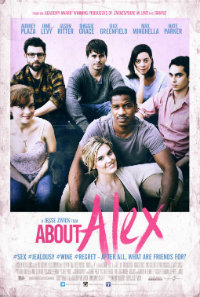 Jesse Zwick, son of director Edward Zwick, has amassed a fine cast of young actors for a revamp of what will inevitably compared to Lawrence Kasdan's The Big Chill (1983), where a reunion of old friends transpires over the death (in this case, near death) of one of their old group members. While Kasdan's film represents the pinnacle of this dramatic formula, there have been plenty of films since then that benefit greatly from its influence. A glossy, less dire example would be the more recent Channing Tatum headlined 10 Years (2011), while Guillaume Canet gets dibs for the best thing since Kasdan with his 2010 Little White Lies. With About Alex, Zwick has a written a smartly observed treatment to define the trials and travails of a new generation of quickly aging twentysomethings, a group of young adults already greatly at odds with the generation right behind them. However, beyond a bevy of specific details that will indubitably relegate this to time capsule status, there isn't any new ground covered here, while some of the dramatic flourishes begin to border on neurotic farce.
After a failed suicide attempt, Alex (Jason Ritter) amasses a group of his old college friends at his home. They arrive, though some more begrudgingly than others, such as the outspoken Josh (Max Greenfield). Alex's best friend, Ben (Nate Parker), feels responsible because he'd been ignoring Alex's calls, while Ben's wife Siri (Maggie Grace) is trying to figure out the best way to tell Ben she's pregnant. The anxious Sarah (Aubrey Plaza) arrives in full-blown care taker mode and is immediately dismayed to find that her old flame, Isaac (Max Minghella) has brought his young, 22 year old girlfriend Kate (Jane Levy) along for the weekend.
The irony of the title is, once these old chums are all in the same room, it's basically about everything but Alex, leaving the friends to rehash old dramas and examine their own failures and accomplishments while kinda sorta administering a watchful eye on their sad friend. In The Big Chill, the friend in Alex's position is dead (played by Kevin Costner, whose scenes were cut from the film, while in Little White Lies it's the catastrophically injured Jean Dujardin, tucked away in a hospital). Ritter's Alex has little more to do than moon around, observing his friends kind of like a love-struck puppy, laughing at their lack of tact and self-consuming issues. Until the very end, that is when he at least gets a chance to speak and administers a surprise of his own that drops like a little cherry bomb.
Modern technology and social media get harshly criticized for helping drive people apart, with Facebook creating a false sense of connection just as it champions a kind of forced nostalgia. It's a film that particularly speaks to a group of young adults that have witnessed drastic changes over the past decade due to the onslaught of social media, young enough to be hip to the game but old enough to remember that not that long ago, there was no such thing as Facebook, Twitter, and having the world at one's fingertips with a smart phone.
Greenfield even harps about Plaza's observation that their reunion is a bit like some 80s movie, citing that people's modern problems lie in how "they just reference things." But About Alex is so indebted to The Big Chill, the reference is indefinite. To ignore the acknowledgement would imply that Zwick has concocted a wholly original cinematic ideal, which is not the case. We're at the mercy of the talented cast members to enliven the material, and Zwick has amassed a cast of young notables, with Nate Parker, Max Greenfield, and Aubrey Plaza giving excellent fleshed out performances. Though it may be reminiscent of too many greater or similar films, About Alex at least does what it does well, and there's enough passion in the proceedings to reel you in to the final frames.
★★½/☆☆☆☆☆