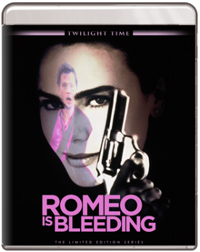 Looking back at the landscape of early to mid-90s neo-noir, only a few titles have survived relative obscurity, conversations tending to celebrate the Coen Bros. Barton Fink (1991), or Stephen Frears' indelible The Grifters (1990). Items like Paul Verhoeven's Basic Instinct and Abel Ferrara's Bad Lieutenant secured an even greater iconicity before Quentin Tarantino was credited with redefining a generation thanks to his particular brand of pastiche. But in between these monuments of adult themed entertainments, sleazy titillations churned into the same pulpy fixations that drove their ancestors through the same (albeit explicitly redefined) underbelly, there are a multitude of neglected items, where directors like James Foley (After Dark, My Sweet) and Carl Franklin (One False Move; Devil in a Blue Dress) unveiled underrated gems now ripe for reconsideration. You can add to these forgotten greats an oddity from Hungarian born director Peter Medak with his 1993 title Romeo Is Bleeding, a familiar tale about a crooked cop caught up in his own scheming. Violent, twisted, and attempting to straddle a difficult period of transitioning away from an archaic and honorable code of criminal ethics into a hazy future of chaotic, bloodthirsty apathy, it's exactly the type of dark hearted nightmare all but extinct in today's landscape of commercialized narratives.
We meet Jack Grimaldi (Gary Oldman) as a broken, lonely man waiting for someone in a deserted diner, a woman who is scheduled to arrive on either May 1 or December 1. But the weary and forlorn man seems to have waited for several cycles of both days. Paging through a faded scrapbook, Jack narrates the story of his past life as a cop who worked both sides of the proverbial fence. Though apparently happily married to wife Natalie (Annabella Sciorra), he occupies the attentions of a waifish blonde waitress, Sheri (Juliette Lewis), who engages in complicated sequences of extensive titillation to little avail. Jack is assigned to a witness protection program and he sells information to local mob boss Don Falcone (Roy Scheider) so he can squirrel large sums of cash in a secret hole in the backyard. But Jack gets a little greedy and his actions result in the deaths of two cops, but a rising Russian hit woman, Mona Demarkov (Lena Olin) is fingered as the main suspect. When the reign Mona in, Jack is transfixed, and so begins a very odd journey into the seduction and ruination of Jack Grimaldi.
Medak is one of those curious directors with a distinctly idiosyncratic filmography often forgotten about. Working since the mid-1960s, he managed several particularly notable titles throughout his career, perhaps best remembered for the black comedy The Ruling Class (1972), but one can't overlook genre gems like 1980's The Changeling or 1990's The Krays (a much better treatment of the infamous twin British criminals recently retooled as the splashy but inferior Tom Hardy vehicle, Legend). The remainder of the 90s weren't particularly kind to Medak, who finished with the ill-conceived genre sequel Species II (1998) and has worked steadily in television since.
Another reason to explain the curiously cold reception of Romeo Is Bleeding may be because it is sandwiched between some of the most prolific titles of Gary Oldman's career, when he was first and foremost regard as starred as a cinematic villain. Having recently played Lee Harvey Oswald for Oliver Stone and Dracula for Francis Ford Coppola, this premiered the same year as a grotesque supporting turn in Tony Scott's True Romance and right before Luc Besson's The Professional (1994). Here, he's tasked with making an underwhelming double-crosser into a sympathetic protagonist, although nothing about the film would seem to support this expectation, one of several interesting aspects of a script by writer and producer Hilary Henkin (Wag the Dog).
The presence of female supporting characters also feels like something of an anomaly, although it's a triumvirate of beauties connected by an otherwise unlikely Gary Oldman persona. The mistress portrayed by Juliette Lewis and Annabella Sciorra's emotionless wife play like stock characters. To be fair, they're all laid to waste in the wake of the film's main asset, a deliriously captivating Lena Olin as an unconscionable Russian gangster, the new face of the modern crime syndicate, someone who holds allegiance to no one and no thing. Her insane laughter, whether it be seducing cops or strangling them, reaches fever pitch during a gonzo car crash where Olin's handcuffed Mona Demarkov kicks her way through a windshield, hooks a bag of cash in her arms, snags her new identity papers in her jaw, and launches herself through a windshield before careening through the streets on one high-heel. Vile and venomous, a final showdown between Oldman and neo-noir's sexiest femme fatale recreates the essence of violent sequence from Fritz Lang's Scarlet Street (1945) with Olin channeling Joan Bennett's bitchiest cinematic moment.
Olin, despite having appeared in highly notable films (The Unbearable Lightness of Being, 1988) and having worked with a bounty of notable auteurs (Polanski, Lumet, Bergman, Mazursky, plus being married to Lasse Hallstrom) never received the caliber of renown she deserved—but her appearance as Mona Demarkov in Romeo Is Bleeding significantly elevates the film as more than another neo-noir retread fashioned from a blended palette of past genre tropes. Roy Scheider scores some reptilian menace as her underworld competitor, and a horde of familiar faces (James Cromwell, Will Patton, Ron Perlman, Michael Wincott, David Proval) pop up as various members of law enforcement.
Disc Review:
DP Dariusz Wolski (perhaps best known as Ridley Scott's favored cinematographer as of late) fashions Brooklyn into an abandoned no man's land, all desolate streets and ominous overpasses. His third feature (and first bona fide auteur pairing), his dismal rendering of New York could have just as easily taken place in the late 40s, where the grand city's back alleys outnumbered the glitzy thoroughfares. Mark Isham (A River Runs Through It; Nell) assists the mood with a felicitous score (available as an isolated track), and the title is presented in high definition 1.85:1, an overall masterful transfer. As usual per Twilight Time's releases, this is a limited edition of 3,000 units.
Final Thoughts:
"All you gotta do is take it," purrs Olin's manipulative gangster, who oscillates with lethal precision from sex kitten to lethal jaguar in the blink of an eye. She forgets to add, as the film proves, first one has to decide what they really desire.
Film Review: ★★★½/☆☆☆☆☆
Disc Review: ★★★½/☆☆☆☆☆