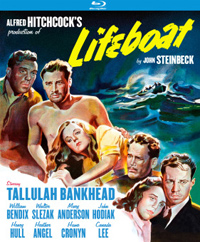 The 1940s was a fruitful decade for Alfred Hitchcock, the period in which he scored three of his five Academy Award nominations for Best Director. It was also the decade he left the UK to begin churning out the titles which would eventually make him one of the most famous brand name auteurs ever, beginning with the 1940 Best Picture winner, Rebecca. Manderley cast a long shadow beyond the frame, however, and a great deal of Hitchcock's other entries during this period have been obscured by the love and resuscitation of Notorious (1946), or the technical wonders of the single take, single location Rope (1948), or even the Salvador Dali designed dream sequence of Spellbound (1945). But nestled in there is one of the director's finest achievements, the limited-setting WWII survival tale, Lifeboat, based on a short story by John Steinbeck, which starred theatrical star Tallulah Bankhead in one of her few but finest cinematic appearances. A microcosm of wartime politics basted in the drippings of perverse human behavior, the ensemble picture is a tense battle of wills unspooling wickedly into one of Hitchcock's most ambiguous finales.
Eight passengers manage to survive a sinking ship after it's torpedoed by the Nazis. Among them are a famous journalist (Bankhead), an injured sailor (William Bendix), a cynical seaman (John Hodiak), a nurse (Mary Anderson), a steward (Canada Lee), and a radioman (Hume Cronyn). But when the Nazi captain (Walter Slezak) of the vessel which destroyed their ship flops on board, the wary survivors are unsure of what to do, pitting sophisticated rationale against the survival instincts of the working class, who wish to toss the enemy overboard. Eventually, this microcosm becomes a study in survival of the fittest.
Only four years earlier, Frank Borzage was doing something similar with less obvious subject matter in 1940's Strange Cargo, another film whose bizarre thematic textures demand revisiting. Lifeboat was criticized for presenting its German U-boat captain in sympathetic light, indeed a daring undertaking for a film premiering before the US had defeated Germany. Likewise, the problematic reputation of Tallulah Bankhead, who made no secret of her sexual proclivities or her love of alcohol, perhaps explains the Oscar snub for the star, especially considering Hitchcock, Steinbeck, and DP Glen MacWilliams all received nominations.
MacWilliams, in particular, does some impressive work with this single set water bound location, focusing intensely on the actors as they build and shift power alliances amongst themselves (one particularly striking sequence sees a beautiful close-up of Bankhead as she rescues a comb and lipstick tube from her last semblance of baggage blown overboard). The film's opening shows black smoke billowing out of the sinking ship, a visual motif Hitchcock would repeat to announce the arrival of the dangerous uncle played by Joseph Cotten in Shadow of a Doubt (1943).
Undoubtedly, the star of the show is Bankhead as Connie, a famed columnist whose agency is slowly worn down as she loses her tools of creative expression, beginning with her camera, typewriter, and finally even the necessities of basic femininity. This leaves her in a particularly strange love/hate relationship based purely on primal needs with John Hodiak's sneering Kovac, who froths masculine aggression at the mouth. The other characters seem representative of types, such as the mild mannered radioman played by Hume Cronyn, or Mary Anderson's lovelorn nurse. Cast to the sidelines is the black steward in one of the few onscreen performances from Canada Lee. When initially deciding whether or not to cast Slezak's German Captain into the sea, his vote in the matter suddenly matters, a decision he happily declines to take part in.
Disc Review:
Kino Lorber supplies this Hitchcock classic with a much needed Blu-ray transfer, presented in 1.33:1. Part of the distributor's Studio Classics label, the release is a cleaned up presentation of Glen MacWilliams' cinematography, and the disc comes equipped with two audio commentary tracks (from film historian Tim Lucas and film professor Drew Casper), as well as some bonus features.
Hitchcock/Truffaut:
This twelve minute audio interview features Francois Truffaut (with the assistance of an interpreter) interviewing Hitchcock on his experiences filming Lifeboat.
The Making of Lifeboat:
This twenty minute features several historians and authorities, including his daughter, Pat Hitchcock O'Connell, speaking of Hitchcock's interest in Lifeboat (the only film he would make with 20th Century Fox).
Final Thoughts:
An early and neglected masterwork of Alfred Hitchcock's, Lifeboat still holds water, and features a not to miss performance from the throaty and rapacious Tallulah Bankhead.
Film Review: ★★★★/☆☆☆☆☆
Disc Review: ★★★/☆☆☆☆☆