Her Love is Real, But She is Not: Gainsbourg Plays with Gender Norms in "Je t'aime moi non plus" (1976) Blu-ray Review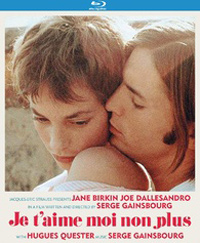 An obscure oddity from the late 70s, to be sure, is French pop artist Serge Gainsbourg's 1976 directorial debut, Je t'aime moi non plus (I Love You, I Don't), thus named after the singer's 1969 hit song with Birkin, who also headlines. Although it received two Cesar nominations (for Best Music and Sound), the title had long been unavailable until a restoration release in October of 2019. Kino Lorber resurrects this woebegone road trip romance, which features Andy Warhol muse Joe Dallesandro in a customarily steamy characterization.
Hunky and brooding garbage truck driver Krassky (Dallesandro) rides around with his co-worker boyfriend Paduvan (Hugues Quester). When they run into lonely truck stop waitress Johnny (Jane Birkin), Krassky is attracted to her androgyny and they quickly fall into lust then love, much to the chagrin of Paduvan. But theirs, they quickly realize, is a doomed affair.
What hobbles Je t'aime is the blatant dubbing (filmed in English the characters are dubbed over in French) and somewhat rough acting of Dallesandro. Likewise, Hugues Quester as the jealous, ultimately crazed lover Paduvan is a bit choppy as well. The real highlight, along with the refreshingly frank queerness of the narrative, is an androgynous waitress played by the beautiful Jane Birkin in yet another of her underrated performances from the period. Resilient but vulnerable, she's compelling and strange (not to mention, the gender coded switch of the moniker Johnny would be a move made in Walter Hill's The Assignment concerning a peripheral nurse character).
Gainsbourg includes a customarily jaunty soundtrack which aligns the film with the spirit of early Jarmusch and even Wim Wenders' celebrated Road Trilogy. Plus there's a delightfully disgusting turn from Rene Kolldehoff, returning to the screaming mode he honed so perfectly in Visconti's The Damned (1974), not to mention a wonderful weird supporting turn from a nubile Gerard Depardieu, the local stud (ride a white horse, indeed) and the film is beautifully lensed by Willy Kurant (of Pialat's 1987 masterpiece Under the Sun of Satan), who makes even garbage dumps wax poetic.
Disc Review:
Kino Lorber releases the title under the Kino Classics label in 1.66:1 with 2.0 Mono. Extra features include a new interview with Dallesandro and a Q+A with Birkin and Dallesandro.
Film Rating: ★★★/☆☆☆☆☆
Disc Rating: ★★★/☆☆☆☆☆